(and here is where you all have the synthesized bridge of this song running through your head…)
We are on final countdown notice for discharge. Gathering final paperwork and signatures, booking ben and my appointments to have our kidneys harvested to pay for this stay, gathering all the medical supplies laying around the room up to take home with us – you know, that sort of stuff. At this point we are actually waiting to give her one last antibiotic infusion at 2:00 pm, give her as much of her feeding as she can handle (we don't have the right bags to hook up her home monitor in the car to keep her eating), and then pack up the car with the ginormous amount of bags we have managed to amass in the past week and heading home. Finally. At last. For such a time as this.
It is the right time to go home. She is mostly resolved from the RSV and pneumonia. it appears that her sepsis infection has been killed by the horse-dose antibiotics she is on. She is smiling and cooing at a mobile attached to her metal hospital crib and she is finally the happy baby I had always  hoped she would become. No, we don't have a full final answer about exactly what or where things were going so wrong, but we are definitely making progress in the right direction. To look at her, you might see only her tubes and wires; you might still see a pretty skinny looking little baby – but if you can look past that, you will see my BABY. My baby who is finally able to sleep, arms thrown up over her head, truly relaxing, pain free. My baby who is finally able to take full breaths without fighting fluid on her lungs all the time. My baby who is finally starting to reach for faces and smile at new people and talk to the stuffed animal in her crib that holds her tubes out of her way for her.
So even though she will still look a little bit like the sick baby she still is – she is so much more  HEALTHY and HAPPY than I have ever seen her. Her official diagnosis at this point is malnutrition caused by congenital benign hypotonia/IUGR. Basically – her doctor is almost positive that she was affected by "Intra-Uterine Growth Retardation", and essentially was born as a 34/35 week "preemie", even though she was delivered "full term" at 37 weeks. Her system never really progressed past that 34 week mark, when they admitted me for pre-eclampsia and nephritis testing. And then of course she's born and goes to the NICU – but the best info they have is that she is full-term so they challenge her system like she's a full term baby, and it just began this bad cycle. She probably should have received Synagis shots to ward off RSV, she should have had more time to develop her feeding skills, she should have been looked at much harder than she was.
But we'll be ok, you know? She'll have a lot of therapy from this point on to catch her back up, get her strong, keep her functioning. And we'll hopefully never be back here again. It's kind of sad, leaving the relative comfort and safety of these four walls. Having multiple doctors and nurses responding to her every need within minutes of her needing it. I hope I am strong enough to be all that she needs at home. And I know I will be. I will learn how to calculate feedings and extra calorie fortifiers and time medications with IV's and feeds (in spite of the fact that I never really got past 5th grade math…yikes!) As Ben put it – "don't let me sugarcoat it for you, terra. If you put the wrong thing in the wrong tube you will kill her." Geez nothin' like a little pressure!!!
Her doctor gave me final report and in spite of the fact that I will be this man's best friend for the next 6 months until we get Kendall stabilized, I started crying when he came to shake my hand and i grabbed him and hugged him and thanked him for saving my daughters life. He just hugged me back and said "go home, be happy, enjoy your baby  – she'll be fine. You'll see"
I MUST stop crying at the drop of a hat. I feel like I am going through post-partum hormone issues all over again!
In another semi-unrelated note, has anyone ever seen one of these?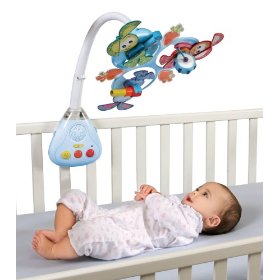 (click the pic for a full description)
It is called the "Peek a Boo Bunny" infantino mobile.
It costs more than our gas bill last month. 
But it keeps my child the happiest I have ever seen her. The nighttime music calms her down, the baby laughing makes her smile, and she loves it. I would sell my liver on the black market if i had to to obtain this thing for her. And i can't find it ANYWHERE!!!!
I would rather not wait for shipping but if no one has seen this in their travels out and about (Target, Wal-mart, BabiesRus), then I will try to order it on monday from an online store. (Yes i have a massive resistance to online ordering of things i want YESTERDAY. For my baby who will wonder tonite where her mobile is. So if you even THINK you have seen this somewhere, let me know STAT. (that's my medical term for the week. Don't be alarmed if i start asking you for stuff "stat" in real life. I have fun saying it.)
Her alarm just went off to let me know her IV meds have infused. We are filling her up with another half feeding so she has a nice full belly for the trip home. We are getting final tips and training for all her meds. Ben has made two trips down to the car with stuff already.
Very very soon we will at long last be headed home.
It's a great day.
terra