(please somebody else tell me you now have New Kids on the Block stuck in your head!!!) "we can have lots of fun!"
Ok – back from crazy-talk-land.
Do you have any idea how long I sit here sometimes trying to come up with a good title? I do this cause then it looks cooler in the sidebar to have little snippets of the past few posts vs. "Dear Diary…"
Holy randomness tonite. OK the POINT of the title – tomorrow feels in a way like Step One. Again. But tomorrow we actually get to have a REAL DOCTOR look inside Kendall with a REAL CAMERA to see what's going on in there that's keeping her from swallowing food in the right place. It just feels like we might actually get AN answer tomorrow. Yes there is something structurally abnormal or no, everything looks fine let's try giving her the bottle again!  either way – tomorrow will be a big day for her. And she's had two really good days in a row – very happy, smiling, even trying to talk today to her sissies and me. No pain, no more hives from the new formula (which we're now diluting half and half with the old stuff), and she's back to her voluminous pooping ways. (you get it all here at terra talking, folks.) I had to actually CUT her outfit off of her yesterday because after 96 hours of eating and not pooping, let's just say that "explosive" was an understatement. But hey, if that's what it takes to get a happy baby back – I'll do it.
I am tired tonite and not sure really why. I mean besides the obvious nighttime vigils over my child checking her breathing and tube and turning off alarms. Besides that. And the other three kids. And a holiday weekend. yeah. No idea where this tiredness is coming from. Hopefully it just magically resolves itself soon.
So tomorrow will be an interesting day. I'll be sure to post as soon as I'm home and have a spare minute. I know so many of you are praying for her without knowing how or what you're praying for – and I thank you so much for that faithfulness. For those of you who thrive on the specifics – please pray that her scope tomorrow would be productive – that it would be a clear picture, that her doctor would know exactly what to do about any irregularities he notices, and that it would get us one step closer to getting this tube out of her nose, and her food into the right place via the route God intended! Pray that Kendall is in another really good mood so that her therapy goes well and she is tolerant of the camera down her nose and that maybe, maybe, maybe, her doctor and the therapist can give us the go ahead to start giving Kendall little "snacks" from a bottle – maybe an ounce or two a day from the bottle – just to START building her strength and tolerance back up. This may not happen, and I won't be TOO disappointed if it doesn't happen because she is only halfway through this therapy course, but it would be a HUGE boost to my spirits to see her being able to start eating like a normal baby again.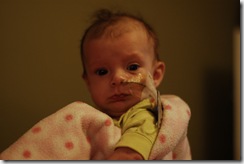 Happy 5 month birthday baby Kendall – I hope you get a nice big drink of "bubba" to celebrate with tomorrow!
more randomness on its way tomorrow –
terra