Ok I have no idea what i am doing with this poll thing.  But we'll see how it works out!
Which color for the bedroom?
Left - blueish gray (0%, 0 Votes)
Right - blueish blue? (0%, 0 Votes)
leave it just like it is - squares and all (0%, 0 Votes)
Total Voters: 0

Loading ...
So – help us out! Vote for which color you think we should paint the bedroom.
here's some visuals to help you out!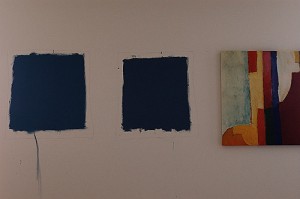 I guess i put the answers in the poll a little wrong. The left color is kind of more bluish green than bluish grey. The middle one is just – blue.
For reference, it is a very cloudy day at 3 pm when i took these pics. so this is what i'm going to get all winter long. Summer might make it seem a bit brighter.
and since I know everyone wants to know what the third option was…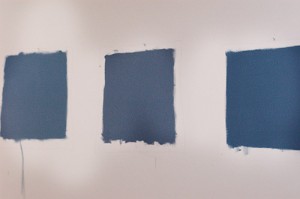 Trust me, the third option is WAY too blue! Maybe if i had a bright pink bathroom with pink linoleum and pink pedestal sink – this obnoxious shade of  blue might be appropriate. But i don't, so we nixed it.
So?
what do you think?
and we also FINALLY FINALLY got the letters hung up in Kaylen's room. Very appropriate for our lives right now.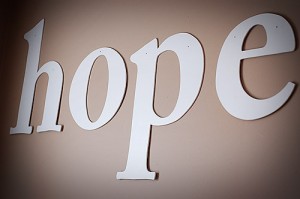 Back with more later. I have to go see if I've managed to blow up the whole blog by trying to add the poll coding in…
t