Thursday…
I made an AWESOME dinner. Yes this is the highlight of my day.
If you know me in real life, you know that I am no betty crocker. I am not even a Judy Jetson.
Pressing numbers on a microwave is about as good as the cooking gets around here.
But, due to lack of fundage for the good stuff (that would be either take out or convenience meals), and the fact that Ben is home for two weeks (when he is not, i get away with giving the girls mac-n-smack, chicken nuggets, cereal, etc., and I eat boxed mashed potatoes or whatever i feel like) – I have had to start actually cooking again. And its even been kind of fun. i have pulled out some old faves (casseroles, oddly enough, they are a huge hit around here). Except for a few I made last week where my taste buds were off from all the sinus meds because apparently i added wayyyy too much chili powder to one, and wayyyyyy too much sour cream to another).
I digress.
Anyways the point being, I made a pork tenderloin.
And it was the most kick-booty thing i have ever in my life made. I wish i could have shared some with all of you.
But i inhaled it. I even attempted to eat little bits of it back out of the gravy from the crockpot the next morning when i was cleaning it out. I don't recommend that so much. But properly cooked and stored? Heaven.
i will have to make it again.
Maybe three or four nites  a week. Yes it was that good.
in the picture you will see everything i added to it, because they seemed "meat flavory".
and that is my awesome recipe.
and our awesome Thursday, december 9th.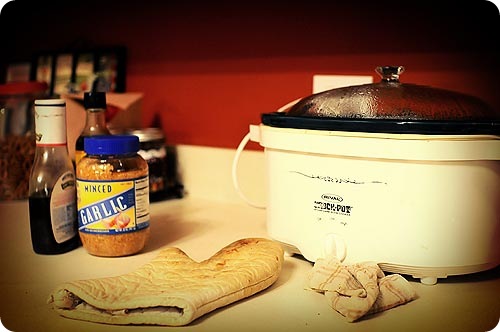 Ok smartalecks. I did not add the rag or the oven mitt. It was garlic, teriyaki glaze stuff, and worcestershire sauce. However you say it. or spell it.
Happy December –
don't stop believin'!
terra