And I am already behind on my own challenge!
Here is my photo from yesterday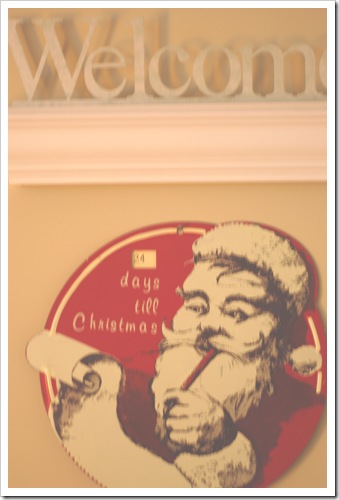 The color got completely screwed up in the transfer to the blog so sorry for that. But i was just happy to actually have my little tin advent calendar countdown thingy hung up this year! the girls do'nt quite get the concept of counting backwards. they keep thinking christmas is tomorrow since that's the 25th…???? Apparently they have my math skillzz, or complete lack thereof.
Here's another few advent calendar shots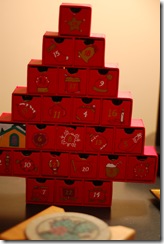 The starbucks advent calendar. I only did half of it last year. Hopefully this year I get to actually finish the little chocolate treats inside. Next year maybe i'll decorate the backside with some cuter papers/embellies and put fun little trinkets inside for the girls. This year, the chocolates ALL MINE!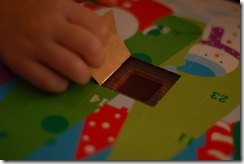 Karissa was so surprised that there was actual CANDY behind the little doors that she wanted to open up all of them! Note to self: hide advent calendars on top of fridge.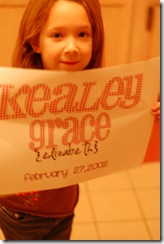 Working on kealey's "I'm the star of the week" poster for the kindergarten bulletin board at school. nice that we got TWO DAYS NOTICE for this!!! You want me to sum up in TWO DAYS all that is special about my darling offspring in a 26 x 32 inch piece of cardstock???? Impossible!
But we're doing our best. We'll finish it up in the morning.
I am craving stirfry, bruschetta (thanks kristin), and spaghetti sauce. So i should go to bed now i think before i actually start making all of the above at 10:30 at nite.
If you are playing along with the challenge – link me up to your photos!!! I want to see what you're doing with it!