Yeah SOMEDAY i might be on track with my own photo challenges!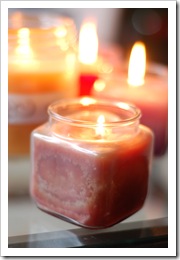 Here is day 2 – the candles. I really had to actually go FIND candles to take pictures of! I usually just turn on the tart burner, so this one actually was a challenge!
This was taken in manual, light at about 100 (i think?), f1.8 with my 50mm, natural light through the window to the left.
For Day 3 Here is my Christmas tree. This picture looked a lot better in my mind than in actual execution…
I took this into the mirror I have hanging on the wall across from the tree, on a quiet nite while it was snowing outside. It just really made me feel "christmasy". I haven't done anything to this photo, this is SOOC, but I think if I tweaked the exposure, which is at some ridiculous number like 3, this one might actually turn into a cool picture!
Since I'm on a roll and am uber behind – here is day 4 too!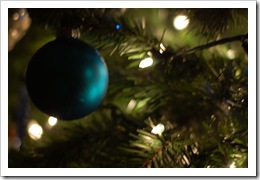 Not necessarily my favorite ornament, but one I got a good shot of…
This is kind of the "theme" of our tree – teal and silver. And the usual menagerie of  child-produced ornaments from Sunday School and Pre-school. I have to take more ornament pictures. My favorite is the leg lamp from the "Christmas Story" movie.
Oh my gosh you have to click that link. Its not to my ornament. Its to the GAUDIEST lawn blow up thing I have ever seen! Its the leg lamp in a blower globe on top of the FRA-GEE-LAY box. WHYYYYY must some people ruin their yards with these things?!?!! but it is pretty frackin hilarious.
Anyways.
So now I am only two days behind on the Christmas photo challenge.
Ok – RAK time. We had family movie nite a few Saturdays ago, and wanted to watch "Meet the Robinsons". Ben went in to get it, and came out with the Blu-Ray disc version. I expressed that I thought those didn't work in our DVD player, but my concerns were summarily dismissed. "It says High Def on it. That's what we have."
True enough.
But it still isn't a Blu-Ray player. To tell you the truth I do'nt even know what a Blu-Ray player is. (I am ashamed to admit this. I might be kicked out of techno-geeks anonymous for not knowing this).
but if YOU know what a Blu-Ray player is, and you do not yet own the ADORABLE Disney Movie "Meet the Robinsons" – I have a Christmas gift for you! First person to comment here that ISN'T named Ben, Josh, or Becca (who have this strange obsession with playing the first to comment game on my blog) – then this movie is yours!
Hope you are having a great day and enjoying preparations for Christmas! 19 days left!!!
Hearts, Hugs, and Happy Horsesh*t-
Terra