I turned 38 an hour ago.
Happy Birthday to me!
And I figured today was a good day to blog again.
It's been a grip of time. I've been busy. I've been doing stuff. I've been thinking about stuff.
It isn't that I didn't want to write about some things – it was just….sometimes it's hard to find the right words. And if I guard anything in this life fiercely (besides my beautiful baby girls), it's my words. I hate letting people read even my grocery lists. I don't know why. It is hard to put my heart into words and then put those words out into the world wide web.
But I have realized that on some level – this is just who i am. This is me. Good bad and ugly. Boring as heck or tear-jerkingly awesome – and everything in between – what you see is what you get. Me.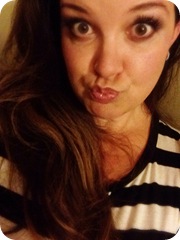 So here I am on my birthday, reflecting on where i've been, and more importantly, where i'm going.
37 was a kind of crazy year. I look back on my birthday last year….and I would have never guessed that just a few short weeks later my life would be in such upheaval. You never really know what's just around the river bend. (yes that's a quote from my favorite disney princess movie.) So the best option is just to push off the shoreline and start swimming.
My wishes this year are for more love, more peace, more strength. I cannot possibly flesh those all out tonight – but i am sure that they will become more evident as the days keep coming. They are not all just intrinsic, or things i wish upon myself. They have a very extrinsic component – meaning they are things i wish to spread with those around me. There's really so much more to it….but it's really hard to put into words at 1 am. Still, I wanted to get it out a little bit tonight, while it was fresh on my mind.
I don't know what this year ahead will hold – but I know I am ready to accept it all with open arms. Accept the bad times, because through them I grow. Accept the good times, because they make me thankful for my many blessings. Accept the in between times because they serve a purpose too. I'm excited for this year!
I thought I was dreading this birthday a little – I don't know why…the number just seems so face-numbingly OLD. But I have realized that actually i'm excited. I have lived every single second of these 38 years, and I plan on doing the same in this year to come. I cannot wait to see what it holds!
I am so blessed to call so many of you friends – even more blessed to call some of you my family. Thank you for being along on this crazy ride. Thank you for holding me up in the bad times and for laughing with me through the good ones. When i look back on the last 37 years, YOU are the reason I can laugh, shake my head, smile fondly, and thank the good lord that I am still here today! In case you didn't have time to go get me a birthday present – i'll forgive you! instead, leave me a comment here telling me your favorite memory of us, however I know you! That would make me deliriously happy! Or send noodles. I am kind of hungry for like a good noodle casserole right now but I don't know how to make one….
So yes – noodles or memories. your pick.
Anyways – I'm going to go sleep now so I can stay up for my fireworks tomorrow night!
Happy 4th of July, friends!
Keep on Keepin on~
Terra.