A couple months ago, I posted about my girls looking through the American Girl doll catalog. It comes every couple of months – some enterprising young marketer did their research on our address – and we ooo and ahhh our way through it. I mean, have you seen it? It's like every girls dream – all these amazing playsets to play with your dolls, the accessories – the miniature little life you can create! I love it. I'm a sucker. I'm unfortunately a broke sucker – so our shopping is limited to tearing up the catalog usually. I had posted something on this particular day about Kendall laying in bed with me looking at the catalog, and it sparked one of our awesome Kendall Krew members to send me a message asking which doll Kendall had and could she send her a little something from that doll's collection. Shortly thereafter, Kendall ended up in the hospital for that long horrible stay, and that conversation was forgotten.
Fast forward a few weeks after coming home, and in the mail one day came a beautiful package from the American Girl doll store. This amazing woman had rallied a few friends who also had little girls in love with all things AG, and they sent a gift card for Kendall and her constant playmate Kaylen to be able to pick out whatever they wanted from the store. I mean, even just typing that in retelling the story brings me to tears. We have been so very very blessed by so many amazing people throughout this journey – in so many ways – from paper towels and lysol, to delectable meals, to gas cards – so very blessed. We would not survive if were not for every single way we are blessed. But this gift – to be able to take my girls to do something "fun" and "frivolous" and just for them – i can't put it into words.
So i'll try to show you their absolute joy in pictures.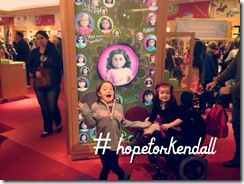 If kaylen's face doesn't make you smile then you need to be checked for a pulse! She was excited just seeing the store, and getting to go in and look at stuff. When I told her she could actually pick out a baby or an outfit or a small playset – holy cow I think all of Water Tower Place heard her squeal! Kendall was a little slower to catch on since concepts like that aren't real until they are concrete. But she was no less ecstatic at being able to look around at everything. And subsequently ask for one of everything.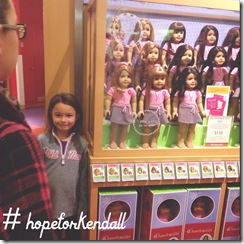 After much back and forth debate – Kaylen decided to pick a "My AG doll" – where you can get pretty much any combination of skin/hair/eyes imaginable, and then customize each doll with what your likes/interests are. It's a really cute idea and I am so glad that my baby loves still to play with babies so much. This doll will definitely see a lot of the world – or at least a lot of our suburban chicago world!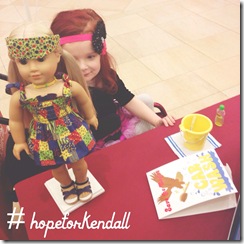 They had one "hands on" display where you could see/feel the doll and some of her accessories (actually i'm pretty sure the display case was just broken so it was temporarily set aside) but it was a perfect height for kendall – and she pulled herself around this little table playing with everything for the better part of a half-hour (if you have seen kendall's non-existent attention span in real-live action, you will know that 30 minutes is a miracle!)
Oh my babies had such an amazing time, getting to focus on getting something just for them! And at such a magical place no less!
After the AG experience, we wanted to let the big girls pick something out for themselves too at the mall next door, so off we trekked through a very full mall with the worlds most inaccessible elevator system ever.
Here's what happens when my children are in front of a large mirror.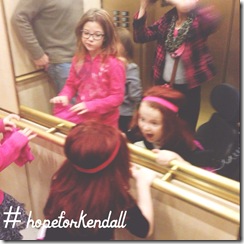 Dance party, crazy faces – i'm sure the security cameras got quite a show!
And the highlight of any good trip to the mall downtown –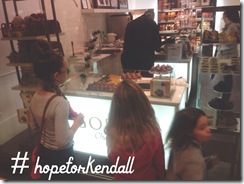 A chocolate covered strawberry from Godiva chocolates. This was the only thing on Kealey's mind from the second we were parking in the Hancock center lot – that's my girl! i've trained her well!
I feel like even the pictures don't do a whole ton of justice to just how much fun this day was. A day as just a regular family. Doing something fun. Thanks to some good planning and an easy week prior, there weren't any medical crazinesses to deal with. I didn't have to explain to the other girls with disappointed faces that no we couldn't afford this, that we had to leave quickly because kendall needed to get home, that we had to cut the fun short to deal with a medical emergency/issue. We got to just be together, look around, enjoy the small stuff.
Living life.
Breathe in and breathe out.
It was a great day. It was the kind of day that reminds you what really matters in life.
It was a day full of happiness, that came from a gift from others, from a place in their hearts that is so full of generosity and love, it spilled over and into others' lives. I cannot thank them enough. I hope only that someday we can be in a place to pay this forward. And we will.
Tonight I am preparing for our early morning trek up to Milwaukee for Kendall's IVIG infusion. We will leave the house before 5 am, drive 3 hours up to milwaukee, sit in the infusion room for 7 hours, have two more hours of appointments and checkups with various doctors, and then three more hours back home. And while things have been going quite well with her infusions, there is always a slim chance that she could have an adverse event and we would not be home that night as planned. I am extremely optimistic though that our last infusion that was well controlled with extra fluids and good pre-meds will be how this one goes also. Her birthday is on Thursday and I cannot even think of her having a reaction that would send her back north! So i won't. (this is one of those weird special needs mama superstitions – like if i talk about it out loud, put it into words, then it won't come true. If i bring my hospital bag, then i won't need it.)
But anyways – I should really get in bed. That 4 am wake up call is going to be brutal.
In the words of coolio, that great lyricist –
I'll see you when you get there.
terra.