Disney World Adventures, Day1, Part2: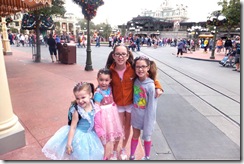 So we left off with all of us sobbing at the Princess Meet and Greet in Storybook Theatre in Main Street USA at the Magic Kingdom. Meanwhile the sign outside that used to read 25 minute wait was now a 75 minute wait – i'm sure due in large part to how much time our family sucked up in there! Walking out of there and through the store was one of the VERY few times anyone whined to buy something, and it was Kaylen who really wanted a Sleeping Beauty crown. We talked about how many other stores there were to get through and that we WOULD get her a crown or some ears, and that was the end of that. Truth be told, those Disney people are marketing geniuses. I am not a fan of plastic breakable crap for toys. But if I had money falling out of my pockets, I would have dropped a GRIP of cash on anything and everything my babies wanted. Honestly though – I was so proud of them. They never really whined to buy much of anything. I think they were too overwhelmed by the billions of choices!
Anyways – we headed out of there and over to the bathrooms to deal with Kendall's bodily fluids.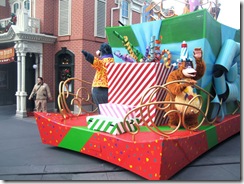 While we were standing there, I caught a glimpse of the Barbershop. The Main Street old timey singer people were all standing around Kendall's wheelchair and helping her play with one of their little toys, and then they saw all the sisters, and they all just stood there for a few minutes getting this awesome one on one attention from REAL  LIVE DISNEY people! I put our names in at the Barbershop for the Pixie Dust treatment, and we waited the 20 minutes for our turn. Meanwhile the parade started up coming out RIGHT where we were standing to wait, so it was AWESOME to see that real close up! All of the girls, and even Ben and I, were in full on starstruck mode by this point. It was just SO MUCH magic coming at us fast and furious!
The girls got their hair all glitterfied, Kendall saw Mickey and Minnie and Donald for the first time and i thought her vocal chords were going to snap from the strain of her yelling – MICCCCKKKKEEEYYYYYYYYY!!!!!!!!!!!!! MINNNIIIIIIIEEEEEEEEEEEEEE!!!! DONNNALLLDDDDDDDDD!!!!! more tears from me.  Kaylen was actually near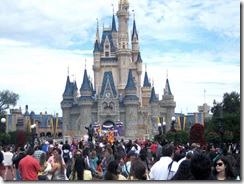 speechless and was just bouncing up and down and pointing – so excited she couldn't even get words out! If you know Kaylen, you know that this is nothing short of a miracle, and you know EXACTLY that non-stop bouncing i'm talking about!
We eventually made our way back through the throngs of people to Fantasyland. I had no set plan for where we were going or what we were going to do – I just knew the general direction of the "teacups" which the girls had seen on the tear-jerking Disney commercials and knew they wanted to ride. We could not come to a unified front on riding the teacups (Ben and Kaylen said no way, I wanted everyone to ride together first, it was just the typical arguments we go through as a family with 6 opinionated people! And for the record, Namna and Poppa remained QUITE neutral during all discussions about rides!!!) So we headed over to Dumbo and everyone was happy! More magical joy on everyone's faces! Our first ride!!!
After Disney we went right next door to the Barnstormer Great Goofini coaster. It looked like a nice easy kiddie coaster. Kendall was very much in one of her "i want to be attached to mommy at the hip" episodes the entire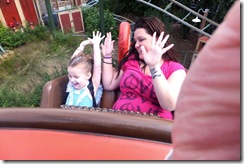 trip, so she wanted to ride most of the rides with only me. We get settled into the backseat of the ride, do the inevitable slow clacky-clacky climb up a long hill, and we went HURTLING down that first hairpin drop/turn combo and i thought Kendall was gonna fly right out of the seat! She's so light that I literally had to pin her down to the seat with my leg and hold her with my arm around her! That first turn she turned absolutely green with nausea, eyes rolling back in her head and in a very slow motiony voice she goes "ohhhhhh noooooo mommmmmyyyyyyy"….. I really thought she was done for after that one. But we pull back into the ride unloading area and she was all giggles and huge smiles and asked if we could go again! Thereafter, that was a favorite ride of everyone! It was one of the few rides that we had almost zero wait for, everyone loved the thrill of it, and it was just short enough to not be super scary to anyone, but fast enough that it was actually a thrill!
After that I get confused on what all we attempted to do – but I know that at some point shortly thereafter we ended up in the line for Belle's Enchanted Theater. The line was very long and was VERY slow to move.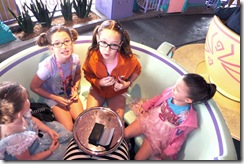 Like ridiculously slow. Like we hardly moved ever in an hour. At that point, a CM came out to tell us that the ride was shut down for a while due to technical difficulties. It is one of the newer rides and isn't even really a ride – but it has a lot of animatronics apparently. anyways – the big girls were not real happy with me for "wasting so much time" and the reason we were there in the first place was because Kendall has recently discovered Beauty and the Beast and we wanted to show her Belle and the Beast. We managed to have a lot of fun in line though – this was where we came up with the challenge for Ben that if the girls' picture could get 500 likes that he would put on Minnie Ears and actually smile for a picture in them!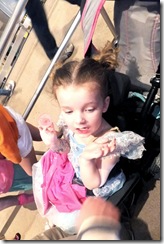 We ended up next at the Carousel, and then it was onward to "It's a Small World". Waiting in the long line for that, Kendall started to look very out of it and beyond exhausted. It was starting to lightly sprinkle rain outside, so the indoor rides were just getting PACKED. Kendall continued to go downhill in line for this ride, and we were making contingency plans for who would go back to the hotel with her/which girls would stay/if we would switch off later.  But we finally loaded into the ride, and within about 30 seconds of going through that tunnel on the "Happiest Cruise that ever sailed" – Kendall made a total 180. Her face just LIT UP at the sight of all those dancing "kids" as she called them. She could NOT sit still through the ride and was yelling at all of us – "yook at dat daddy! Poppa! See doze kids!!! ooooo mommy – what doze kids doing on da ceiling???" Once again – I was in awe of "Disney Magic" to get her to forget her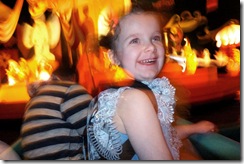 exhaustion and pain for a few calm minutes. It wasn't a magical cure-all. But it was a definite change for the better, and I think part of the second wind she needed.
Peter Pan's Flight was another completely packed ride that the girls wanted to attempt, but since I was still in the doghouse for the wasted time at Belle's, we said we would try it. I am not sure exactly how but we were allowed to go into the exit of this ride and bypass a VERY long line (one CM had told us there wasn't a GAC entrance, but another one quickly shuttled us over to the exit and plopped us into our flying boats!) I think this is probably one of my favorite pictures from the whole trip! It was pitch dark in the ride, and I rarely even shoot with a flash on – but I aimed the camera at us and took a picture hoping to get some of the blacklight effect captured. The look on Kendall's face is pretty much priceless! She LOVED this ride – well actually they all did!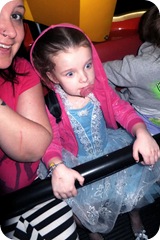 Next (i think – i'm probably messing up the whole order of the day but oh well – you get the gist!) we were going to tour the Haunted Mansion. This was one of Kealey's "must do" Disney things, and even though I wasn't super sure how the little girls would react, we decided to risk it! After a slight foley bag mishap in the middle of line (unfortunately not our last one of the trip!), we made it in to the cool air conditioned ride. "Last to Load, Last to Leave" as we got used to hearing. (Guests in Wheelchairs have to stay to the back of the room so we go in last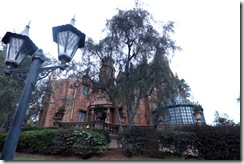 and are the last to leave the stretchy room.) We were ushered again to the exit of the ride and had to beat hoof in order to jump into the moving "coffin-y" things. Kendall was enthralled through the entire ride – Kaylen was slightly hesitant about it all, but everyone loved it!
In some kind of order we did Big Thunder Mountain Railroad (Kaylen declined to ride this one, but was BEGGING to go on it as soon as we came off of it!), got dive-bombed by seagulls going after someone's Leg O Turkey, got cotton candy (one of the few splurges Ben was ALWAYS willing to go for!), and headed over to Pirates of the Caribbean (my favorite!) The line for this one was insanely long but moved along at a good clip. Since it was recently "renovated", it did not have an actual GAC access line – and the CM's were semi-confused about where to send us. This was really the only ride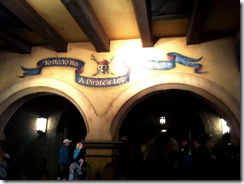 we encountered anything BUT extreme helpfulness, and even then, it wasn't bad – just confusing and hard to follow in the midst of a VERY crowded ride! My girls LOVED this ride as much as I do. Ben and I were preparing them for the "big drop" in the middle of the ride – and we were all like "was that it?" to the little speed bump we went down. Apparently the original ride in DisneyLAND in California is a MUCH bigger (better & scarier) drop!!! But the re-done animatronics made to look like THE Captain Jack Sparrow are AWESOMESAUCE!!!
Kendall's chair was waiting for us at the exit of the ride and I went to set her in it and it was SOAKING wet! I was like – did they send the chair through the ride??? When we rode the elevator upstairs we figured out why. It was POURING down rain. All the cute little prepared people had on their cute little plastic Mickey ponchos and we were all "We don't need no stinkin' PONCHOS!!!" (Ok we did, but I was not about to drop $8 on a piece of plastic in which to drape myself.) Everyone else had some kind of coverage so I just sucked it up and got drenched. Being cold and wet did not in ANY way dampen my desire for a Dole Whip Float. I don't know exactly what they are – I just know I had heard a lot about them, had pinned a recipe for how to make one a few months back, and that it had pineapple juice in it. Sold. It was like eating heaven. It was like pineapply ice cream floating in fresh pineapple juice. A shot or two of Malibu coconut rum would have been THE PERFECT touch but apparently they don't sell shots of alcohol at the Dole Whip stand.
We made our way over to Tomorrowland at this point (we had basically made one huge circle all day long). I think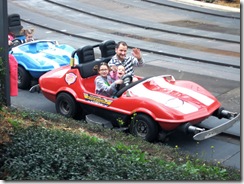 we had tried the car driving thingy (Raceway/speedway? I dont' pay attention to ride names) earlier in the day. It did give us a glimpse into how high our insurance is going to skyrocket if/when Karissa is ever given a license…
We did pretty much every ride in Tomorrowland – the People Mover (Kaylen's favorite ride!), Buzz Lightyear's Laser Gun Shooter Ride (not the actual name) – where Ben became enthralled with trying to have the highest score EVER – Space Mountain and the best ride in the history of amusement park rides—> CAROUSEL OF PROGRESS. No I am not kidding. I seriously love love love that ride. I do not know why. I am a huge history buff, love all things "old timey" and kitschy and cheesy – and this ride is replete with all of that. It takes kitschy to a WHOLE notha level!!! Complete with ROCKING song: "It's a great big beautiful tomorrow – shining at the end of every day – there's a great big beautiful tomorrow, and tomorrow is just a dream away!!!" someday if I get bored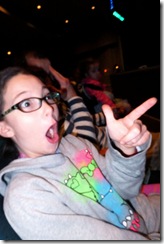 enough, me and kaylen will sing this on video for you all. You will love it.
Space Mountain. This was the big girls' and Ben's favorite ride of all (I think? Ben can correct me if i am wrong!). It is fast and dark and gives you whiplash and is just really really cool. At the entrance to this ride, we realized that Kaylen and Kendall weren't tall enough to ride it – so we asked the CM if we could do a parent switch. The basic premise of this (or so I had heard/read) is that one parent takes the riding children on the ride, meets the party at the exit, and the other parent is basically allowed to swap places there at the exit. The CM told us this was absolutely allowed, and directed us where to go. We talked to the next CM about this plan and again, she said it was totally fine and took me and the babies to our waiting spot while the big girls and Ben rode. They got off the ride all giggles and huge smiles and we made our way back up to the appointed spot to wait. A NEW CM was waiting up there and proceeded to lecture me on the proper use of a GAC and basically accused me of lying because I couldn't remember the name of the original CM who had told us this was ok. I spotted that original one out of the corner of my eye across the entire staging area and proceeded to yell and jump and get her attention to come over by us, where she opened the gate and pulled us right past the Whistle-Blowing CM! That ride was SO worth that minor hassle.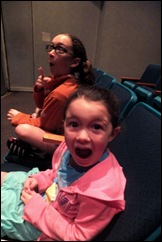 Except that by this time, what had started as a handleable but annoying sinus headache had turned into a full  blown raging migraine, and the jostling of that ride on my neck was nearly enough to make me pass out from pain. We walked around and did a couple more rides and then realized we were going to have to SPRINT out of the park to beat the parade/firework crowd. As much as I had wanted to view both of these things – after completely packed days, they were just not a high priority with four exhausted starving children and two very tired parents! (The grandparents had smartly headed back to the hotel after the rain started coming down!) We made it back to the bus that was going to take us to the hotel, and Kendall was in her chair tilted back, still not having shut her eyes for more than a wink or two all day (which, for a kid who routinely takes a 3-4 hour nap DAILY when at home, was a HUGE feat!). She was laughing at a little girl behind her who was being silly one minute and in a matter of literal SECONDS had passed out from exhaustion. she did not move a muscle from that point on – including being wheeled into the hotel, undressed, hooked up to all her various tubes, and the rest of us eating dinner that Ben scavenged from the row of fast food behind our hotel. HE FOUND A CHICK-FIL-A!!!! This is why i love this man. He knows the way to my heart is through my stomach!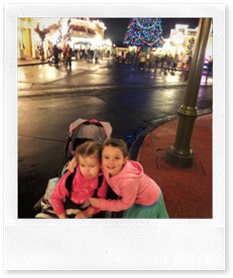 We basically had to manually move the girls' jaws to chew their food for them because they were SO tired after such a long full day – but boy did they sleep good that night!
It was truly an amazing and magical and LONGGGGG day! We were at the park for almost 12 straight hours, and packed so many fun memories into that time!
More on Day 2 next time!
terra.
(the album of pictures includes all of the pictures above. sorry for the duplicates!)