Somedays I have to remind myself that it's ok that all I am doing is just breathing. It means my head is above water. I am not drowning. I am breathing, and that means i am alive. And if i'm alive, we're all still alive.
Things are flowing along at their typical pace – some days ultra crazy and other days ultra boring and somewhere in the middle we find our rhythm and ride the waves and just keep breathing.
Kendall is improving every day. Well – in her usual way. Two steps forward, one step back. Overall – her pain is being well controlled with the addition of two "long term" medications, both in her J-tube (yay for no more IV narcs!), and her strength continues to return in amazing ways. That girl is the very definition of fierce determination (also of massive distractibility and wild banshee screaming at random times, but hey, we can't nitpick here i guess!)
The other girls are doing well. Kealey had tried out for her school cheerleading team and did not make it and that was a really tough blow. I think maybe more for me than for her. She took it in stride. I was crushed for her. She worked SO hard on learning the routines and I tried to help her even though I was exhausted that week and I just wanted her to have something FUN and GOOD and something to look forward to…She gives up so much, you know? They all do. I just wanted her to GET something for once instead of having to give something up again. But that's not life I guess. You want a lot of stuff and sometimes you don't get it and you move on anyways and find something else new to look forward to and work on. She has her sights already set on how she will improve over the next year to try out again next fall. That's my girl.
Karissa is doing well – she has become ultra loving and affectionate towards everyone since we've been home. She is a girl who can both read and pick up on emotions in people, even in a room full of strangers/people she doesn't know well. It is hard sometimes to hide my emotions from her – whether that's exhaustion or frustration or whatever – she picks up on it and she takes them on as her own, or tries to fix them somehow…She is doing pretty well in school finally with the help of her Special Ed teacher through her IEP. That is a huge relief in so many ways. Mostly I am happy for her that she doesn't feel dejected or overwhelmed by school anymore really. It actually almost moves me to tears to think about because it has been SO hard for her the past few years, the struggles, the frustrations, the helpless feeling at knowing she needed better support but not knowing how to get the school to recognize or address it. But we are moving forward now with her support and it is so huge….
Kaylen….oh my little hurricane. Where do I start? She is doing good. She is just one of those kids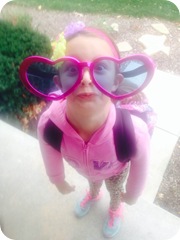 who will find her own way to get what she needs. She will get the attention and the love she needs one way or another – good or bad! I realized a few days ago that she is the age Kealey was when we brought Kendall home from the hospital…and I look at how much she does, how independent she is in many ways and yet how very much she still needs me. My heart breaks for her sometimes, and other times she makes ME want to break something….She also is doing so well in school and I credit her teacher with a lot of that success. She was Kaylen's first grade teacher also and we worked very hard to ensure Kaylen stayed in her class this year because her bond with Kaylen is such a large part of Kaylen's day to day success at coping with our somewhat chaotic family situation. Mrs. P – I don't thank you enough – but thank you – for all you do.
And that's about how that's all going. For those of you who have been bringing us meals and sending cards…I am overwhelmed at your kindnesses and my own gratitude for you. I will never ever ever be able to write the thank you cards fast enough or respond back to emails and messages in timely manners. But if you have sent something, or done something, or brought something….it has touched my heart and given me strength. Know that. Please know that. YOU are the reason I am able to tread water and keep on keepin on. I am tearing up trying to even write this. Thank you written here seems so completely inadequate – but I hope you know how much of a difference you are making for the positive in our life. I am SO very grateful for the meals – and the love that comes into our house with every single bag of food delivered. They are the difference between me going completely over the edge of insanity and being able to know that at least one thing is set and taken care of on those days.
So there it is. A brief update of sorts. For the most part, things are under control. Supplies are ordered for the month and week, things are in place and moving forward, I am *pretty sure* that everyone has some semblance of a costume for tomorrow night for Halloween…..yeah I can't think of anything i'm forgetting….
At least for right now!
I'm working on getting my NaBloPoMo – blog every day in November – posts all set up. I enjoy the challenge of doing it but am usually SO glad when November is done! If you aren't already – go "like" the Terra Talking page on Facebook so you can get the notifications when the posts go up. Plus it will make me ridiculously happy to hit 1000 fans on that page (SO PAINFULLY CLOSE!!!!) Kendall's birthday is two weeks from tomorrow which just blows my mind….this is the first year we aren't doing some bigger thing for her birthday so i think that's why it hasn't quite hit me yet that it's that close!
Anyways – now i'm rambling because i just drained a Venti mocha in about twenty minutes and i am JITTERY!!!!! YAY!!!!
I hope you are all having a beautiful week. Thank you for coming here to check on us. check on me. See what craziness i'm up to. Keep checking back. November will be chock full of it.
Peace out party people.
T-crest.