Ahhhh – what an amazing event the Friday nite "Hope For Kendall" benefit was! I am not sure that I can adequately put the whole thing into words. The overwhelming display of love and support for our family went so far beyond the confines of those four walls. It wasn't just about having so many people show up – in spite of the iciest snow storm we have had around here in a while RIGHT during rush hour! It wasn't about how amazing and beautiful the space looked – even though it was amazing and beautiful! And it really wasn't even about the monetary support (I don't think we even have final numbers yet!) – even though that in itself was and is amazing.
it was about being able to connect with people. People who read the blog, people who stay updated on facebook, or through my mom at MOPS, or through whatever weird network of relationships that somehow twists people together. I loved hearing your stories, seeing your faces, being able to hug so many of you. It was about having this overpowering sense of gratitude for all of you who worked SO HARD on this nite, and the families who supported you through such. For all of you who planned, created, worked on, sacrificed for this nite to be such a success. For the words of support and love in the video at the end that absolutely had me bawling. This all gave me such a sense of …. I don't even know how to word it right! Like I feel like we have been given the greatest gift in the world – and my responsibility now is to share that with others. To take this love and support and multiply it and pass it on.  And I am so excited to get started doing that!
This whole event gave me such a renewed sense of purpose, of energy, of an "oomph" to keep pressing on. One that I didn't even realize I really needed, but am so glad I saw and received.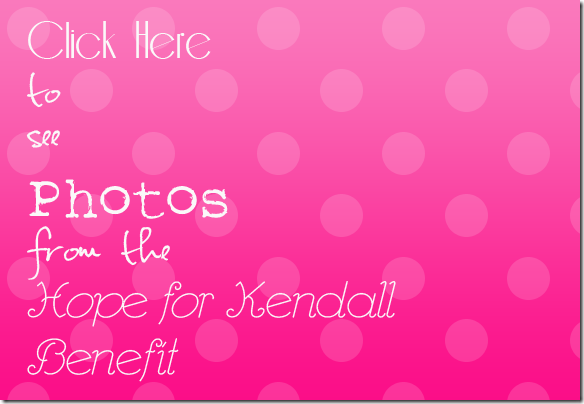 We are so blessed that not only was Kendall healthy enough to attend the benefit – but that she had what I can only term a "supernatural" boost of energy to be able to last the entire nite – and not just last – but to be the most pain-free, the most energetic, the most engaged without being overwhelmed that I have really EVER seen her. I know so many people were praying for her that nite, and pray faithfully for her every day. And Friday nite was truly an answer to those prayers. I hope that for all of you who saw her running back and forth between our table and my parents', and stealing all of the crackers from the cheese trays, and dancing with her sisters while the wonderful Lexi Elisha was performing – I hope that what you saw was the hand of our Loving God reaching down and giving her the strength to do all those things. My heart was so full watching all of her sisters run and play together. Kaylen was still a little reserved, not feeling quite up to her normal par – but they were all there together.  It was awesome, and again was part of the renewing of my heart, of strengthening my reserves for those days it seems like its too crazy to move, of creating those moments in time that fill your heart so full it feels like it might explode open from happiness and pride right inside you. Contrasted to last year on this nite – seeing kendall running around is nothing short of a miracle. And I think of all that she has fought through from last year to this – and I am so so so thankful and grateful. For her continued improvements and healing, for the love and support that has gotten us through this year, and for the love and support that we are surrounded with moving forward to whatever this year holds!
Anyways – it was an awesome night. And I'm sorry for those of you who weren't able to be there that I can't adequately describe it all. It was a blast playing trivia (they are some TOUGH TOUGH Questions!!!!) and I hope all of you who were there had just as much fun as we did – laughing, joking, smacking ourselves in the forehead when the answers were revealed! Erik, our emcee for the nite, was a ball of energetic entertainment as usual! Lexi and her amazing band gave an awesome performance and ended with some great worship time. The Silent Auction was full of amazing products/services – and I cannot thank those of you who donated to that portion enough! And of course, the live auction of the Kitty Bath drawings was the point of the evening where i thought i might pass out from laughing so hard! Erik reading my "scintillating dialogue such as 'you suck' and 'actual bathroom space'" was what threw me over the edge! And it ended with the man of few words getting up to thank everyone. I was crying so hard over the ending video that I literally could not talk but pushed ben up to get the microphone (I think he was planning on saying something anyways, but by that point it wasn't really a choice!) And then to everyone who stayed to clean up – thank you. To the girls who took my girls and taught them how to sing into microphones and danced around with them – thank you! There just really aren't enough words.
I am going to copy in part of a "thank you letter" I had written a while ago to attendees of last year's benefit. A large part of this got edited out (Because I am too wordy) – but you are already a captive reading audience so here you go. This is for all of you – whether or not you came to the benefit, or sent money in to be donated, or haven't donated a single red cent but have read, and prayed, and supported us with your love – everyone.
Simply put, our family would not have survived this past year were it not for your help, support, blessing, prayers. YOU are all a huge part of Kendall's story. And I honestly don't have the words to fully express our thanks and gratitude. I want you all to come this year not so much to give again – but so that I can line you all up around that room, and give each of you a hug, and tell you thank you, if I can squeeze the words out around the tears. Thank you. Thank you. Thank you.

We hung the window that you all signed up in the hallway. Many many many nites as I have trudged up and down the stairs after fixing Kendall's position so she gets more oxygen in and stops setting off alarms, or I've troubleshooted a grumpy IV pump for the 17th time that nite, or I've just gone up to feel her breathe, check her forehead with my hand, watch her sleep – I will see the names there. And I will put my hand on that frame, and I will ask God to please let each and every one of you know how much of a blessing you are to us. I ask that somehow He shows Himself to you in the form of a blessing that you need – a life-saving, world-changing blessing at just the time you need it. Just like you all were for us.

There is a scene in the movie "Saving Private Ryan", where Tom Hanks' character tells Private Ryan "Earn This. Earn It." – referencing the fact that Private Ryan had been saved through the selfless sacrifice of so many other men, to live his life in such a way that it made their sacrifices worth it. At the end of the movie, Private Ryan is an old man, bending over the cross of that captain in the cemetery, his family in the background. And he says to the captain's cross – "I tried to live my life the best that I could. I hope that was enough. I hope that, at least in your eyes, I've earned what all of you have done for me."

And that is what I wanted to say to all of you today. I know there is no earthly way that I could ever adequately say thank you to all of you for what you have done for us. But I hope that what we have done, and what we will continue to do, is enough. We will continue to stay strong as a family. We will continue to live every day by cherishing the life we have been given. We will continue to hope for good days, healthy days,  healing, a cure. We will continue to spread the message of hope, and the Author of Hope with everyone we meet.

We will continue to earn it.

Every day we are blessed to live.

Thank you.
I know there will probably never be a way I can sum up our gratitude in words. But I will never stop trying to live this life purposefully – to give action to the gratitude I feel, to continue to send your generosity, your love, your support even farther across this great world we live in.
Please go to the Hope for Kendall website that the benefit coordinators run and update – there are new videos (including the one that had me sobbing!), and all the photos from the nite! (if you click on the pink polka dot picture it will take you to the website also)
Thank you for checking in! Be sure to keep checking back in – I have a BIG change I am working on for the blog and I hope you all love it as much as I do!!! Go tell your friends to like the Terra Talking Facebook Page! I'll unveil the newest blog design as soon as we hit 250 fans!!! (or as soon as I get too excited to show it off and can't wait anymore!!!)
Spread some love today – and leave a comment about how you did it – or a time when someone did something for you that made YOU feel loved! It IS almost Valentines! (which, coincidentally, is one of my favorite holidays ever!!! and did i mention that I am in charge of the party for Kealeys class tomorrow??? does anyone have 23 pairs of chopsticks laying around??? let me know!!)
terra.