Ok so I failed. Not even a week in and here's a backdated post! BUT – I really did feel crappy and if i had posted yesterday it would have been probably a whole paragraph of this:
GWNEITlknowth slgpja ohjiiiiiiiiiiiiiiiwtg twlke stapot tga wepjs gwetjp9j3l23  psmb

awstsd aglwnleosin glsltijnda 'bojse'nmslicnoweknjgs pb Hachi Ju Hachi.
Apparently two days of LOTS of driving and being emotionally drained from the kind of conversations appointments with Kendall's doctors engender can REALLY zap you when your heart is already doing a good job of zapping the little energy you can muster up in any given day. It was super sucky. And I ended up just doing a lot more driving around yesterday to get a few little errands done and drive karissa back and forth to a playdate.
Don't get me wrong – i LOVE the boring days. I'll take them in any quantity we are blessed enough to get them. But when they come with bonus headaches like I ended up with last nite – no thank you.
so we'll just get back on the wagon today and keep truckin' forward!
I do have a few things coming up that I am SO stoked to share with you!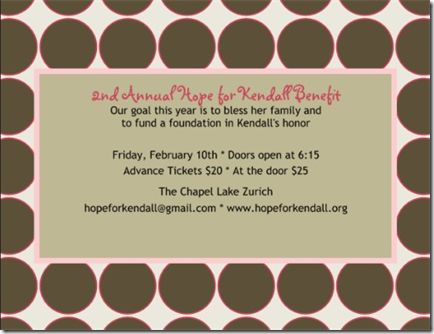 1.) Our AMAZING friends from up north are once again hosting a fundraiser for our family/a foundation we are hoping to start in Kendall's honor that will help other families like us! Last year's benefit was such an amazing boost to our family in a very very difficult time, and allowed us to be able to provide a few things for Kendall's care that insurance does not pay for. It relieved a huge burden on our family and we would not be here where we are today without the amazing support and help of the people who came to this fundraiser, the baseball fundraiser, and gave to the gift card drive our awesome neighbors held for us. Without getting all maudlin and morose about the cost it takes to raise a kid like Kendall and keep her at home – let's just say that it would not be possible without the extra help we have received. We are above and beyond grateful – there are simply not enough words to EVER say thank you to everyone who has ever helped our family in any way. With this benefit this year we are SO excited to be able to start a foundation that can help give to other families in the way we have been blessed. I know that tickets sold out SO quickly last year that many of our local friends from down south here were unable to attend. So I am giving you all fair warning now! The email to purchase tickets is on the flyer above, but it is :
hopeforkendall@gmail.com  – Mary is the one who mainly checks that email and handles the ticketing – so let her know how many tickets you would like. At the benefit we will be having a Trivia Night. It was SO much fun last year – if you have ever played Trivial Pursuit with about 200 of your closest competitive friends, you MIGHT have an idea of the kind of crazy atmosphere we had going on there. It was crazy fun. i'll just warn you – stock up on your obscure pop culture knowledge! There is also a Silent Auction that will be happening – and if you happen to have a small business or want in any way to help by donating an item for the Silent Auction – you can let Mary know at that email, or you can always contact me too!
The awesome team running the benefit this year is actually staffed by some really awesome "young adults" (we used to call them teenagers back in my day!) – who have put together a cute website with an amazingly done video that they made of our family. You can go check it out at www.hopeforkendall.org  
If you do click on over and watch that video – I must put in a caveat about my appearance. Yes I felt as absolutely crappy as I look. I begged and begged Bradley to just do a voiceover with a pasted in pic of Kate Beckinsale sitting in my spot on the couch – but he refused. So you get me in all my "up at 6 am to go for testing at the hospital after a hard week of not being able to breathe or sleep so I have no makeup on and threw on whatever fell out of my closet and hadn't done my hair in days" glory. In the back of my mind when we were filming I had the briefest of thoughts that I should go look in a mirror and possibly do a little SOMETHING to my appearance – but I was so tired, and they had been there dealing with my banshees all morning already, so it is what it is. there. Now i've gotten that piece of extreme vanity out of the way.
So – if you are local and can attend on February 10th – we would LOVE to have you and would be deeply grateful for your support of our family and the hope we want to bring to other families in similar situations.
I will have more about the fundraiser coming up in the next couple of weeks – but wanted to get it on everyone's radar!
2.) And the second thing I am super excited to share with you is that I am hoping to resume my "Fauxtography Friday" segment here on Terra Talking. I had started this a few years ago and I think I had about five total weeks where I remembered it – but I want to be able to start answering "en masse" some of the questions I am asked on a continual basis! I don't claim to be the worlds foremost expert on photography (hence the "FAUX" in
Fauxtography!) – but I believe that anyone can rock any camera if they know a few key things and practice practice practice – So I will be starting that back up and also sharing it on our 2Sisters Photography blog!
If you have any questions that you'd like me to address on Fauxtography Friday – email them to me at  terra@2sisphotos.com   If I use your question, I will have a special prize (and I promise it won't just be extra medical supplies!)
So look for that starting with this Friday's post!
I am sure I have other things I am excited to share – but I have to go pick up a banshee from preschool and actually start writing Friday's post!
Thanks for checking in here! Hope the New Year is off to an awesome start for all of you!
terra