I'm so excited to start my Fauxtography Friday posts back up – and so glad you're stopping by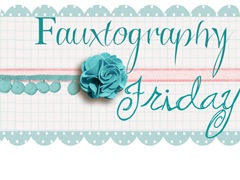 to check it out!
Basically on Fauxtography Friday I'll be posting an easy tip to help you get better pictures and get to know your camera better so you can take even BETTER pictures! We will start out super simplistic so no one feels left out – and depending on the kind of feedback/interaction (ahem – COMMENTS!) that I am getting, I will start adding in some more intermediate and advanced stuff.
I am going to put up a Linky on every Fauxtography Friday – for the uninitiated – this is a way that you can link up your own blog post if you choose to participate that way. Some weeks it will be an "assignment" type of homework where you may want to post pictures that you've taken to show that week's "lesson", and on other weeks it is simply just informational. i would love nothing more than to see some awesomely interactive interaction with these. i LOVE learning more about photography and sharing what I am learning with other people! There is nothing more important to me than that people are capturing the everyday memories of their family, their traditions, their boring times, their routines – to pass them on, to share them, learn from them, and grow together as a family. And one of the best ways to do that is to take everyday pictures! of course you still want the more formal, get all dressed up and look presentable professional family pics every so often (and that's when you call me and my sister! ;)  )  – but every day there are great ways to capture family memories – and you don't need a bunch of expensive equipment to get great shots!
That is what FF will be all about. Taking great pictures with whatever you have on hand!
Probably 80% of
the images you see here on Terra Talking are taken with my iPhone camera. I run them through one of a few different processing options – but they are typically just uploaded as is (and no i am not claiming that they are the best quality – i'm just giving you an idea!). the point being – you can save memories with any kind of pictures, even cell phone ones! (for instance to the left is a snapshot from my phone of Kaylen's "clean room". I'm not sure why she was able to fold all of the clothes and then lay them out nicely – but not actually put them in drawers. but it's a nice pattern she made around the rug.)
So for our first fauxtography friday – I want you to figure out what kind of camera you mostly will be shooting with – and leave that in the comments. If I know that more people are using point and shoots (thinner cameras that fit in your purse/pocket, ranging in price from $30-300), or DSLRs (you can switch the lenses on them, bigger bodies, etc.), OR if you also shoot mainly with a cell phone camera! Give me as much detail about your camera as you can – brand name, model name, what kind of memory card you have in it (SD or CF) – anything.
THEN~~~ I want you to take 5 pictures with that camera. I don't care what they are of or how you take them – but take 5 pictures. If you have a blog, make a post with your fauxtography 5, and link it back here. If you don't have a blog but are playing along – just leave me a comment that you did it! ORRRRR – you could become a fan of Terra Talking on Facebook (there's an easy link over there to the right in the sidebar!) – and post your pictures there under the Fauxtography Friday post i put up! I also don't care if you just fire off 5 quick shots right now, or if you take a shot each day for the next 5 days. Next week we will do more with those shots and work towards getting you to understand your camera as much as possible!
I can't wait to see what you all do – play along please! It's so much more fun when there's participation!
Have a beautiful Friday – it is an unseasonable 55 degrees here in chi-town today – did we skip winter?? I'm pretty sure we did. But whatever – i'll take it!
Terra.