Not only do I love this song, it happens to be about Chicago. As is this post. I love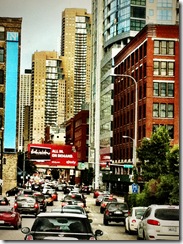 when coincidence works out like that. 😉
I realized that I failed to blog about a trip the big girls and  I took a few weeks ago to downtown Chicago, as a "summer's last fling" type of quick trip, to play tourists in our own city. Let me back up and say that this trip started out as a trip to the Dells to meet cousins for a few days of fun after spending the week cooped up in the hospital, then downgraded to a waterparky hotel closer to home with no cousins, then the waterpark part got dropped when Ben hurt his knee, and then it was just one nite at a hotel with a little bit of touristy stuff. Don't get me wrong – i am NOT complaining because i am SO glad we got to get away at all! it was just kind of funny the process we went through with plans to end up where we did!
We ended up taking the Metra from a local stop down to Union Station, and then a taxi over to the hotel. The girls have ridden the Metra before – but only as "the Polar Express"!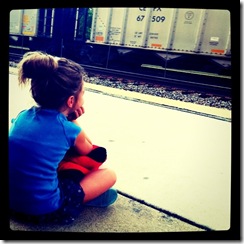 So they were all like – when are the Princesses going to come through and sing songs for us again? And i was confused and like – oh let's hope the crazies took an earlier train. But then I remembered what they were talking about and was just laughing and had to explain to them that this was just the plain ol' commuter train to the city, NOT the polar express to the north pole. Good times!
So then my girls got to experience their very first near-death experience Chicago cab ride! Kealey was PAN.ICK.ING. about the lack of seatbelts and clung for dear life to the seat, practically sitting on karissa's lap who was stuck in the middle and wanted me to "change the station" on the little TV in front of her (it's a little debit card machine that had a looping commercial that was playing on the 2 inch screen). We did eventually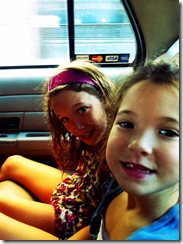 make it to our hotel in one piece, where we discovered it was "manager's reception hour". This meant free snacks and kiddie cocktails for the girls, and a little relaxation juice for the momma!!! SAH-WEETTT!!! We made plans to go have a fun dinner on the  mag mile at Cheesecake Factory, which is right by the American Girl Doll store – thinking we could kill two birds with one stone. The store was closed, and there was a 90 minute wait for dinner. Not one of my more "well planned" moments! But we played silly games and took crazy pictures and walked around a little bit and in all just had a good time. And JUST when Karissa was about to pass out from exhaustion, we got sat! I only had one moment of panic when they had to go to the bathroom, and it was down around the corner and if we didn't check in with the hostess right then we would lose our table and oh my lord….I have never prayed so hard in my life. But they came back and we ate and we had fun and somehow they were still talking and moving after we ate dinner and they wanted to GO SWIMMING. Joy. so at 11 pm we went down to the pool, and then at midnite-ish they finally passed out asleep!
The next morning we got up and walked down to Navy Pier for the SOLE purpose of riding the big Ferris Wheel. There was so much we could have done, and so much they wanted to do – but we were on a tight time schedule with our afternoon train back home. So we only had time for one torturously scary fun ride on the Ferris Wheel. Kealey is, apparently, not a fan of huge heights, and spent most of the time on the ride trying not to panic every time the car shifted. And if you haven't ever ridden the Navy Pier Ferris Wheel, here's a helpful tip for you: the ride never stops. You are expected to board and disboard (dismount?) WHILE its still spinning. It's not fast, but it certainly takes some skill to shuffle two kids into a car while the 3 businessmen are still IN IT cause they can't jump out of the moving car. Fun stuff!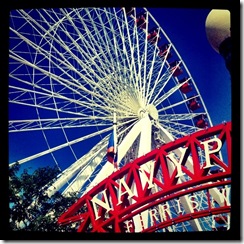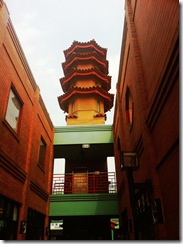 After this, I realized that I had misplaced my entire stash of spending money somewhere – sinking feeling in the gut and TOTAL mood ruiner. So we stopped and prayed that Jesus would help us find it, hiked back to the motel, asked to get our bags back from the bellhop, rummaged through them, and FOUND IT! Thank you Jesus! Then we took another death cab ride out to Chinatown. I had wanted to go to this outdoor market that I had been to once before, but it apparently wasn't open that day. So we walked around the shops, watched a turtle get butchered for someone's dinner, bought some redonkulous hello kitty stuff, and THEN!!!! Biggest adventure of them all! We rode the El train back downtown! i had no idea what color of line we needed, what connections we needed, what stop to get off of, or really how to even buy tickets. But we did it! we got back to the hotel, grabbed our bags, took another death cab back to union station, bought our tickets, and had JUST enough time to get a snack at the vending machines before boarding the train for home. PHEW!
It was a quick trip, but oh so fun. And full of good laughs and good memories – just my big girls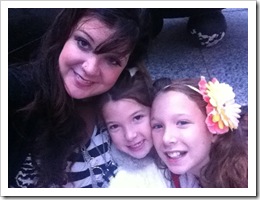 and me! I am glad we did it, and hope we can find a way to do it again soon! Maybe near Christmas time so we can see all the lights and festivities down in the city! But mostly – I am just so so so glad that I got to spend time with THEM. Just them. Not worrying about Kendall, or dealing with TPN or checking her for a fever, or talking on the phone with nurses. Just a normal mommy-daughter weekend. The kind of simple joy that's so easy to take for granted. So glad we were able to have those memories. Hoping for more and more weekends like that – less of the kind where we are packing bags for hospitals.
terra