Just keep moving forward.
That's how it's been around here since getting home from the hospital a little over a week ago.
Kendall's care can be overwhelming sometimes – just the thoughts of having to keep her healthy and infection free and functional – so much of that responsibility rests solely in my hands. We do not have very many nursing hours covered. in fact almost none. So not only am I adjusting to the back to school routine, I am doing all of Kendall's care, and Ben is back at work (he travels most of the week). I'm not saying this for sympathy – I'm just explaining why I look like a crazed wild beast if you happen to see me trudging through walmart or on my fifth trip to McD's for a large coke this week/day. We've all been fighting some random allergy/cold/sinus stuff since last Thursday to varying degrees, and I feel like mine is taking up residence in my lungs, and making for some not-so-good nights of sleep. The tireder I get, the more overwhelmed I feel. The more overwhelmed I feel, the closer I am to tears and letting my fears get the better of me. The more those fears are able to take hold, the more my eyes get off the prize – the fact that we have SO MUCH HOPE for Kendall, the fact that God chose to give her back to us here on earth for some reason bigger than I could imagine, the fact that she is here, laughing and smiling her way through every day in spite of all she deal with.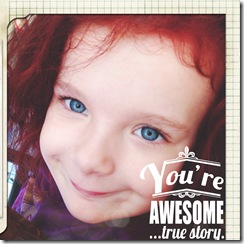 So I try to stay focused – on the good, positive steps forward. Her labs are looking stable. Her kidney values are within a few points of returning to "normal". She is starting to bear more weight and even take a few wobbly steps here and there. She's begging for playdoh and making messes with whatever is within arms reach of where she sits on the couch all day and she's loving having mommy to herself while sissies are at school. She LOOKS fabulous. And that almost makes it harder to realize that her battle is internal. I have no idea what is going on in her bloodstream or gut – and that drives me insane. I have to let those fears go. I know God is in control.
21 days from now she will have her next IVIG infusion. That will give me breathing room. It will be another dose of "immune system" that will buy her some time. It's all about time to me right now. It is hard sometimes to walk around like things are normal and fine and good – all the while in the back of my mind is a constant running algorithm of how she's really doing. Inside. Knowing she's a ticking time bomb. Focusing on that "three months" goal we have – break the cycle, get her three months infection free, her chances of survival will drastically increase. three months three months three months. Make it to her birthday make it to Thanksgiving make it to Christmas.
Make a wish.
we got a call from Make a Wish today. Her doctor filled out and submitted the paperwork for a wish for Kendall. This is bittersweet to me. I know that MAW isn't just for "terminal" kids anymore, and that LOTS of kids get wishes and that it's for any child who goes through a lot medically and just needs/deserves a break from the every day. But to ME – it's always been something for the really sick ones. I have just never wanted to see Kendall as being sick enough to get a wish. And really – there's no guarantee that she WILL get a wish. Maybe the MAW granters will decide that she isn't sick enough to qualify. Maybe. and yet – I know she deserves this. I know it doesn't mean she's "that sick". I know all of this. I'm just processing it out loud here. Don't feel like there's something I do need to hear/know about the program – I know it. What my head knows and my heart can accept right now aren't quite aligned. It was just – It was a moment. Just a moment. One I can't quite categorize right this minute.
But speaking of making wishes and having them come true – I get to have that. on thursday. I get to go see Mumford and Sons – a folk band that I am enamored with – in concert. Still cannot believe it. A friend was able to get a couple SUPER cheap lawn seats, we had enough miles for a cheap ticket, and the stars aligned. It has been something to look forward to – which I have desperately needed these past few weeks. I cannot wait to sit and soak up their amazing musical talents and have it speak to my soul. I am beyond excited!!!
I feel like I have so much more to say – especially on this night, exactly one month after her horrific night in the ICU. I still haven't quite processed through all of my feelings surrounding that night. I don't know that I ever will process through all of it – but I think I have to get it out somehow, or in some way. I don't think you can fully grasp just how amazing her current state of health is unless you can grasp just how very very close to dying she came that night. It is a part of her story and she deserves to have it told. and I will tell it. Maybe after a few days away to recharge and restore my soul.
sorry this is kind of scattery. It's part of why I'm posting it so late at night. Random semi-useless drivel that doesn't need to be dwelt upon in the daylight hours.Anyways – hopefully my next post makes a little more sense.
Peace out.
The T.