I think it would be funny to just post a bunch of random pics and let you all try to get the context for them!
But I'll do my best to actually explain.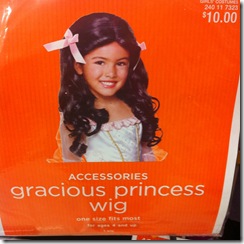 ok seriously. WTF is a "gracious princess"? I'm baffled. This is the kind of stuff I do when I get ten minutes to myself to wander the aisles of Target aimlessly…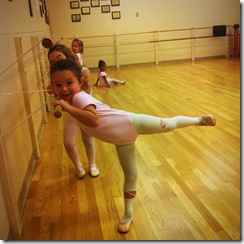 Kaylen LOVES being able to be in dance class like the big girls! She takes a tap/ballet class on tuesday nites with the awesome Miss Casey. It's always fun to see who Kaylen is going to be each nite at class – she likes to come up with alternative names for herself. We have no idea why.
So far she has been "Molly", "Shoe-Molly", "Banana" and "Casey". And some weeks she is just plain Kaylen. Don't worry, i've already started the therapy fund for her.
The really fun part of this is that she comes home and teaches everything she's learned to Kendall, so now they both stomp around yelling "heel-toe-TAP!!!!"
Cute stuffs!
CHIPOTLE!!!!! Because Kendall has been doing SO very well – her nurse and I have dared to take her out for a few outings – mostly revolving around food. And what better food to celebrate with than Chipotle?!?!?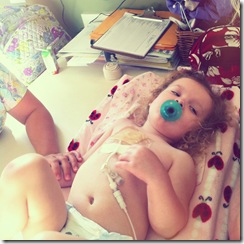 MOndays are dressing change/therapy days. Slash momma needs a stiff drink by noon days. She's such a big girl to lay so still while we try to create a nice sterile field in which to open up the dressing, re-sterilize her skin and the line, and then re-dress it.
Just a glimpse into her week!
She was super puffy with water weight this week – i think it was that one hot week we got randomly in the middle of October. Her body had a hard time regulating it's fluid supply that week again. She has been slowly but steadily losing weight every week since we made the changes to her TPN at the beginning of October. Not sure what that means for our theory that her gut can go back to doing it's job – but she had a little padding on her so at the rate she has been losing, we've got about 6 more weeks before momma bear comes out! Hoping it all stabilizes soon and never turns into any more of an issue!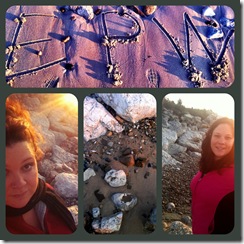 A small group of friends (and me) left our real lives behind for two days a couple weekends ago for our annual "Elastic Pants Weekend". It's just two days of wearing sweatpants, no makeup, no agenda, no running, no getting snacks for short people….just us. this year we had rented a small house on the beach in some small town in MI on the lake. That was 50 degrees when we arrived. But it had a heater in the bathroom. This apparently works wonders for constipation. Just trust me. We laughed a lot. We talked a lot. We learned how to dougie. We painted over travel brochures and called them "art journals". We stayed up too late talking and got up and started eating whatever junk food we could forage from the coolers full of it we had brought. It was awesome. At the end of the weekend I think we all went back to real life with just a little more pep in our step, feeling just a little bit more refreshed and ready to tackle the snack duties and heater-less bathrooms of real life. Thank you to my wonderful husband for holding down the fort so I could go – and to my EPW sisters for the awesome times. cannot wait till next year!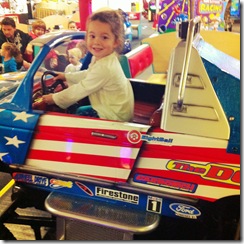 Kaylen has been like the birthday party queen lately from her preschool! she is having a blast though. It is awesome to see her finally getting some sense of herself between the dance, school, and the parties with HER friends.
I hope she is able to keep such a good sense of stability if/when the hospital stays kick back up this winter like last winter. But hopefully we will keep on with the healthy streak and it won't even be an issue!
She had so much fun at this Chuck E Cheese birthday party – although she was scared to death of this monster truck ride when it started up!  Can't wait for more fun times like this with her! her personality is SO crazy – she keeps me laughing one minute then crying with frustration at her the next. Hurricane Kaylen….that's for SURE.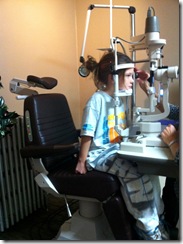 Sissy realizing that she actually CAN see better with the aid of lenses!
She is such a trooper with her new glasses – absolutely loves wearing them! I still sometimes do a double take seeing her with them on! Hoping that they help her regain some of her confidence at school and dance.
I need to do a whole post on some of the other "concerning" things that have been going on with this one – but still – i'm not quite ready. It's probably all going to end up being nothing more than my over-reactive imagination towards all things medical, and I hope more than anything that that is all it is. She has an appointment with Dr. Natalie next week to discuss a few things – and maybe by then i'll be able to breathe some of these things out loud. I'm sorry if that's melodramatic – but it's how i'm feeling these days about it all, so that's what ya get!
I have more pictures to share in another post soon! But they are mostly from November so I have to do them separately! And still I have to find my halloween pics…
OK – see you peeps later!
terra