When death hits, time seems to stop in accordance with that person's life. And the realization sets in at some point, that life, the earth's rotation, and the act of living and the busyness of society around us – it has all kept going. All of time didn't literally stop when your loved one's heart did, but it sure feels like it.
Today is my aunt's celebration of life and burial of her body at it's final resting place. Our family has all come together to work towards this day, this finality of the tasks that must be carried out after the passing. Except even in the finality of the goodbye, there is awareness that life will go on. And there will be more tasks to be done, some harder than this, and some easier due to the passing of time.
Last night was the first part of the "visitation" or wake or viewing – however it's referred to in your vernacular. It began at 5 and ended at 8, and that entire three hours there was a constant line of people that wrapped around the entire auditorium, of people waiting to pay their respects not only to and for Aunt Beth, but to the family that remained. As I sat and watched these people standing there for hours, and how many hundreds of people there must have been, i was overwhelmed again at the amazing impact this woman had with her life. And i felt so honored to have been able to be in the path of her hurricane of love during my life.
My cousin wrote this morning that she hoped she would be able to carry on that hurricane type of love in her mom's honor throughout the rest of her life, and i thought – "me too."
How often I take the people around me that I love for granted. How often I get wrapped up in the stresses of my day-to-day existence and i don't take the time to just LOVE.
But this was one of the lasting gifts Aunt Beth gave us.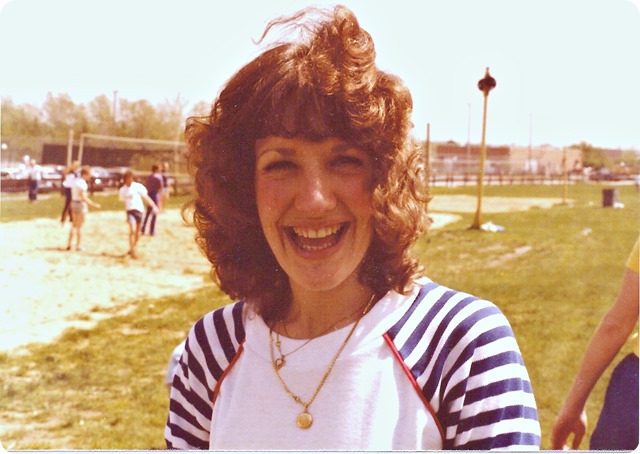 She brought my extended family together in one place where we all have had to "do life" together, there in her kitchen and her living room. Oh I know she's probably so sad she had to miss it but I know she was laughing down on all of us, laughing that amazing laugh as we reminisced, shared pictures and memories, and even made new ones. It has been an amazing time, and I know that there is no way I could ever thank the people who are the unsung heroes of allowing me, and allowing all of us, this time together. My family at home, holding things together and doing all the busy crazy things that make up our life, even without me there to keep all those balls juggling. The amazing neighbors and church members of my aunt and uncle who have kept food flowing into that house in a steady stream, the people who think of details like paper plates and plastic cutlery and extra coffee and just – stuff.
I have witnessed the true outpouring of love and humanity this week in a way that so often gets taken for granted in our every day existence, and this too is a gift. It has allowed me to see that there is never anything too small to be given or done out of love. It assures me that friendships and those strong unbreakable bonds we form with the ones we love are exactly what will hold us up in the hard times.
So today we will say our "see you later's" as we celebrate the amazing life of Aunt Beth. It will be hard because it will seem so final. It will break my heart to watch my beautiful cousins say goodbye to their mama. But it will remind me to tell my own mama i love her that much more. It will remind me to take the time to hug my own babies a little tighter.
And in this way, we will keep on keepin on. I say it a lot here and i say it even more on Kendall's page. Keep on…. Keep pushing, keep enduring, keep doing that hard thing and keep doing the right thing and keep doing what you're doing because it always makes a difference.
Keep choosing love. Love like a hurricane as much as you can and if some days you only love like a drizzle, that's ok too. But always choose love. Choose to throw your head back in laughter and choose to have a dance party in your kitchen and choose to smile even when you feel like you have nothing to smile about.
These are the beautiful lessons I have learned from my amazing auntie and the ones I will take with me for the rest of my days.
Rest in peace, Aunt Beth.
Oh who am I kidding – we all know you're up there starting a party!
Love you forever.
T