When you're down and troubled
And you need some love and care
And nothin', nothin' is goin' right
Close your eyes and think of me
And soon I will be there
To brighten up even your darkest night
You just call out my name
And you know wherever I am
I'll come runnin' to see you again
Winter, spring, summer or fall
All you have to do is call
And I'll be there
You've got a friend

More lyrics: http://www.lyricsmode.com/lyrics/c/carole_king/#share

From "you've got a friend", Carole King.
I grew up on this song. And the others on the Tapestry album. But my mother passed on her love of the beautiful voice and compelling lyrics of Carole King, and it seems like the words to this song have been etched in my memory from a very early age.
and if you're really lucky in life, you get to have maybe a handful of friends who you really know are Carole King song-on-the-remix-tape worthy. The friends who really do mean that they would drop everything and come running to your door with cake/soup/cleaning supplies/scrap supplies in hand to  help you FIX whatever was making things so wrong in your world. And how often we take for granted that those are going to always be REAL LIVE touchable huggable friends.
In today's world, where we can reach out and "touch" someone via a phone, cellphone, internet connection or even video call – how many bonds have been created via words shared on a screen, experiences not felt or lived through together in person, as much as in emotion? On this journey with Kendall and her issues, I have "met" so many awesome and wonderful friends – most of whom I have never even had one real live conversation with. yet, these women hold my hand and talk me down from ledges, and walk me through procedures and surgeries and waiting rooms with a combined presence that can tangibly be felt in the darkest and lowest of times.
But I wonder if I would have been as prepared to form "online relationships" like the ones that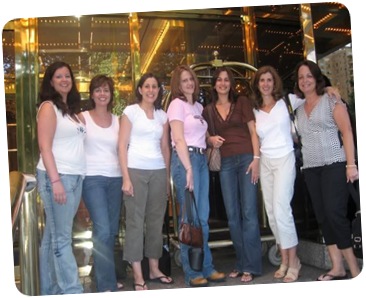 help me today, if it were not for a very special and fun group of ladies that I "met" a few years ago. We affectionately called ourselves the "Foxy Bishes" – and for me to even try to explain that to you would take far too long and trust me, you would still not get it, and would still think I was just crazy for even saying it out loud. But these girls – wow. you name it, we went through it together. We had our own little chat room where no holds were barred, and nothing was off topic. Yes, we were/are crazy.  Even crazier was that we decided that if we were THIS much fun online, how much MORE fun would we all be IN PERSON?!?!?
And so plans were made. Tickets were bought, hotel rooms were booked, dinner reservations were set. I think that all of LaGuardia heard Team GMD land and unite for the first time in real life. and I am pretty sure that our poor limo driver started drinking somewhere before we even got to Manhattan proper. And of course, the Trump hotel lobby staff has STILL not recovered from the ruckus we caused. I don't think any of us slept more than a couple winks that entire three days. I know I didn't! We saw the sights, we ate good food, we introduced Wyowoman to real live sushi in a grocery store below street level. We heckled with street vendors to get good prices on knock off purses. We laughed and we cried and we laughed until we cried and then we laughed some more.
And it was as if we had never been "strangers" at all, ever, in the first place.
those beautiful women helped shape, in a way, the mom and friend and person I am today. They helped ease the transition from the me i had always known,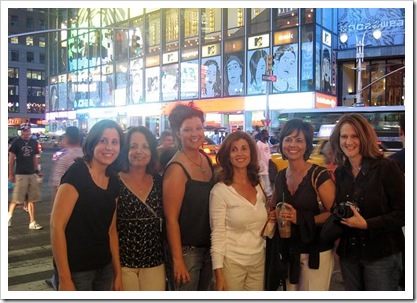 into the mom I had no idea how to be. They helped me see that there is a connection between the two – that becoming "mommy" doesn't mean you give up "me". They convinced me that I was more hilarious than I really was. They gave me back the identity I thought I had lost.
As life has gotten in the way of some of our silliness, and we have drifted from the incessant grouping in that room, our craziness has gotten a faded sort of quality to it. i can look back on those times now with so much fondness. I still keep in touch with them through facebook and such, and of course my crazy non-sushi-eating sheep-shearing beet-farming frapp-addicted darling wyowoman kristin still keeps me sane many many days by just knowing me, getting me, speaking to the part of me that just needs to remember to let go and laugh sometimes.
So was it worth it? to fly halfway across the country and meet a group of strangers I knew only through typed words on a screen?
you betcha.
and I hope we get to do it all over again someday.
Love you foxy bishes.
*pink puffy hearts*,
me