That is how i would describe my creativity skills. Completely and utterly lacking.
I am trying to come up with a cute theme for Kaylen's 1st birthday party (which we will celebrate on my birthday) and for Karissa's 4th birthday, which is her first REAL birthday party, and will be celebrated on the day of Kaylen's birthday. i am considering having a party for myself on the day of Karissa's birthday, just to continue with the confusion. (for those who do'nt know, my birthday is the 4th, Karissa's is the 7th, and Kaylen's is the 12th – got it? good).
Anyhoo – if you have ANY creative ideas for a 1st birthday – let me have 'em! And if you happen to be firmly in the Ben Atkinson camp of "its just a birthday party for a baby who wo'nt even remember it, forget the theme" – then….well, that explains a lot about your childhood! Anyways , there WILL be a theme this year. I am just determined of it. And in spite of Karissa wanting the quintessential cheesily marketed Disney Princess Party from Pukeville, I will find a way to make this a FUN and unique party for her.
oh my gosh. We had a housecleaner come last week. Its just one of those things that i NEVER do. another area where i am woefully inadequate. i mean, I keep the house straightened and as yet we have no mold spores growing anywhere obvious (knock on wood). But this lady was AMAZING. the house SPARKLED. It still does, but 12 hours after picking the kids up from memaw and poppa's, its starting to return to its normal condition…It was such a huge boost to my energy though i just sat and took in the clean smell of it. Luckily, we left the morning after she came to drive up to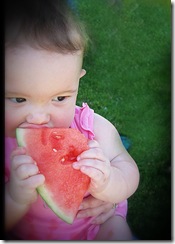 Milwaukee to be with Ben for one nite at his hotel where they had a little waterpark for kids. I have no pictures because Kaylen was a complete nightmare child from the second we got on 294 until…..well until i dropped her off with Memaw! I have no idea what is wrong with her – all i can assume is that its molars, a possible head cold, and milk allergy all kind of taking their toll all at once on her. The girls had an absolute BLAST at this little park thing though – I am surprised they are not completely waterlogged! and then they got to spend the whole weekend with their grandparents so….I got to SLEEP IN!!!! TWO WHOLE DAYS IN A ROW! It was ……the best feeling. So relaxing, such a wonderful break. I missed them, definitely, but I know it was a break that I needed and I am so grateful to my parents for being willing to take on the craziness of my life for a few days so that Ben and I could enjoy our anniversary on Saturday!
Friday nite after dropping off the girls, I went out to Friday's and the comedy shrine in downtown naperville with the women from our church small group. it was such a blast and i laughed SO hard at the improv comedy I burst into coughing fits. I think my favorite part was when the normally quite reserved brenna volunteered the following as a "sentence that someone said to you today": "I didn't poop in my pants!" Ahhhhhh – motherhood! The ensuing skit based on that phrase was probably when i got to laughing the hardest. Anyways – that was a blast and i think i was asleep in bed within about ten minutes of getting home. Saturday morning, slept in till 10:30 ( i know!!!!!), went to a nice anniversary breakfast (lunch), went to see the new M. Night Shymalan movie "The Happening", and then got a mani/pedi. We FINALLY decided on dinner at 8, and went, of course, to Buca's. Slept in again Sunday morning, went to church, and then went up to get the girls, where we had to tear them away from fishing with Poppa at the pond. It was a great anniversary weekend. Nothing fancy, no gifts or cards, just us, some sleeping drugs, and lots of sleep. and some good food. There's not much more you could ask for in life for your 11 year anniversary!
And that's a pretty good overview of the weekend. For today….
well. not much is planned. I feel kind of like a bad mom today. I just do'nt know what to do with them, nor do I really want them to feel like every minute of every day needs to be CRAMMED FULL of non-stop exciting FUN just for them! So I am not sure where the bad mom guilt is coming from…
I really am craving a hot dog right now. Well, ok more than one. i want one chicago dog and one chili cheese dog. Maybe two of those. I should have had breakfast. ok enough rambling.
give me birthday ideas please!
Hope you all have a great Monday! I AM going to be better about blogging this week. I think i can i think I can…..
terra