I have no idea why i made that the title. The winner did NOT win anything as cheesy as a chicken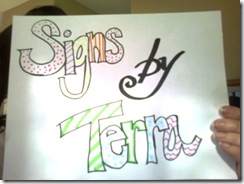 dinner. They won a real, live, genuine SIGN by TERRA!!!!!
I just have to tell you that all of you playing along with me and my craziness just absolutely made my day! I was laughing so hard out loud the ENTIRE day – well, last two days actually – and it was absolutely fricking awesome! I will now have to continue to rack my brain for crazy things that will continue to draw random responses from friends and strangers alike!
So – on to the news you came here for:
The first winner that was randomly chosen was Diane. But then I thought – ok, that isn't really random. Cause she lives like four houses away from me, is my wife (its like a best friend,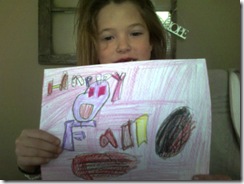 but better), and I see her every day. So then I decided to pick two more peeps. Cause, you know. i AM something of a whiz with the paper and markers, and I can certainly give back to this awesome community of fellow art/pen lovers.
So – Natalia Shull and Sarah West – for your inspirational show of support, your Signs by Terra dreams are also coming true! Now – all three winners will need to email me ( terra@2sisphotos.com ) and tell me your favorite color combo's, what you want your sign to say, and if you are a stripey or a dotty person. ANNNNND If you'd prefer – my apprentice Karissa could also help create your sign! It adds a certain "je ne se qua" (I don't speak french – i don't know if that's right!) Anyways – it's a sight to behold.
I wish I could tell you all the insane amount of entertainment this has provided over the past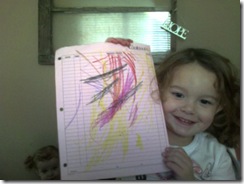 couple days – I needed this lift to my spirits like I can't even tell you. And I know that makes me seem like, this close to the looney bin that playing with paper, pens and markers could make me giddily happy. But I guess its just that sometimes you forget that you aren't really alone in the world. Alone in your love of writing utensils, or your 5th grade big dreams, or the day to day grind of sameness that sometimes comes along with real life as a mom to young kids.
(Kaylen is also working on her skills to become a partner in signs by terra. She is testing out her color mixing here, playing with patterns, etc. I am trying to break her of her addiction to yellow and black.)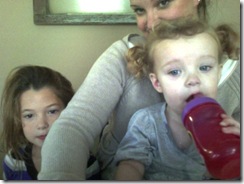 Sorry that's all I got for tonite – my brain cells are being otherwise sucked of their will to live by watching Talladega Nights!
And by a week with these crazy munchkins.
But we're all pretty healthy, and we're all still at home. together. as a family.
so life is good.
But I do need some sleep. Clearly.
And if you really really really really wanted a sign….email me. I'll see what I can work out for you! 😉
Thank you to all who entered! come back soon for more terratalking fun.
you never know what you're gonna get.
T-shizzle.