Its ten o clock at nite and i smell popcorn. Its such a unique scent. Nobody else is awake, not that anyone else in this house could reach the microwave even if they WERE awake. This is going to drive me nuts. Cause now its making me hungry.
I am so so so so tired right now. But kind of a good tired.
we went down to American Girl Place downtown today. It wears me out to think about all that was involved in packing up 8 people into the Denali, all the paraphernalia, all the planning
…but seeing my baby girl asleep holding her brand new baby doll, and knowing that she'll treasure this birthday forever – that makes it all worth it somehow. But oh what i wouldn't give for a large bathtub and a good sleeping pill right now.
I need to do a hard drive dump and burn cause i currently cannot even upload new pics from the card onto my C drive. how does this happen? i baby this baby. i just gave him a nice upgrade to 2 gig of ram. i routinely clean off my hard drive and utilize my second installed hard drive as well as burn off to dvd and the EHD. I find it hard to believe that the life expectancy of a laptop is 2 years. Now i'll give you that i ask a lot of jack here (yes i named my laptop after Captain Jack Sparrow. sue me.) anyways – it just occurred to me that I may actually need to SHUT DOWN tonite. I think i shut down maybe once  a week – that has to be the reason for the LDS errors.
Dang i am random tonite.
I got five hours of sleep last nite. I think I might shoot for more like 7 tonite. i feel overwhelmed at all that i have coming up in the next 125 hours. Need sleepy.
I will have pictures tomorrow of our little adventure.
And in closing – thanks to all of you who wrote to ask me if every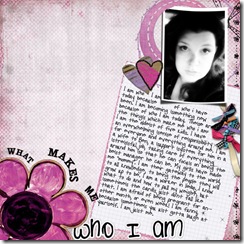 thing was ok. It is, truly, it is. I realize my last post was slightly cryptic and honestly, if i could explain it to you in 3 or 4 quick sentences I would. Its just truly, one of those long boring stories. But it's all good. and no I am not becoming a New Age guru or anything, trying to find myself and release repressed memories. I simply need to stop and take a look at where i have been so as to get a better grasp on my bearings for wherever i am headed. This is a page i did back in June – it talks about the same thing. I am who I am today because of who I have been every other day up till now.
do'nt know why i threw that random pic in there – it just needed some extra color here tonite.
I've got to go pinpoint the source of this popcorn scent.
Peace out Goonies.
terra