HA! I was going to attempt a "wordless wednesday" (which is where people who are ever-so-much-more creative than myself post just a picture in lieu of words on wednesday – the thought being that a picture is worth a thousand words, let the picture speak for itself about what is going on with you on wordless wednesday) – but clearly, i value hearing/reading my own voice too much to do that! Besides I am not sure i could EVER accurately capture the chaos of our days in one picture. We'd need a picture that is worth a million words. And i'm just not that great of a photographer!
I digress.
Today I need to get THIS up: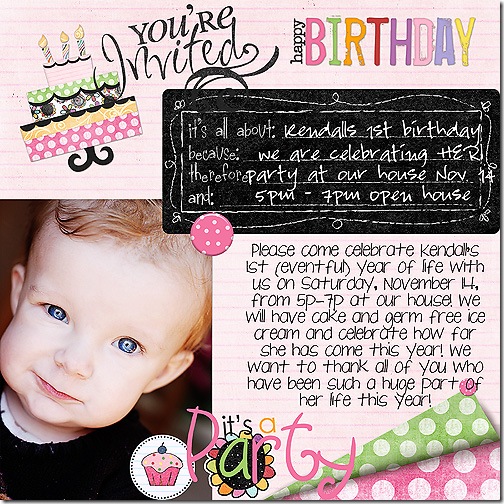 Can you all read that?
It's the invite to Kendall's party. And yes I am serious. If you are reading this, aren't busy on Saturday the 14th, and have any kind of desire to come hang out for a couple hours, PLEASE COME to Kendall's birthday party! I would adore to have all of you who have been praying so hard for Kendall, being a part of her life, celebrating the big and small achievements for this last crazy year – all here together to have cake, ice cream, coffee, whatever! I am hard at work on a slideshow of her first year that we will be watching this nite, as well as a few other ideas that are only kind of half-baked at the moment. Come for the surprise! If you need the address – email me. If you want to RSVP – email me!
(that may or may not work directly – you might have to just type it into your email program!)
What else is going on this beautiful Wednesday afternoon in late October??? I am awaiting the arrival of the girls' baker hats so I can finish getting their costumes all done up! They are being 'bakers" (the three older ones) and Kendall is a "cupcake". i have a good feeling that this is going to be one of those ideas that is WAYYYYY cuter/easier/more pulled together in my head than it will be in actual execution, but at this point, we're committed, so we'll see how it turns out! Of course the whole event will be documented in fine detail and pics will be here soon!
So on to the title of my post – what do you do wednesday. What do you do to:
stay on top of housework? Do you rotate days/tasks?
Plan meals/menu's?
keep "you" time in your week and not get lost in mom-hood (or dad-hood)?
give me your little tips. I know I bring this up every so often, but it seems like our days change with the wind here sometimes, and I am often left feeling like I have no idea how it got to be friday and all i've done all week is wipe off the counters and run the dishwasher 482 times. Trying to come up with a good schedule. No flylady will not work for me, been there tried that. I just want to know what REAL LIFE schedules you set up for yourselves and how that works with your life!
Ok i feel like I have more to blog about so maybe i'll be back later. For those playing the two catch up words you need (today's and yesterdays)
FOR
BEING
ciao –
t