We made it home from vacation Friday nite. Yes. the same day we left.
Ben is either a lunatic or a genius. I am still struggling with which.
Just kidding.
although i did want to inflict bodily harm upon him when he suggested that we push through in Louisville, I SUBMITTED to my husband's will (with a few codicils of my own that he happily accepted), and we arrived home to sleep in our own beds at 11:30 pm. We briefly toyed with the idea of stopping in to small group as we were passing by there right about the time the discussion usually starts wrapping up, but we decided that our rank selves would probably not have been very welcomed.
Oh how to catch up on a week's worth of craziness? I can't. Not all at once. So I'll just share the bits and pieces here as I get to the pictures this week.
I am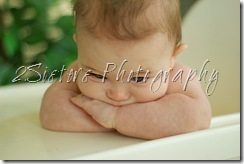 deep in the throes of work catch up right now so this one will be short and sweet, but here's a picture of kaylen a.k.a. "Miss Pouty-Puff-n-Stuff".
Hope Spring Break was a fun time for everyone else. I'll be back with more fun later!
Stay Tuned for Part 2: Taking Karissa into a gas station bathroom in the Georgia Hood because she had an accident and I only have 5 wipes and a spare pair of underwear and some dude has been in the bathroom for the last 12 minutes. And needless to say, we were very much minorities. Good times, good times. All this and more when terra talking returns.