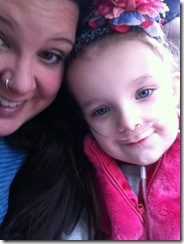 Writing to you from the comfort of a foldout bed in a hotel room with a view of the most magical place on earth! Two days, two routes (one car/one plane), and a whole lot of luggage later – we are together as a family again, ready to walk into the Magic Kingdom as soon as those gates open in the morning tomorrow!
I have no idea what I'm doing from a "planning" standpoint, but all the MUST DO's are circled on a map, we have a general direction to head once we enter the park, and we have oodles of excitement here from four girls which i am sure will spur us all onward!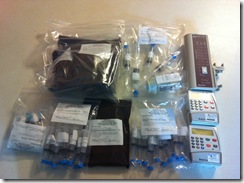 To recap today a bit –
Getting through TSA was really my biggest "worry" about travelling with Kendall (I mean besides the fact that she requires a whole lotta stuff to keep her care managed and her health optimal and leaving the comfort of all our nicely stocked supplies behind is a bit scary). I mean, i've had TSA agents throw away my GOOD BEST LIP GLOSS because they felt it was over the fluid limit or might in some way detonate. LIP GLOSS. And i was gonna trek a kid through their little metal gates with about a thousand fluid ounces of open fluids, another thousand of closed fluids, and hundreds of little bottles or other devices that could be construed as "dangerous" (needles/syringes, hemostats, medical scissors, etc.) Not to mention the oxygen concentrator,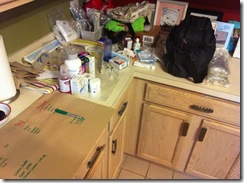 the wheelchair, and our "personal item" carryons. All we needed was a partridge in a pear tree. I was literally shaking as we walked down the hallway towards the TSA checkpoint. That could have been the Starbucks Double Shot though…
So we get down there and it's us and about 93 other elderly passengers, so of course we stick out like a sore thumb. (Not to mention Kendall is screaming "Mommy!!! There's BRAVE!!!" about a lady in the next line who had red curly hair.) They quickly took notice of the fact that we werent going to be a "simple" case, and started setting us up our own X-ray line. A few people thought they were gonna be slick and get in our line, and quickly realized that was a horrible rookie mistake. They had to call 2 supervisors down to ensure that we were processed correctly. And we were. They were quite respectful of all of Kendall's "attachments", and at one point we had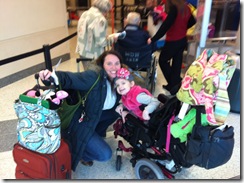 about 5 officers helping us with various things (they had to scan everything through the machine, do patdowns to kendall, swipe the bags and anything containing fluids and check the swipe pads in the machine) – and they had to put Minnie through the X-ray machine. Holy Hannah – you would have thought they were performing surgery on Kendall herself with no anesthesia from the reaction to Minnie needing an X-ray! And in Kendall's world, X-rays are a very real experience associated with usually not so good feelings (she gets stretched into position for CXR's, gets her gj-tube changed out under a "live" x-ray with no sedation/meds, gets CT scans and ultrasounds in the "x-ray room" at our hospital, etc). one of the supervisors yelled out "someone hurry minnie through that machine NOW!" It was pretty funny!
and then my heart stopped when the supervisor comes up to me and says "ok we have a problem. I have a bottle that is over the 2 oz limit, and i'm not sure it is medically necessary…." And proceeds to hold up a bottle of BUBBLES. Yes the kind you blow. I have no idea how or why it was even in her bag (probably leftover from some procedure where they used bubbles as a distraction). I said – please just toss it! we'll live without the bubbles!
And that was that! your prayers (and mine!) were answered as we breezed through (in just a shade under 30 minutes) security! We got Kendall all hooked up again and headed down to our gate where we were allowed to pre-board. This was a very good thing because i had to take about 3 trips to get all of her bags settled, unhook her from the chair, get her in her seat and hook her back up to everything. She wore her oxygen like a big girl during the entire flight even though she claimed she "couldn't talk with it on". (I think the passengers around us would beg to differ with that thought…) She was SO excited for take off – we patted our legs for more power just like in Little Einsteins! We painted with Color Wonder paints (magical!!! She is obsessed with painting and this was such an easy way to not get paint everywhere!), watched movies on the ipad, and then it was time to land. It was HOT when we got to florida (in stark contrast to the 10 degrees it was when we left home!)
We got to the hotel, got mauled by the big girls, opened up the NICEST gifts from some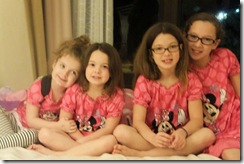 new friends who wanted to make sure the girls ALL had a magical start to their magical vacation, and started unloading all of the medical stuff. I wish I had gotten a picture of the gifts before the girls started tearing into it all, because i won't do it justice with words. But a group of really amazing people sent some really amazing stuff here to the hotel for us. The girls all got new Minnie Pajamas, some perfectly princessed t-shirts, lanyards with trading pins!, and autograph books for the big character meetings we are hoping to have tomorrow! They were in awe of everything! Kendall fixated on a Beauty and the Beast pin that had a spinning head (hoping she doesn't break it!), and the big girls dove right in to picking out their favorites. (I'm not totally up to speed on this pin trading thing so please feel free to leave me a comment with the best way to do it, or what else we need to do with them!)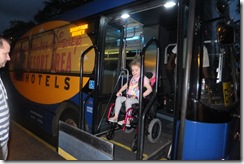 Our hotel is right across the street from Downtown Disney, so we ran over there for a quick dinner. Well, we thought we were "running" on the shuttle bus, but it ended up being a 20 minute ride for what turns out was a five minute walk. But on the shuttle bus, I got to experience my first bit of Disney Magic.  We were pushing Kendall in her chair, and Ben was just going to deadlift the whole shebang onto the top step, but the bus driver said – let me pull up and i'll help you out. And the bottom step moves forward and turns into a lift – just like how she gets on her bus every day she goes to school! It was so awesome to see. I know its a little thing – but to me it just showed how magical this place can be for ALL kids, of any shape or size or specialness.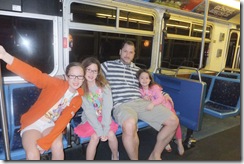 The girls are SO excited to be here – they wanted to stay at Downtown Disney for a couple more hours – but you can just tell they are EXHAUSTED, Kendall especially. We went into a couple shops, and my eyes welled up with tears. It really is a dream come true for them – all the princess stuff, the dresses, the dolls, the magical sparkly things everywhere….oh i want to buy them the store! I can just see it through their eyes and it is awesome.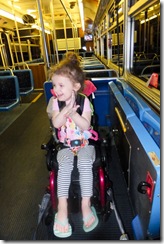 I can hardly wait for tomorrow.
I can hardly keep my eyes open right now.
but i wanted to get this all out, while it was still all so fresh in my mind. Tomorrow it will fill up with new memories and things to hold on to. I read every single comment on every single post on the Hope for Kendall page, or on pictures or posts on my own wall on facebook. Every single tweet mention. You all have some very wise words. And the one thing i keep seeing you all say is "make memories". That's what we are doing. I'm trying to capture memories while still living them. I hope I can be good at it. I hope my heart can hold it all. I hope my waterproof mascara is really waterproof because tomorrow when my baby girl meets Cinderella, it will be a real live dream come true. And I will not be able to hold back the tears. They are falling already, even at just the thought of it.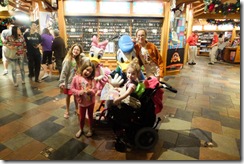 I noticed today that we get a lot of stares. I guess a kid in a wheelchair is kind of an uncommon sight. And i realized that very few of them were actually rude (in fact i wouldn't say ANY were outright rude, people are just curious. Perhaps grossed out by the bags of body fluids that I had nowhere to really hide today nor did i have the time to really care!) But all around me I could hear people saying "oh my gosh she's so cute!" I'm gonna choose to believe that people stare because she's cute. This has nothing to do with anything other than its just a random observation from today. I just wanted to get it out.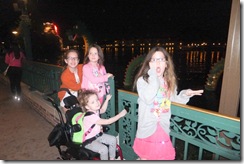 I hope you enjoy some of the pics! I am not sure if i will have the strength to post a whole post tomorrow – but you better believe there will be at least one pic of the magical meeting.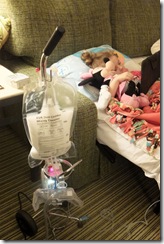 Check out Ben's awesome invention – the traveling o2 holder-turned-IV pole! it is holding her TPN, the pump, and her foley bag!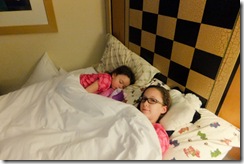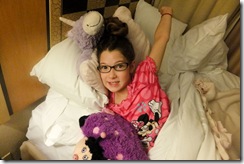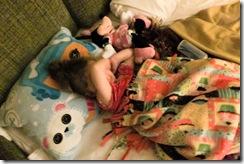 Please pray for all my babies, that their sleep is sound and somehow has double the sleeping power so they are all just little energizer bunnies tomorrow. Kendall especially is overly exhausted but refuses to stop. She is the original energizer bunny! She is completely unsafe out of her chair for more than a few minutes or very short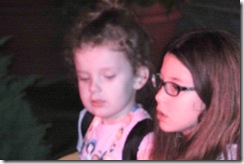 distances – and she has a huge goose-egg bump on her head to prove it. she is fighting through nausea that I can't pinpoint the cause of , her usual autonomic issues being thrown off by exhaustion and the extreme temp swings, and her typical bladder issues.
tomorrow is gonna be a magical day – so i better go get my beauty rest so I can enjoy every minute of it!
Bibbidi Bobbidi Booooo!!!
terra.