A lesson I have learned this crazy stay….. to trust my own intuition.
It's not to say that I usually DON'T – but this stay above others – we acted, her doctors and Ben and I, on our intuition of what we thought Kendall was going to pull next. Fun facts about Kendall: She likes to go into septic shock really super fricking fast. And she will act FINE right up until she is in shock. And even the most seasoned intensivists (intensive care/critical care doctors) up here in the unit have learned to have a healthy respect for their intuition about what complex kiddos are going to do next, and for then throwing all their book knowledge out the window when it comes to kendall.
so this time, our intuition has been what leads us. It was one doctors intuition to call the transport team and tell them to grab the antifungal IV med before we left the ER, even though we had no indication that we would need it. It was another doctors intuition to start a second gram-negative coverage. It was another doctors intuition that led to speeding up the line removal and intubation process so it was in a controlled proactive environment (vs the chaotic reactive situation we got into last year.) And all along it has been my intution to say to those doctors – keep digging, keep fighting for my girl, keep making those choices that seem to make ZERO sense but are what is keeping things in control of the chaos her body is trying to throw. It was all of those things that got us out of the dark scary woods of septic shock and led to a successful extubation and presser wean.
But it has also been my continued momma gut intuition that has led me to keep pushing the team for a better response from kendall. It is hard sometimes to fight "against the team". Especially a weekend team that knows next to nothing about my child and her penchant for the dramatic. It is hard to get people who don't know me to understand that when i say "something is just not right with kendall" that i mean serious fricking business. And that the times i CANNOT put my finger on what is wrong are usually the scariest times. Saturday and Sunday were frustrating for this reason. I just knew she hadn't made "the flip" yet – this very visible switch in her demeanor that leads to me knowing we are safe to head home – and i wasn't sure WHY she wasn't making the flip, only that the placating answers about yeast and tired kids wasn't cutting it. Something was still wrong. I just knew it. Only, i couldn't get anyone else to listen.
It's kind of like what i imagine it would be like to be stuck in a foreign country where you don't know the language. And you try to explain to someone that you are in pain, you need medicine, but since you don't speak their language and they don't speak yours, and you aren't bleeding out in an obvious way or having respiratory distress, you get patted on the back and head nods and "ok – you be ok!" But things are most definitely NOT OK and you just need someone to HELP YOU. That is how it was all weekend here. It was making me VERY agitated and frustrated and not a nice person at all. (comments from the peanut gallery of the friends who took the brunt of my frustration this weekend will be stricken from the record!) But – I just knew….I didn't know WHAT but I knew SOMETHING. And that was enough.
So Monday morning rolls around and i am woken up to our nurse telling me we are headed down to surgery RIGHT NOW because they had an opening to get her temporary PICC line placed and replace her GJ tube which tends to harbor nasty yeast on it on a good day, and since we were trying to kind of eradicate as much yeast as possible and her tube was due to be changed last month anyways, we went ahead and did that. And again – thanks to the quick thinking intuition of her doctor, a dose of meropenum (one of kendall's most favorite gram-negative coverage antibiotics) was ordered to be run during the procedures.
As a quick aside – let me explain here why we have to do all this line placement juggling since I get asked a lot of questions about it: Kendall survives day to day via nutrition that is run into her veins, called TPN (total parenteral nutrition). This is run into a large plastic "permanent" IV that is in her chest and tunnels down through her muscles and ribs directly into her heart. You may have seen this in real life or in pictures – its the white tubing that is sometimes visible on her upper chest. This is threaded into the backpack she wears all the time with her IV pump and the bag of TPN fluid in it. When you get a life threatening septic infection, it is usually advisable to remove that line as it is more than likely seeded with a bunch of little buggers that like to hang out on plastic things in warm places, like the heart. BUT – you can't just put a new one back in until you are sure you have won the war against the bugs. So you send them to the OR to find a temporary central line because if you're kendall by that time you are surviving only because of the insane amount of medications running on a million pumps into 1400 different IV lines that cannot be turned off for even a few seconds. THIS IS HOW WE HAVE FUN AROUND HERE FOLKS!!!! (that is tongue in cheek for those who aren't blessed to have experienced my sarcasm in real life…) SO ANYWAYS – because kendall likes to survive solely on the IV meds flushing into her body, we need a lot of "access", which is the fancy way of saying we need a crapton of IV's. so she gets, usually, a Femoral Line placed. If you think Femoral sounds familiar, you might be thinking of your FEMUR which is your thigh bone. So yes – that is where Kendall gets a triple lumen IV placed that threads up her femoral artery directly into her heart. And it's ok if that thought skeeves you out because it most certainly skeeves me out.
The bad news here is that even after we've started to win the fight against the bugs, it is advantageous to wait as long as possible before placing another broviac (white chest IV). Since life would be decidedly and insanely difficult with a triple lumen IV in the crook of her leg, we have to decide what to do for "temporary central access". OR – we have to beg infectious diseases, critical care and surgery teams to all play paper rock scissors and decide how soon we can put a new broviac in. Because she grew two crazy yeasts this time, no one wanted to play that game, so we decided to go with a PICC – which is a peripherally inserted central catheter. Basically its an IV that is placed in your arm that threads into your veins but doesn't quite go all the way to your heart. My TRUE description of them is not fit for family viewing so i'll keep it to myself – but suffice to say – we have a hate/hate relationship with them at our house. I could not tell you if its just that kendalls peripheral veins are so crappy that they will never play nice with a picc, or if its just her body's crazy schizophrenic clotting factors ("oh let's make clots! NO!!! Let's not clot at all – EVERRRRR!!! NO! CLOT CLOT CLOT!!! *gurgle gurgle gurgle* fine i'm just gonna bleed out slowlllllyyyyyy!"), or if its just that Kendall's body likes to be obtuse – but we do not have good luck with them.
I am optimistic that we can get this thing to stay functional for the three to four weeks it needs to be. The longest we have ever had one picc stay working is 12 days. Here's why that isn't gonna work for me. So one lumen of Kendall's picc will be dedicated to her TPN, which runs 24 hours a day, 7 days a week. The other lumen would, like with her broviac, be used to run her intermittent meds like zofran, benadryl, and then now the micafungin (antifungal meds that kills the yeast in her blood). So – ok, kind of a crunch but do-able. Micafungin cannot be run in the same lumen as TPN because of all sorts of dumb crap that i didn't pay attention to in chemistry class.
AND THEN……Kendall decided to start getting sick again, and now it looks like she has a bacterial infection PLUS the fungemia so her medications will be running pretty much damn near ALL THE EFFING TIME into the other lumen. Usually what happens is that the smaller lumen gets a clot formed on the end of it (and no i don't mean fibrin sheaths i mean literal thrombi), so we can't use that. But everything won't fit in with the TPN because 3 of the possible 6-7 meds we are looking at coming home on for the next few weeks are incompatible with the TPN. For those of you who blessedly have NO clue what i'm talking about you are so confused and that's ok. For those of you who DO know i hope you are rocking in the corner with me at the thought of this monumental task ahead of us.
Bottom line: this picc MUST STAY WORKING. I think we are going to shoot for three weeks out – it will be IVIG time again and we can just bring her in for a quick stay and tune up and switch out the picc for a new broviac and go about our merry way. Sounds great, right???? YES. Let's all vote for this plan!
Anyways – Monday after we got that picc line in, and hooked up to run her fluids into it, she started screaming in pain. And pretty much has only stopped for a few hours since then. They are telling me that they "probably just dislocated her shoulder a little bit" when they had to adjust her arm to thread the picc line around the curve of her arm down towards her heart. Because that is supposed to make us all feel better. Oh sure! just a little case of nursemaid shoulder! shake it off kid! But the other and more concerning thing is that starting monday afternoon, AFTER we pulled out that femoral line that bled like a stuck pig for thirty minutes and her poor nurse had to sit ON kendall's bed with her hand squeezing that artery shut that whole time to get things to start to clot up, kendall started acting very very "off" again. By Tuesday morning it was evident that we were missing something major, and in the middle of it all was poor Kendall who just is absolutely worn out. I've never been septic myself, nor have i ever gone into shock from it – but they tell me it's kind of like how crappy you feel when you have influenza, times ten. Based on how crappy Kendall appears to feel, I do not doubt that for one second. I know she fights so hard to stay "happy", or acting normal, in spite of how sick she may feel. So when I see my baby with absolutely no spunk left in her, and to be just beyond DONE with all of this….it makes me feel horrible. I knew something was wrong but we had no real information to go on as to WHAT it was.
We ended up adding back in antibacterial coverage yesterday afternoon after we pulled new cultures off her new picc line – but really, it's just our best guess. We don't really know what else we are fighting here, only that we haven't won the battle yet. After receiving her first dose of the gram-neg coverage meds was the first and reallly ONLY time I saw some of "kendall" come back, for a few brief moments.
After having an extremely rough night last night battling what we can only presume is pain, we were finally able to give her some relief using morphine. It is a horrible last resort – but one that luckily brought much needed rest to her poor little body. On rounds today we discussed that we have GOT to stay ahead of this pain – but there really are no good ideas right now about where the pain is coming from, or even if the pain is related to a possible location of infection. In short – we are still here kind of chasing the tail of a very sick Kendall who is fighting back with all her might.
It is sad to me to see her not wanting to play with her playdoh or try to paint something – things I would expect her to want to do by this point, if even for only a few minutes. She is gripping her new Frozen MagicClip dolls very tightly throughout most of the day, so that is some comfort I take in that she still has an interest in playing – just still doesn't feel up to it.
I keep hoping that maybe after the next dose of medicine or maybe after the next fluid bolus she'll be "better". She'll have made "the flip". I keep hoping, watching for it, praying for it. But so far, not yet. I'd normally be chomping at the bit by this time to discuss plans for home….even her doctor commented on it today that he knows something must still be up because i hadn't brought up discharge yet. I told him that was because i only talk about discharge once I know I'm taking home a Kendall i'm capable of caring for at home. And we are most definitely not even close to that yet. But maybe tomorrow we will be closer.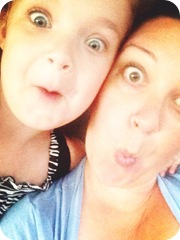 Maybe tomorrow this girl will make more of an appearance. This picture stopped me dead in my tracks when i saw it on my phone. I don't remember taking it really, other than i'm sure she wanted me to do it sometime when we were waiting for sissies. She was probably all up in my grill about something and i was probably frustrated at her for that. And now i'd give just about anything to go back to this day – warm, happy, with a smiley girl who was full of her usual silliness. I know we'll be back there soon….but she will be changed by this stay. She is in pain and I cannot fix it and i can't make it go away and i can't make her magically better.
But oh this smile….and her immense capacity for love. I cannot wait to have those back. I know they are waiting just around the riverbend. (Yes that's from Pocahontas. i'm still trying to convince her to watch it with me. She's got a few other things on her mind right now but i think i can probably make it happen before we leave for home!)
I'm just rambling now. I'll wrap this up. I backdated a couple posts – one is an update on KQ i wrote less than 24 hours before she crashed.
Here's to praying that we have more information tomorrow, and that maybe more smiles make their way onto her face tomorrow too. Thank you for being here, being part of this crazy journey with us.
Love~
me.