So, they are mostly done! The costumes that is!
And I realize I forgot to put WHAT i was actually making in yesterdays post.  It was spaghetti! Totally not that hard, but you know, it's the effort that counts, right? Tonight we are trying to decide what to do for Family Movie night, and Ben has graciously allowed me to  pick what kind of pizza we'll have. "IF i'm nice". Apparently I spend most of my days being dreadfully mean to my darling husband, poor tortured soul that he is with his four baby girls and mean wife. So now i am working on not using rough words and being nice to Ben. And potty training a stubborn 2 year old and teaching the baby how to swallow with her esophagus and not her airway. And keeping the house cleaner, organized and festive. But that's it. I am not working on anything else this week!
So there's this cute blog carnival going on at a really neat new blog I found about what people have made in the kitchen this week in preparation for Halloween. And since we all know I don't actually COOK in my kitchen, here's what I made for Halloween – COSTUMES!!!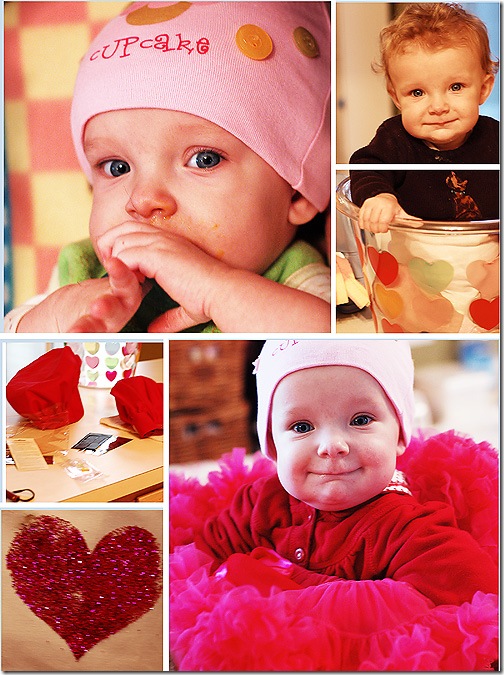 The costumes came out pretty cute if I do say so myself. Each of the three older ones has an apron with a ridiculous amount of little glitter on the top, some paint, an iron on cupcake thingajobber, some half melted ribbon glued on with Heat Bond (yay for no sewing!), and then the piece-de-resistance (say that with your fake French accents) – hot pink child-size baker's hats!!! Personalized a la their personalities with jewelled accents. I thought i was going to burn either my fingerprints off or a massive hole in the counter between my 38-attachment craft tool that heats up to 832 degrees in 4 seconds, the glue gun dripping glue all over, and superglue to hold jewels in place. and glitter that is now EV.ERY.WHERE. in the kitchen. Kendall has a permanent fine dusting of pink glitter because i was drying the glitter stencils on her changing pad. You can NEVER have too much glitter, i promise you. Kendall's costume was easy though. Put poofy pettiskirt on baby. Insert baby into large drink holder decorated with hearts from Valentine's Day. Put button-glued hat on baby's head. Voila. instant cupcake as the PERFECT accessory for her three baker sisters' costumes. And my creativity has officially been spent for the remainder of this year. Scrapbook pages will hereon out be fugly pictures taped onto plain brown paper. Now if i can just manage to get a few pictures where EVERYONE is in their costumes, looking at me and smiling – the world will be a happy place.
the Costume Parade at school was cancelled today – boo hoo!!!!
the girls were so looking forward to marching around their school in full baker regalia. And yes i was dying to go get the requisite photo's of this event. Maybe next year. I am sure there will be lots of picture taking over the next two days!
It seems like there was something else I had to blog about today…but yeah, it's totally gone now. I'll come back if i remember it!
Enjoy your rainy Friday nites, party people!
Terra