Today I'm going to walk you through the fun project I spent all weekend doing to every female in our house (which is 5, for the record!) I originally saw this pinned on Pinterest – but it was all in russian or some such, and so I had to muddle my way through it based only on the pictures!
So here is an English version of how to get tinfoil curls!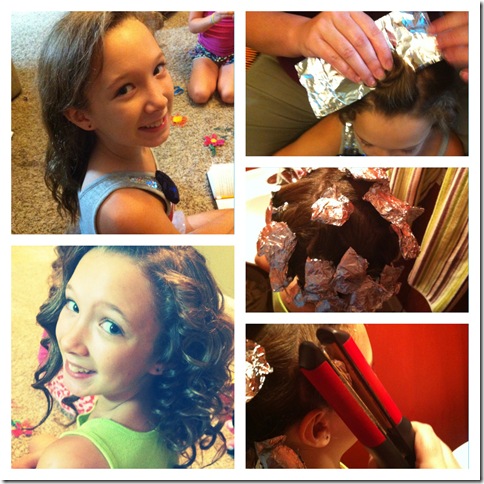 First – you'll need to get your tinfoil all prepped. You could maybe go splurge on the pre-cut foil sheets at a beauty supply store, but they will probably be too big anyways. So as much of a pain as it is, you'll get better results if you use regular tin foil (it's a little stiffer than the foil sheets) and it's a heckuva lot cheaper!
For Kendall's and Kaylen's finer/shorter hair, I made squares that were roughly 3in by 3in. For Kealey's/Karissa's/my hair that is super long and super thick, I made thinner rectangular strips that were 3in by 6in. (Also I am nowhere near a perfectionist – so I just lined them up and cut away, some were slightly bigger, some were slightly smaller. Eyeball it, you'll figure it out!)
Next you'll need to have some kind of "goop" to give the hair hold. We use this styling cream by Cantu – it moisturizes the  hair and gives it a little bit of hold. We also have extremely texturized hair that needs something this thick – you may be fine with a little gel or even a volumizing/setting spray applied beforehand. Also – I find it easier to work in sections, so you may want to grab a clip or a few rubber bands (I call them binders but get made fun of for this all the time).
You will have to play around with this next part to see what works best for YOUR(or your childs) hair type.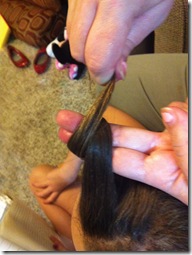 Smaller sections equal tighter curls, larger sections equal looser beachy waves. Again – I'm not a perfectionist so I wasn't sitting there with a parting comb and measuring out equal parts of hair. I just kind of grabbed a chunk and wrapped!
But let's say, start with roughly a 1 inch section of hair, and make a twist at the top, then wrap the hair around your finger all the way till you are at the end of the hair. In the picture here, I was wrapping her hair around two fingers, not wanting her to get super "Shirley Temple" curls. This made it a much looser curl also. I think next time I'll just stick with the one finger curls, especially around her face.
Pinch that curl together as you slide your finger out, and place your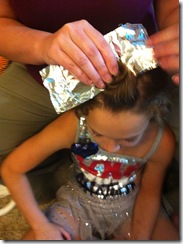 tinfoil square underneath the curl.
Wrap the curl up in the tinfoil, keeping it as tight as possible, pinching the sides of the foil shut like a little package. This is hard to explain with words, but you'll feel it. Your are making a little "packet" that the curl is inside. Pinch it so its kind of flat, and stays around that curl as tight as possible.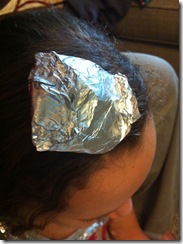 Once you have the whole head wrapped up in tinfoil packets, heat up your flat iron. I have a Chi that goes up to like "skin peeling burns" hotness, and I cranked that puppy all the way up. This makes it a somewhat scary proposition on super little humans, so use your best judgement. The tinfoil acts basically like a conductor to heat the hair into this shape, but it also remains quite warm for a few minutes afterwards. So BE CAREFUL!
I went methodically around Kealey's head with the flatiron, holding each foil packet in the iron for 10 seconds. When I did the last packet, I started back over at the beginning and did just a quick clamp on each packet again.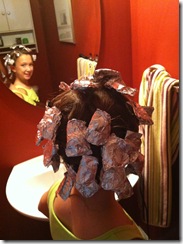 I let them cool down for about five minutes before I pulled the tin foil off (It should slide off the ends and leave a  nice springy curl in its place!) Hair tends to hold a curl longer if you allow it to cool all the way off before removing the curling source (this is why curling iron curls fall so easily and need to be pinned up if you want them to last long enough for you to walk out the door!)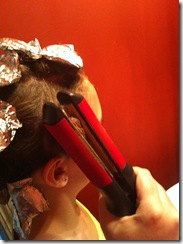 The last step is to flip their head over and spray the underneath while you shake the curls out just a bit with your fingers. It will be SUPER springy at first, but will fall to a nice relaxed gorgeous curl within about a half hour.
And there you have it – tinfoil curls!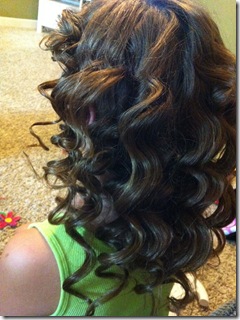 My girls are in LOVE with how it makes their hair look – and I love how it looks too! Hope you have fun experimenting! Let me know if you try it out and how it works for you!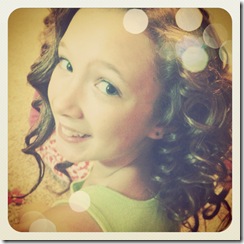 Terra.