Three procedures are complete – muscle biopsy, G-tube placement, and fundoplication. they are finishing up her intestinal biopsies and she will be brought up. I am so relieved that she has made it through this far.
apparently her IV DID kink RIGHT as they were doing the first med to knock her out. So – wide awake still – they had to replace the IV. Leave it to Kendall!
I am still so nervous I can barely type  -b ut thank God for a wonderful child life intern who went with our daughter to surgery and took pics for us. Most of them are probably a little too graphic for here (I , of course, am fascinated by them), but here's one to let you know – she's still our smiley happy girl! (ok so she isn't exactly all grins and giggles here, she is sucking on her tongue as her top teeth are bugging her – insult to injury right? but still – not too shabby for a starving scared baby!)
Thanks for praying.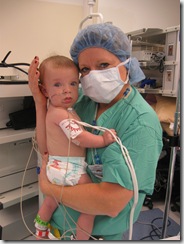 us.