Not sure that THIS is what Ol' Deano was singing about – the tornadoes, strong winds, flash flooding, hail, and thunderstorms – but oh well. Frightful weather is frightful weather, right?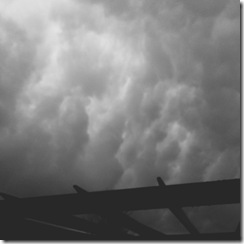 The good news is that our immediate area was safe from the worst of the storms, we only had an hour or so of scary winds and nonstop thunder with pouring rain. We have some friends, including some with children who rely on medical equipment that runs off of electrical power, who will be without power for days and who are not even sure when or how they will be able to leave their neighborhoods. My heart aches for them, as well as the cities that endured such devastation in today's storms. While the threat of some storms is near our area quite often, today's storm had a much different "feel" to it, and Ben and I were both spurred into action to prepare things for Kendall's medical needs, as well as the food/warmth needs of our other girls, down in the basement. While we have spent more than a few hours in the basement when there's a threat of bad weather, it has been a very long time since we've made any real "emergency" preparations. I guess today just had a more urgent feel to it. We actually got up in the middle of church once our phones started alarming nonstop with the EMS and the tornado sirens outside were also going off.
Anyways – we are ok.
I know so many are not, and our prayers are with them and their families at this time.
Besides the actual frightful weather, the title reminds me that it is Christmas season! I am getting so excited! christmas music, red cups at starbucks, christmas lights and decorations – the wonderful beautiful anticipation of all that Christmas holds! I'm hoping we can get decorations out and put up soon! It feels like this season has the ability to just FLY by, more so than usual even, probably because of how soon after Thanksgiving Christmas will come this year. Whatever the reason – I want to soak it all up. All the craziness and all the good times and all the memories – I just want to BE in these moments.
We have a busy week coming up – I will be speaking at a women's bible study on tuesday morning (not a whole lot, just a few minutes in correlation with our special spaces friends bringing awareness to their amazing gifts to families like ours. Wednesday we will be seeing our dearly beloved Dr. A to get a good plan for kendall's respiratory care this winter (and just to check in with him like we need to do every once in a while!) The girls have their first performance of the dance season on Saturday so they have extra rehearsals this week also. But these are the weeks that are FUN!!! the weeks that once i've survived them I feel an actual sense of accomplishment!
sorry this one is kind of just general minutiae – maybe one of the backdated blog posts i have to get will be more exciting. I will also have pictures tomorrow of Kendall's "Wish Granting" party tonight, where Ariel came from Under the Sea to tell her that her wish to go swimming with her down at Walt Disney World had been granted! She was so excited she could hardly sit still – and once all the activity was over, and we were on our way up to bed, she says "mommy – i just so diz-osted. but dat was so much fun."
i'm getting pretty "diz-osted" myself. So i'll see you crazy kids on the flip side.
terra.