what? I can't hear you….the silence in my house is deafening.
My lovely beautiful mother from whom I have gained all things perfect and harmonious (i wasn't even paid to say that!) – has taken my two eldest rugrats for two days so I can just have a little BREAK from life! This leaves me with a very whiney, fussy, teething, cold-having 3 1/2 month old, but still. When she sleeps…all is bliss. My house is so quiet. I do miss those little buggers…
I have decided to stop the screaming coming from my pantry. My darling groom brought home these fru-its of the dev-e-il the other day from the grocery store.You know the ones i'm talking about – little crunchy pieces of cornmeal deep-fat-fried then sprinkled with this addictive meth-laced cheezy orange powder…CHEETOS….
They were calling my name and whispering horrible horrible things to me so i decided to stop the demon voices by devouring the entire bag of them to shut them up. NOW the house is silent. More silent than it was. and my fingers are eternally stained orange.
So i am trying  to decide what is the first thing I need to attack today. Ben did an awesome job cleaning up yesterday while I was gone taking the kids to memaw's house…so while I have a few mommy-tasks to complete, life is actually relatively calm. I am hoping that some of my zen is being restored by just sitting here, just BEING. i have so many ideas for our photog business running through my head, as well as another exciting opportunity I am hoping comes to fruition soon. I also have the issues regarding work/contract and other home issues weighing on my mind.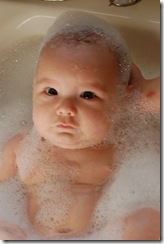 I want to just be rid of it all…but then that would'nt really be living would it? if everything just magically went away and/or worked itself out?
So.where was i? I got interrupted by a phone call. I need help being more…ummm. what's the word….focused! But sometimes I don't even know where to start. I have some people tell me – cut yourself some slack! you have a newborn! you have three kids! You're a single parent all week! Which is true. and when i type it out it does sound as overwhelming as it feels sometimes. But i feel like, ok i've been under way more stress than this and still managed to hold it all together. So what gives now? I do'nt know. But I aim to figure it out soonly.  I must figure it out. And the silence has ended. K3 is awake…
back to the daily grind!