Ok so i forgot about track tuesday. We'll just catch up next week, shall we?
I actually packed us all back up in record time today. I guess knowing where everything went and how it all fit together was a big part of that. all that's left now is to crush up a little pharmaceutical sanity-saver into the kids' cups before bedtime here in half an hour, pack up the laptop and cameras and try to get a few hours of shut-eye before getting woken up at 2 am by Mr. Go-Get-Em to get on the road. Now, if this plan of ours works, it will be a GEM. If it backfires, well, we're effed.
The plan is that the kids will sleep for 5 or 6 more hours in the car, allowing us to get through florida and well on our way up georgia before they wake up and want breakfast/need to stop. We will then bypass the morning rush hour Atlanta traffic as well as miss the early afternoon traffic there, and be cruisin' on to Kentucky by lunchtime. Speaking of  Kentucky…so, we're driving through Louisville (the state capital i believe), and plastered HUGE on the side of a skyscraper is a picture of the good Colonel himself.  Kentucky Fried Chicken. Colonel Sanders. It took me another 3 days to put all that together. That Kentucky Fried Chicken actually originated in Kentucky. Hence the honoring of the Sanders dude in the state capital. Apparently for putting Kentucky on the map. Its complicated I know. I was pretty impressed with my own astute observations.  they don't call me Captain Obvious for nothing. Ba-LEEEE dat.
So anyways.
Lots of good vacation pictures.
Beach pics at high noon are MUCH harder than i anticipated. So mostly those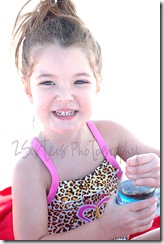 suck. But some are salvageable. i think. Hope.
If you look close I think you can actually SEE the sunburn happening to my children…good lord. do they make anything higher than spf 8000??? i mean, honestly.
Here is Karissa with her uber-healthy 80-degrees-on-the-beach, fully rehydrating coke to drink.
Its in a water bottle!!! Doesn't that count a little bit?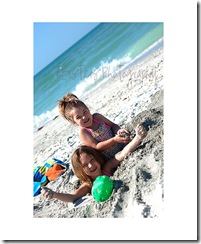 Getting buried in a huge hole.
A good part of any beach visit.
Except that karissa went completely rainman on us and started FLIPPING out about being buried in the sand. She hated the sand. How is this child any kind of offspring of mine? I could LIVE on the beach. honestly. And she just melted down cause she could never get completely sand-free. I don't get it. Kealey on the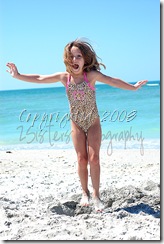 other hand – momma's girl. She loved every part of being on that beach. The shell collecting, the sand castle building, the being buried, even getting in the freezing cold water!
All in all , it was a fun great day. A little tiring.
Ok a lot tiring.
So tiring I should be in bed.
Cause, you know, we get to wake up in 6 hours to start driving…
Anyways.
I hear its snowing back home.
So not excited about that.
Might have to gag. Definitely have to stock up on some cherry limeade before heading home. And finish my okra from the Rib Pit from tonite's dinner. Good southern okra. it doesn't get any better than that.
party on party people.
terra