I am truly SO very pleased to present today's blog post to you!
As many of you know, Kendall is frequently hospitalized, and has been since she was born. Many of the hospitals that serve children are part of the Starlight Children's Foundation, through which they receive support for their child-life programs and family based support programs. I am SO happy to report that recently, Children's Hospital of Wisconsin became a Starlight hospital too! While we are able to be part of Starlight events locally in Chicago where we live, there wasn't a way to stay in touch with our Starlight friends at the hospital! And now it's all one big happy family!
If you think it's a little weird that I am THIS excited about this – let me tell you a little about Starlight in their own words: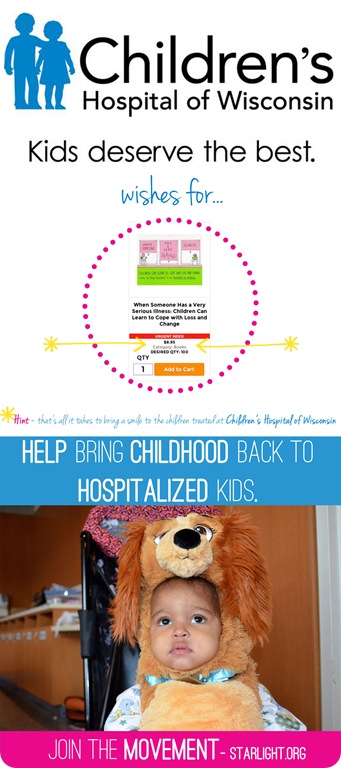 Over the past 30 years, Starlight Children's Foundation® has become a leading global charity that partners with experts to improve the life and health of kids and families around the world. Collaborating with experts in pediatric healthcare, entertainment and technology, Starlight provides a unique blend of family-centered programs and services from hospital to home. Starlight partners with more than 1,750 healthcare facilities and every major pediatric hospital in Australia, Canada, Israel, New Zealand, the United Kingdom and the United States, serving millions of children every year.

STARLIGHT programs –

Starbright World® – The first-ever online social network for teens with chronic and life-threatening medical conditions, and their siblings. Members are able to connect globally with others experiencing similar medical journeys.

Starlight Fun Center® – Mobile entertainment units containing the latest gaming system that roll bedside in hospitals to provide distractive entertainment and therapeutic play for pediatric patients.

Starlight Tablets – A critical resource for healthcare professionals to support the ongoing needs of kids while in the hospital.
Basically, Starlight is able to help the hospitals provide things for all the kids treated in their facilties. As part of this Christmas season, they have been having a #12DaysofGiving campaign, designed to show everyone that THEY can make a difference with a small gift. I am honored to be able to highlight the Children's Hospital of Wisconsin Wish List – because it means a whole lot to me personally. I literally think I had a few tears in my eyes when I saw "PlayDoh" on their wish list. I know that my precious little playdoh addict had a LARGE role in the reason why there is probably a critical shortage of Playdoh on every floor in that whole huge place. If you could see the difference in Kendall, that sparkle that hits her eyes when her child life worker, or a volunteer, or one of the doctors she has conned into going on a special mission walks in with that yellow can and a couple medical tools to be used as playdoh toys – you would know that these things on this list, they can be just as important to a child's recovery as the life-saving medicine being given to them in the hospital. It's a piece of normalcy, a piece of home.
Playdoh is just one small example of the kind of stuff on the CHW Starlight Wishlist. There's a need for books, card games, movies, cars – so many things that are so simple and inexpensive.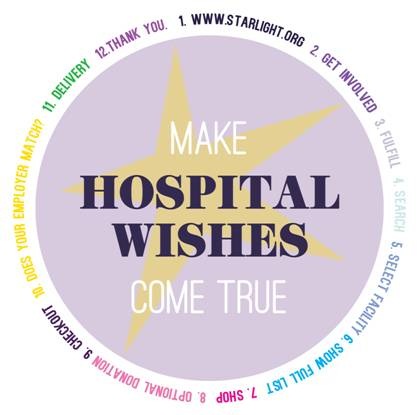 For my girls this Christmas, we have talked about giving back, and not focusing on what we receive. One of the things we talked about was being able to give back to the hospital that has given us so much this year. We will be making a few purchases off of this list in honor of Kendall Quinn and in celebration of the fact that she will continue to decimate the playdoh population at the hospital in the years ahead BECAUSE of how amazing the people of Children's Hospital of Wisconsin are. It is not nearly a good enough way to say Thank You – but it is a start.
I encourage you to look through this list, see how easy it is to make a donation, and consider replacing one of the toys you would be buying for your children by purchasing a toy off of this list in their name. Talk about it with them. Help them understand how very much it means to any child in the hospital to get a new book, or have a new toy to play with. Spread love and joy beyond your own tree this Christmas morning. I know it's a hard thing to capture and do – and this is SUCH an easy way to start!
And then come back here and let us know how you've helped out our home away from home! I'd love to hear if you are able to be a part of the #12DaysofGiving for Starlight!
Thanks for taking the time to read this and to head on over to check out the wishlist! I really appreciate it!
Have a beautiful day my friends!
Terra.