I actually got a whole sleep cycle the past two nites! I think its too early to declare victory over the sleepless one yet, but it has been nice to feel like I am getting at least a LITTLE more sleep each nite.
Although she is working on these first teeth during the day and poor thing is just in so much pain. she has started this like, growling/yelling thing at her teeth…sounds so pitiful it makes me just want to dose her up on loads of tylenol… Hopefully they pop through soon and she can get back to being her usual pretty easygoing self.
The photog business is going good = we have an outdoor family shoot tomorrow nite and then a few more this coming up weekend. I am excited to see how they turn out and hope the weather cooperates with us. Ok could I be any more boring today? I think this constant fussing from Moochie-pootie is sucking my creative will to live. Or to do much of anything else. I got the girls' closets finally switched over this past weekend. THAT was a chore and a half. Its not that my kids have a ton of clothes, cause truly they don't. Its that karissa shoves everything into the one drawer she can reach, and kealey just yanks stuff off hangers hoping its the dress she was thinking it was. So then I end up with this PILE of clothing all over the closet and bedroom floor and i HATE random clothing piles for no good reason. This doesn't of course include the clean laundry piles I have created after I fold them all but am too lazy to put it all away or any of the piles in my own bedroom. Anyways – it was a mess to clean up and I am glad its done for the season. Now I just need two or three more bins to save the summer clothes for karissa and Kaylen and it will be complete.
Next project – moving all the toys to the basement and just creating a "creative corner" up here in the TV room. I get so tired of vacuuming up polly pocket shoes and constantly having to clear out the ikea bins of toys, cups, random coloring pages and clothing that gets shoved in there. I want the basement to be the eventual playroom all the time, so might as well transition the toys down there now to lead into it.
*ugh* – just the amount of crap I need to do today is giving me a massive headache. Time for more coke!
Don't forget – its HYDRATING!!!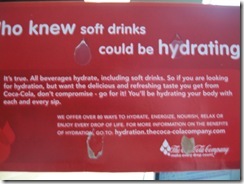 Says so right on the box – see? Coke is HYDRATING!!! I knew I loved it for a reason.
78 grams of sugar be damned  – i am being HEALTHY!!!
Ok – enough screwing around. I am off to attack this to-do list 8 miles long.
Ciao bellas.
T-crest out