I'm kicking off my re-entry into blogging with a fun little pen review. Because if there is anything in this world I love, it's awesome pens. And telling other people about my awesome pen finds. This goes back to like 8th grade, when I had a special box in the top of my locker with awesome pens that all did different things or wrote different ways…*sigh*. I've actually already blogged about my pen fetish. Remember this oldie but goodie???
I digress.
What I wanted to tell you about today is something from one of THEEEEEE Best Places Ever to buy your very own awesome pens. It's a little place called Jet Pens. They have this adorable little dude riding a jet pen logo, they are fun to follow on twitter, and their shipping is free and fast (if your order totals $25 or more. which it will.) Anyways, being the loyal customer that I am, I signed up for their pen review opportunities, and when I got my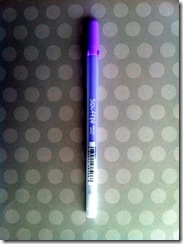 padded envelope in the mail, I knew they were speaking my love language.
Now out of ALLLLL the amazing and fabulous pens/pencils/stationery this place sells, my favorite are the japanese craft pens. Sakura to be specific, but really, they are all fun. Sakura makes great roller ball Gel Ink pens in all kinds of different colors/finishes. So on to my review.
I received a Sakura Souffle pen in Purple. I was giddy with excitement. I love the Souffle pens! Now I've been a gel pen user since the 90's. Back when you used to MAYBE be able to scratch out a few words by carving them into the paper and having some ink leak out – if you were lucky. They dried up within a few days, and were in general rather useless and disappointing. But they kept luring me with their promises of smooth writing on dark paper….
well I am happy to report that ink technology has come a long way in the past few years, and these pens deliver!
When you first get the pen, it has a little nub of "gel" on the end, that helps keep the rollerball lubricated until you start using it. Once you peel that off, it only takes a couple quick scribbles to get the ink flowing, and off you go!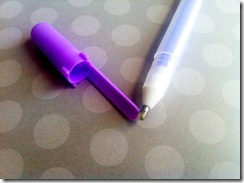 I wrote with it on plain white paper, chalkboard contact paper, and on a photo – and it was absolutely flawless in its execution on all three. The "souffle" effect isn't exactly like using puffy paint (another fun nod to my 90's craftiness) – but it is slightly "raised". The effect was more pronounced on the "slicker" surface of the contact paper and the glossy finish photo, but it is definitely tangible on the plain paper also.
Overall, I'd give the Sakura Souffle pens 5/5. I have a multi-color pack of them in various "ice cream" colors, and every single one of them performs as well as this purple one, even the lighter toned colors. They are smooth writers right out of the package, and unlike many other gel pens, they don't dry up as soon as you become attached to them use them for a few days. They have a good range of colors available (if you get one of the awesome multi-packs, which you will, cause they help get your cart total above $25 for the free shipping!!!)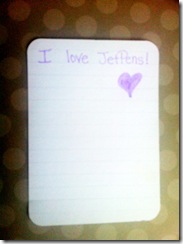 Here is the white paper – a pretty, somewhat raised lilac color.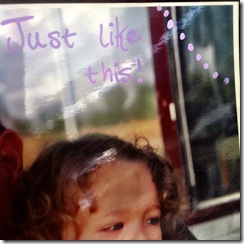 This is on a photo, glossy finish. This pen REALLY shines on slick/shiny surfaces. It is hard to capture the "souffle" effect in a picture, but it is definitely more pronounced on a non-porous surface than on paper!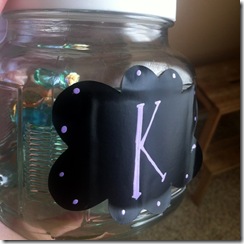 Here it is on chalkboard contact paper (that I ran through my cricut to get this cute little jar label!) If you look closely at the dots, you'll see the raised effect a little better. Again, I am really loving how this color looks against darker backgrounds!
So there it is – the Sakura Souffle pen in Purple from Jet Pens!
If you have any need for fun Japanese stationery type items – head on over for a super fun shopping spree!!!!
Til next time on "Pen Addictions R Us"…
T-crest.