Cause really, aren't ALL my posts pretty darned random?
So last nite I fell asleep on the couch at 7:45 pm. and was summarily dragged up to bed by my darling better half. Slept until 6 something this morning. I am hoping that that was me catching, having, and getting over the flu all in one night. It sucks that like every family with children that I know has this horrible bug and cannot DO anything or GO anywhere. I'm bored dangit! Ok truth be told. Not bored. Avoiding is probably more like it. I have craploads of fun stuff to do. But when i get overwhelmed with that, i avoid. and find something else, equally as fun, to do. Someone please give me a holla here and let me know i am not alone in this!
But I am buckling down. Since everyone is being a party pooper with their lame sick excuses. I am clearing out my office of all the old TCI files and boxes, and moving
in all the 2Sis props and paraphernalia. I would love to find some good solution for the girls to be able to play their computer games on the old desktop while I work on the laptop. Or on <——— this little piece of heaven
with
this teeny little monitor to view my pictures life-sized on.
720 gigs of INTERNAL hard drive space. INTERNAL. I have that on two externals right now. I drool just to think of it. Is this coveting? Probably. Maybe wishing. dreaming. thinking. Pre-spending hypothetical money. Maybe someday.
anyways i digress. where was i…
oh yeah. Cleaning out the office to make it more functional for the purposes I need it to serve as of late. And the dishes and laundry usual catch up. I went to a business conference this weekend for photography marketing. It was a LOT of fun, so many new and great ideas. Now to just get the nice warm weather to be able to start implementing some of our ideas! We also had a really great time at the family fun nite our church put on at the BRAC center here in town. The girls were SO dead tired. I think that's why they are still on the "sleep-in" plan that comes with the time change. Thank God! Now if we could just kaylen back to being healthy, life would be grand. I am relatively sure she doesn't have this flu thing that's going around, cause she rarely feels feverish. Its more like just this yucky head cold that just won't go away. I am PRAYING it stays out of her ears again, and I know if I can just get her through ten more days till we leave for Florida, the warm air will do her WONDERS. Its just hanging on through those ten days that worries me! She's a little trooper though.I cannot believe how big she is getting all of a sudden! She finally fits into most of her 3-6 month outfits (she is 8 months tomorrow). And she loves to eat finally! i thought maybe she was going to be one of those kids who wants to breastfeed till they're four…but luckily we seem to not be on that path.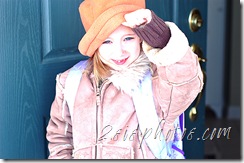 Kealey is losing teeth left and right. Her smile changes almost daily I think.
Here she is right before that second top tooth finally wiggled out. I thought that tooth was going to be the death of me – the WHINING that ensued over that darn thing… And then just yesterday – out pops her bottom one! While she was eating oatmeal of all things…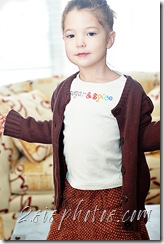 And look at this angelic picture of karissa. She looks so old in it! I can't believe she is going to be four in just a few months! Here she is wearing the almost ever-present skirt, hair "yike-a-baaweena" (like a ballerina in karissa-ese),posing like there is no tomorrow. She is the hugest ham for the camera you will ever meet. Whether or not this is an inborn trait, or one which has been developed through the last year of being my main photography model, i am not sure. All i know is that its next to impossible to catch a candid shot of this kid. But …
there are small glimpses of it.
for instance.
when I acted like i was putting the camera away after taking the above shot…this is what happened.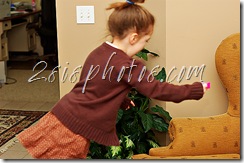 The leap from the table to the chair in the corner.
nice.
and I wonder why she has a permanently conical shaped formation on her forehead from the many accidents she has in one day…
well I should get back to my office cleanout.
Thanks so much for all of you who wrote to me to say that you were joining in prayer for leslie. the surgery was successful and she has a long road of recovery ahead of her and needs your continued prayers. So thanks.
May you have a blessed day, whatever you're doing.
terra