always get meeeeeee dowwwwwnnnnnn….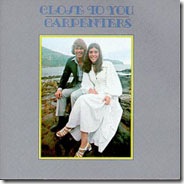 oh hi there! sorry, i was channeling my inner karen carpenter. the one i ate. good lord that is such a sad loss – she had such a beautiful voice. don'cha remember you told me you loved me babyyyyy???? said you'd be comin' back this way again mayyyyybeeee….baby baby baby oh babbbyyyyyy….i love you….
anyhoo. now that you know my big dark secret of loving the Carpenters, I guess i'll move on to real blog business.
I need to do a catch up post on Halloween, but I'll give you one sneaky peek at the FUDORABLE costumes/bakers, if I do say so myself!
As I type this, I am in between frantic preparations to drive up to milwaukee for the day. This includes dealing with a VERY teary Karissa, who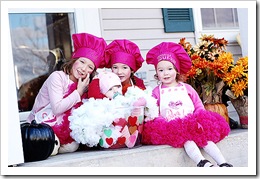 we had to make the decision to pull out of school for fear that she would not be able to make it the whole day without her fever coming back that she decided to spike yesterday. It's very low grade (100), but its right at that line that I know the school would call and want me to come get her, and that will be hard to do from 3 hours away in the middle of a dr. appt. So she gets to make a road trip and hopefully no more fever today so she can return tomorrow! Truly, I am grateful that the school is being so stringent in who they are allowing at school and how symptom free they have to be in order to stay there. But try telling that to a very emotional 5 year old. she doesn't appreciate the finer nuances of herd colonization of a novel virus strain.
Anyways – this will be a short and sweet little post and i know it won't hit the feed reader for those of you who subscribe till tomorrow sometime, but for those of you who DO faithfully check here first, and you are so inclined, please pray for us around noon. I know that part of why we were called back there so quickly is that they have a lot of the bloodwork results back from our initial round of genetic testing in August. The genetic counselor said that "was kind of changing the scope of their testing" – which i guess could mean anything from – "nothing's wrong with your daughter" to "we found it and need to just narrow down a few things". I have purposefully tried to not think about it too much, so that I don't form too many feelings about it either way. Our world could be rocked today, or we could just get a whole lot of nothing for info. I know they will also be performing "skin biopsies" today, which will involve punching out samples of various skin patches so that they can grow more "fibroblasts" to test for various diseases, or more specifically, a specific kind of metabolic disease with various presentations.
And in a HUGE HUGE HUGE answer to prayer, we were formally referred to a program known as "Special Needs" at CHW. This is a hard program to get accepted into, but they want to meet with us, possibly today or at our next appt on the 18th. I was SO excited to get the email on Friday afternoon that they wanted to meet with us – this would offer coordination between all of her docs up there, as well as Dr. A and Dr. Natalie down here in IL, and give us one main contact point should things get to the point of needing to go up to the ER. HUGE relief of a huge burden lifted off my shoulders if we are to be accepted into this program, so please pray for softened hearts and listening ears and for our appt to meet with them to be coordinated smoothly.
Sorry this is so choppy and somewhat disjointed. I just don't know how i feel, so i am singing sappy 70's love songs to distract myself. chime in with your favorite Carpenter's lyrics to help keep me distracted! I'll be updating twitter and facebook throughout the afternoon as I can.