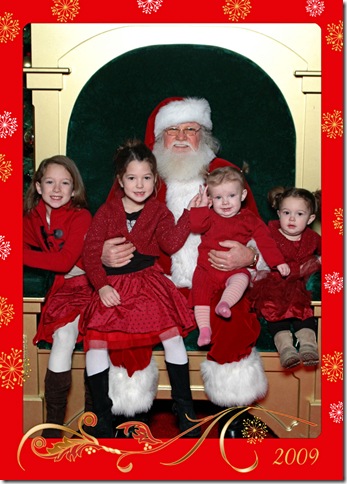 No I am not talking about Santa!
Look at that little girl who they call "failure to thrive"!
Folks – I think we have found "THRIVING" at last! I am so amazed when I see this picture – how far we have come in a year. We didn't even make it to see Santa last year because we were still so overwhelmed with bringing Kendall home and adjusting to life with four kids. So I guess I don't have actual physical evidence to compare it to, but trust me, she's come a long way!
My four beautiful, smiling, healthy children – *sigh of happiness and contentment*.
It struck me last nite, as we were mad dashing around trying to find four matching outfits in the house that fit everyone appropriately and dealing with the ensuing meltdowns at the fact that certain things did NOT fit this year (you can only wear a size 2T for so many years, karissa) – that even WITH how crazy that was, this picture was worth it. These memories are worth it. As hard as this is to say, the fact remains that with Kendall's diagnosis – we just don't know how many Santa pictures we will get to have. But then I thought – does anyone know? Do you really ever know from year to year what that next year will bring? No. None of us do.
So I look at this picture and I want it to be a reminder to me that even with the hustle and bustle of this season, and the chaos that sometimes comes with trying to get four little girls from Point A to Point B, and the tiredness that hits after waiting in line to SEE SANTA!!!! and the meltdowns on the way home from this blessed event – even WITH all of that…
It is always worth it. Always.
Memories, Traditions, Family Togetherness – they are always worth whatever chaos/craziness/tears/near-insanity it takes to get there.
I think that's about all i have to say about that.
Thanks for praying for our baby girl, and for keeping our family in your thoughts and prayers. Every email I get, phone call, questions in passing in the hallways at church – they all mean so much, that you take the time to ask about us and how things are. And I know I say it a lot, but it can never be said too much, I don't think…we could not do this without you. All of you. So thanks.
I hope you enjoy making many awesome family memories over the next few weeks of the holiday season. I think for so many of us it really kicks up into high gear over the next week especially.
Give hugs and kisses freely. Take lots of pictures. Breathe through the chaos and know that you WILL make it through to the end goal (which is a good happy family time, right?) And hold on to every moment – chaotic or calm.
Happy Sunday!
terra