This post from June 14, 2009 made me cry tonite when I went back to re-read it.
i cannot believe all that has transpired in this past year. I am sad for how naive I was back then, sad for all I know now, sad for all Kendall has had to endure since this day last year.
But happy too. Happy that she's survived. Happy that those heart-wrenching decisions we had to make for her last year have allowed her to THRIVE and LIVE and meet milestones that last year seemed like mountains that were nearly impossible to climb.
What a ride it's been.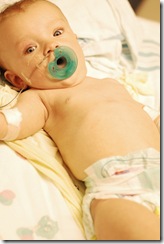 I can't believe it's only been one year….
Since I saw this smooth little belly of hers.
Since i had to plunge a foot of rubber tubing up her nose and down into her stomach and tape it like it was going to go through a hurricane.
Since we had no idea about why things just weren't "NORMAL" for our baby.
And one year of learning, reading about, poring over anything and everything medical that I can wrap my head around to try to grasp all the intricacies of Kendall Quinn.
one year of celebrating inchstones, and even a few milestones along the way.
One year of learning what our family's new definition of normal really is.
Amazing all the things that can change in one year.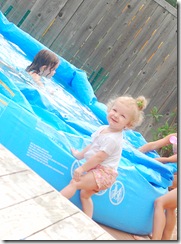 We praise God for His awesome amazing blessings on the life of our little girl. on ALL of our little girls. I know that HE knows her answers. He knows the steps she will take, and when she will take them. While a part of me wonders what the next year will bring – more good? more bad? – I know I need to rest in the fact that nothing is a guarantee – for ANY of us.
Enjoy today, and whatever it brings.
That's what i'm thinking about tonite.
Life is always an adventure.
terra