Holy slap in the face with the reality of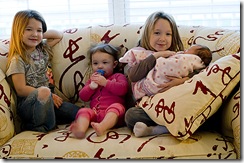 FOUR KIDS!!! ANd the sleeplessness one can only experience with a newborn…but it's all so very very worth it. Getting Kendall home in time for Thanksgiving was such an amazing gift – making this holiday of thanks all that much more special this year for all that we experienced over the past couple weeks.
We were surprised to be able to walk in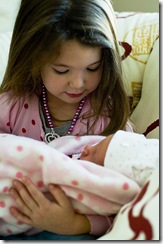 on Tuesday morning and be told that we could walk out with kendall whenever we were ready – so we decided to keep up the surprise for the other girls. Karissa has been really struggling the past few days with not being able to hold Kendall yet. this is probably because she kept seeing the picture of KEALEY getting to hold her in the hospital in the 6.9 seconds we got to hold her before NICU lady took her away. But anyways – we had determined that Karissa would definitely be the first to hold her when we got home and just have special time with her for as long as she wanted. Karissa was in heaven…
and in spite of managing to kick baby kendall (ACCIDENTALLY!!!!!) four times in the first 3 hours she was home, karissa continues to be a wonderful older sister. It's like she didn't really get it with Kaylen that she was older, but it's definitely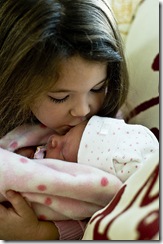 become a driving force in her life now to be "the boss" of someone. She must say about 3 times a day "mommy's the boss of kealey, kealey's the boss of me, i'm the boss of kaylen, and kaylen is the boss of kendall". Despite the obvious issues that would ensue from this hierarchy of power, we all assure her that yes, that is the way life is. And daddy is the boss of all of us.
It is really striking to me though how Kendall has just seemed to slip right in to the family, as if she has always been here, as if she wasn't "missing" for twelve days. She is a very quiet baby, and her random fits of fussiness baffle all of us because they truly come out the blue with no rhyme or reason to them. She gets held. A lot. Fought over even. i have to set the timer so that each girl gets her turn that's EXACTLY the same as her sister for time holding baby. What is sad about that is that in about 5 months they will be treating her the way they treat Kaylen – like yesterday's news. Yesterday's annoying news. Poor boo-boo Kaylen…but don't worry. she holds her own in this house of craziness.
Here she is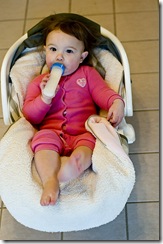 drinking a bottle JUST LIKE KENDALL's because she started throwing one of her infamous kaylen fits when we fed kendall the bottle and she thought it was hers. In the carseat that I thought she would NEVER grow out of because she was our little peanut. I guess I underestimated that one. Truly, she is a big brute compared to KEndall. I think she is in the middle of a crazy growth spurt, but MAN that girl is HUGE all of a sudden!!!
So to tell Kealey that Kendall was home, we decided to just have Kendall in the carseat in the middle of the hallway right in front of the front door so Kealey would just see her when she came home off the bus. Ben was the photographer and just shot in burst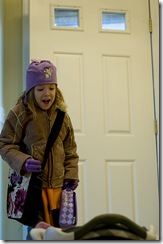 mode capturing about 78 of kealey's frame by frame faces of surprise – but the look on her face when it all came together was so priceless… i guess we were all feeling a little TOO ready to have her home!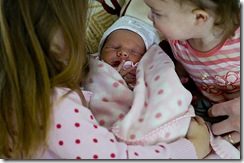 Ok it is getting late and my midnite wake up call will come all too quickly, so i'll wrap it up with just some pictures of the little bundle…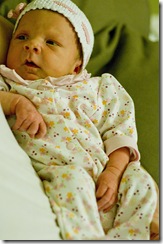 Studying daddy intently. She is as serious as Ben too.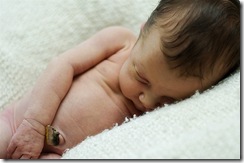 So Tired.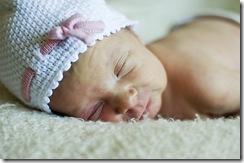 Still with a shiner (on her right eye) from that nasty CPAP machine mask! Slowly getting better though!
And that's all i got for tonite.
We're all hanging in there. Thanks so much to everyone for your comments, thoughts, prayer, emails, meals, help with the girls – I know I will never get caught up on thank you cards or be able to express my true gratitude. If I haven't returned an email or a comment – please forgive me. I have gotten them all, and they have all lifted my spirits at just the right time – so thanks for writing. Please do'nt stop. Someday I will catch back up with my life.
I hope you have had a happy holiday weekend – I hear its supposed to snow tomorrow! Ben got our lights up today so LET IT SNOW, LET IT SNOW, LET IT SNOWWWWWWW!!! (trust me you are glad you didn't hear me singing that in real life!)
More to come later
(isn't there always?!?!?)
love,
me