in case you were wondering…
no i did not just spray paint my thumb permanently glossy black.
No I did not inhale enough spray paint fumes to feel JUST the slightest bit….elevated.
No I am not looking for OTHER objects in my house to spray paint.
No I was not HIGHLY inspired by this beautiful blog and her special little projects to spray paint every immobile object in my house.
No I was not extremely giddy like a school girl today to have MckMama not only write me back – but REMEMBER ME from college! *insert jaw dropped open pic of me here*
No it was NOT ME who suggested that Kaylen needed some "sensory input therapy" on Friday nite when she was running around like  a crazy girl bouncing off walls and screaming at the top of her lungs. It certainly would not have been my idea to get a couple ace bandages an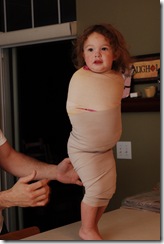 d wrap her up all mummy-style so that her body was a.) immobilized from creating further havoc and b.) could get the sensory input she was apparently craving by flinging herself into solid objects over and over again. (and no it is NOT ME who reads too much, mary jane.)
Nope. Not me. I would never do any of those things.
Terra

Welcome to Not Me! Monday! This blog carnival was created by <a href="http://www.mycharmingkids.net">MckMama</a>. You can head over to <a href="http://www.mycharmingkids.net">her blog</a> to read what she and everyone else have not been doing this week.