As in, I need to get some! This is bound to be an absolutely crazy next couple of weeks. (Is anyone else as shocked as I am that Christmas is only two weeks away??? Say whaaaaa?????) Ben leaves for almost two straight weeks of travel today, we will likely have new nurses orienting at some point in the next couple of weeks, I have the Christmas shopping almost wrapped up (wait, i mean finished…i'm horrible about actually wrapping everything. That's what sitting with a huge cup of coffee, a slice of pumpkin pie, and "It's a Wonderful Life" on christmas Eve is for!)
And through all of this, I am praying that Kendall manages to keep on keepin' on like she does. We still have no word on the culture growth from Thursday – but that doesn't necessarily mean all is hunky-dory. Overall though she has improved clinically from last week's nightly screamfests, so i'm less concerned about any information the cultures may reveal. But a part of me worries that it is just her typical ebb and flow with these infections, and that this is an "ebb", and the "flow" will pick up speed at the most inconvenient time possible before Christmas! If it does, we'll obviously just roll with it – but I'm hopeful that this is all just my overactive imagination talking!
We have been doing a lot of fun "Christmasy" crafts and activities here in the house of k's – so i'll share a few of those pictures. I will do a full post with instructions separately for anyone else who wants the info on the tu-tu dresses or the ornaments (or you could just follow my December Daily board on Pinterest too!) But here's a few shots of what we've been up to: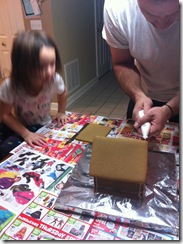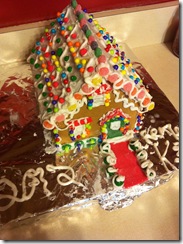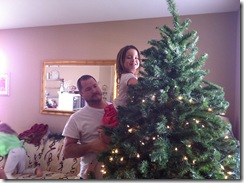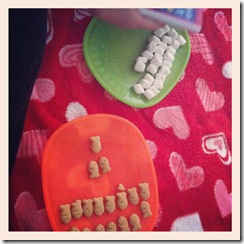 SURPRISE!!!! Wehadababyitsaboy!!!!
JUST KIDDING!!!! That is my ADORABLE new nephew, Benjamin Ethan Aaron Read, or Baby BEAR as we like to call him. (Actually I call him baby doobie because he is the son of my littlest brother, who i have called doobie his whole life. For no reason other than it seemed to fit him when my mommy brought him home from the hospital for me to play real life babies with when i was 11. I am sure my parents as the pastor of our Baptist church, had so much fun explaining to people why their son was nicknamed after drug paraphernalia, but whatevs.) Anyways – my sister and my mom and I were able to fly out to Boston last weekend to see him for a couple days (and my brother and sister in law too!) And we had so much fun! he is the snuggliest little baby and noelle and I had a blast posing him for three straight days of newborn photo shoot craziness! We have also made a gingerbread house as a family, decorated our Christmas tree, had lots of hot cocoa with marshmallows, had indoor picnics, had fun finding our crazy Elf every morning and are looking forward to lots more christmasy fun in the weeks ahead!
I am trying to keep up with a December Daily album this year – and think I may actually be able to do it thanks to a few apps that help me journal what we did each day and then send off my iphone pics for printing easily! Again, another post for the future!
And to do all of this fun stuff – I really need to get some monday motivation! I've actually been doing pretty good in the "self-motivation" department (well, good for me, compared to usual). On Friday I spent Kendall's entire naptime cleaning up the main living area of our house, which was quite neglected. It positively sparkled – right up until the big girls got home from school and then it was destroyed again. This really sucked a lot of my motivation for much of anything right out the window. The two younger ones can absolutely destroy any room in ten seconds flat – and then when i ask them to clean it up, the incessant and ridiculous whining and screaming start up, and it is just very draining. They've both been in rare form all weekend too, so while it's been a fun weekend, I think Ben was pretty excited that he gets to leave the house and chaos for a few days. I'm rambling now…Anyways. I'm trying to figure out a way to stay motivated even while having my mojo leaked out of me quicker than I get generate it. If you have any good ideas on how to cope with their chaos, let me know!  (I mean besides drugs for them and wine for me, which is Plan A.)
I've also started trying to walk a mile a day. it was just a fun thing I saw on Instagram and I thought – I can do that! It takes about 20 minutes, I finally found the treadmill key again, there's really no reason why i can't carve out 20 minutes to get myself downstairs and walk that mile every day. I'm not trying to do any marathons or anything anytime soon – so for now i'm keeping it simple and just sticking to a mile every day. If I get more in, great. But the main goal is that one mile. I get EXTREMELY bored on the treadmill so i've been watching my favorite biographical documentaries and History Channel shows while i'm doing it and that's been helping!
And I think that is about all the motivation i'm gonna be able to muster up today. I have gotten interrupted 2923 times trying to write this, so if it makes no sense (or, less sense than usual, which isn't saying much i know) then that's why! Maybe tomorrow will be more sensical.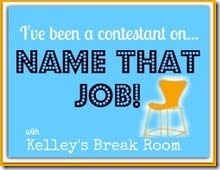 If you are looking for something that DOES make sense, head on over to my friend Kelley's blog  and check out her series "Name That Job"! I'm a featured "Jobber" today – go see if you pick the right answer about my previous jobs!
She has a fun giveaway going on as part of her post – super easy and lots of fun! (She's also hilarious – so if you need a good laugh, check out her posts about Honey Boo Boo!)
(click on the graphic to go to the post!)
Speaking of Honey Boo Boo, maybe I need to go make some Go-Go Juice as motivation for this Monday! Red Bull + Mountain Dew in a bottle??? That has to be one of the best ideas ever.
Ok i'm off. To see what I can be motivated to do today! Tell me what you're doing this fine Monday and/or what motivates you when you feel like you have none! Thanks for stopping by to read this ultra boring post! Love you all!
Terra