In the last few days mine has hit me like a cold wet towel snapping across my face.
Some of you may remember the story of Leslie that I posted here a few months back. On Saturday night, in the words of her husband Tyson, she defeated her battle with cancer and went to be in the presence of her King and Savior. And I guess some part of me knew that the end would come for her. But i had a really hard time accepting it. No, we were not best friends, not even close friends. And my grieving for the situation comes more in the form of mom to mom – grieving what she had to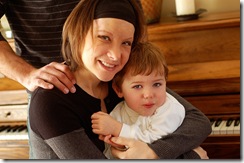 leave behind (her almost 3 year old little boy TJ), and her adoring husband. And just processing, what would it be like to say goodbye? I think my refusal to accept her diagnosis came when I found out we were the exact same age. People die who are older than me, and people die who are younger than me. But people my age DO NOT DIE. It just does not happen. Not in my happy little world. So while friends around me would be saddened by news posted on the blog, i blithely accepted and believed that she would make it. that she would beat all the odds. that a year from now they would all be happily sitting back in church like this was just a horrible blip on the radar.
Receiving the news Sunday morning hit me hard. We had to be "on" in Kidstown that Sunday too, which was both a blessing and one of the hardest things i have had to do in a while. Be "up" and "happy" in front of a crowd of children whose parents were all too happy to leave them there in order to go to service. We all just felt – devastated, upset, more like crying than singing loud obnoxious songs. But bravely we put the game faces on and endured it. I really didn't think I would make it. ESPECIALLY when service went over a half hour. ESPECIALLY when the air-con would not work in the preschool rooms and we had almost 40 kids running around creating more heat with their little bodies! ESPECIALLY when you could see everyone else getting to process through their grief together as a church body and we were left still cleaning up cheerios and scattered legos. It was extremely emotionally draining to say the least.
which is probably why I then came home and started contracting, hard. painfully. for over 5 hours. Nothing was stopping them and they just kept getting more painful. it was just the icing on the cake of an already crazy and chaotic day. I don't think I slept at all Sunday nite. And I slept even less last nite.
It just makes you think about where you're at with your own life. What have I done in 32 years here on earth that would be any kind of legacy? Whose lives have I impacted? What difference have I made?
And then I get a call from the Bone Marrow Registry. I signed up to be a bone marrow donor about 10 years ago when another good friend of ours was figthing leukemia. I have been called 2 or 3 times before, but it was more as an initial step for both of those patients and they ended up not getting transplants at that time. This time its a 30 year old man, locally. and for me to give up part of that which gives me life would save his. And yet my body is growing another life. So I am unable to donate at this time. There's so much emotionally packed up in this that I am having a hard time getting it out. So much I don't understand – may never understand, but have to come to terms with. Fit it into my mold of that which I know, and that which I believe.
How is this for an upper of a post?
Anyways – to end on a semi-positive note…
The pictures i took of the A family, we want to have printed and preserved in some way. In order to do it in any kind of professional, archival way, its going to be an expensive route, but one I am willing to explore because I so firmly believe in the power of pictures as a means of memory preservation. I want for TJ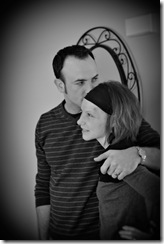 to remember his beautiful mommy playing with him in their living room, hugging him, just enjoying life the best they could while dealing with the cards they had just been dealt. If there are any of you out there who feel somewhat at a loss of how to reach out, how to help and would like to contribute to this project, email me (terra@2sisphotos.com) and let me know. I am open to ideas and can give you more details in an email.
anyways – at the very least, please pray for Tyson and TJ. They are "taking a break" for a couple weeks before coming home to prepare for the memorial service of Leslie's life.
May you cherish and love those around you today. Give them all an extra hug or two or twenty. Take a few minutes to just SIT, and enjoy each precious minute of life you have been given.
Embrace the simplicity of a good life, the life you are living right now.
And thanks, to all of you, for being my friends.
May you rest in peace, Leslie.
terra