Well yesterday's appointment wasn't quite what I expected.
Dr. A also told us that he can't do much more for her and that we need to get her to a higher level of specialist NOW. I rolled my eyes and said yeah i'm working on it and he said "no you REALLY don't have time to wait. based on her labs and her clinical presentation you have to go home RIGHT NOW and start calling and if they don't give you an appointment within the next week, then I will start calling them and telling them it's not an option."
It was a devastating blow. I mean, I am so grateful that we have doctors who aren't into playing an ego game but do realize when they are outmatched and say – move on, get the real help you need.
So after just the slightest of meltdowns, I calmed back down and called Milwaukee for an appointment.  And lo and behold, they had a cancellation for next week. NEXT WEEK! Do you know how unheard of this is? Extremely. Of course it could only have been by the grace of God that we were able to get in so quickly, that it would work with our schedule AND Ben's work schedule, and that our wonderful family in WI will all be home and  willing to help out with the other three girls.
So I cancelled the surgeon's followup for next Wednesday and instead we'll go up to CHW. We don't know what to expect at this point, although I don't anticipate that we'll be direct-admitted unless she can't fight this cold off and ends up crashing. Eh. you know, six of one half dozen of the other . She could, she may not. I've stopped trying to plan for or anticipate what her body may or may not decide to do. More than likely we will not be direct-admit, but may end up getting scheduled for planned admit for further testing to get more results for Kendall.
And then we'll have another appointment the next day with the neuro downtown. It will be a whirlwind of info I am sure.
it is late and i am tired and i have truly no idea why i am still awake and blogging this. this is so not going to make any sense when i read it again in the morning.
but i'll leave you with this. i found this little "angel" I have been looking for for a very long time. what are these called? willow somethings? (see this is the whole not making sense thing that will hit in the morning…)anyways. i have this on my counter where i see it every morning. and i think – we always keep hoping. never give up hope.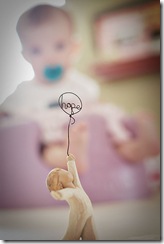 I hope.
terra