I am a member of the Collective Bias® Social Fabric® Community. This shop has been compensated as part of a social shopper insights study for Collective Bias® and Mohawk Flooring #cbias #SocialFabric #licensetospill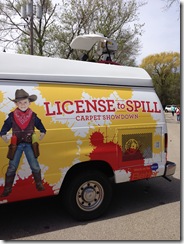 If you have never before heard of Mohawk Flooring, you don't know what you're missing. See, they are this really cool company making AWESOME, easy-to-clean carpeting that is built to withstand the chaos of young families, plus they think it's really neat to advertise by working with bloggers like me. So when I was offered the opportunity to attend the Long Grove Chocolate Fest and meet with some of the great folks from Mohawk, I jumped at the chance!
Now the Chocolate Fest was a LARGE scale production – there was so much to eat, see, and DO there, that I could have easily spent all day there! The Mohawk flooring booth had the adorable Audra Lowe from BetterTV there, sampling an amazing chocolate fondue fountain from Sweet Whimsy Bakery (located in downtown Long Grove). The chocolate was the ultimate "stain-maker" for the carpet cleaning demo's going on under the tent!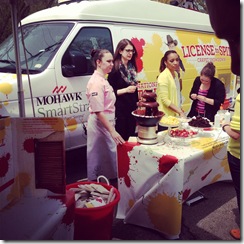 What I learned from the awesome Mohawk folks via hands on demo's of some really messy kids making really big messes on their carpet blew my mind. So everyone wants "stain protection" on their carpets, right? i mean, maybe there's a few of you out there who think it's really neat to have mud/puke/marker/playdoh/juice stains all over your carpet as a fashion statement, but you're a rare breed. Most of us want our carpets to look nice, clean and stain-free. For as long as is humanly possible. The problem being, most carpets have "stain protection" that just gets sprayed on as an after thought. It is designed to negatively charge the ions of the carpet fibers, so as soon as those fibers are positively charged, the stain protection disappears. It can be positively charged by cleaning it, having Scotchguard protection added on to it, or even just the simple act of constant daily wear and tear. All of that activity just wears the stain protection right off. And then you're left with grungy old carpets that are stain-FILLED.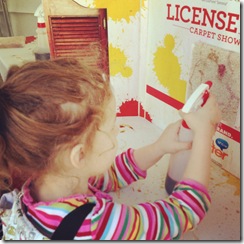 What you need is Mohawk's awesome "Smart Strand". With SmartStrand, the stain protection is actually woven INTO the carpet fiber itself. It will never wear off, wash off, or be rubbed off. It will provide a neutrally charged fiber (great for computer rooms!) that will retain it's stain protection for as long as you own the carpet – because it is built in to the fiber!
Because of this engineering feat – cleanup is a breeze! No harsh chemicals or expensive carpet cleaners are needing to clean up everyday spills – all you need is a rag, some warm water, and a mild soap! Add a little "elbow grease" (scrubbing power!), and bam! The stain easily lifts out of the carpet. Yes it is that easy! With results like these, it's easy to see why Mohawk Flooring is rated Number 1 in Consumer Satisfaction and is the World's Largest Flooring Manufacturer.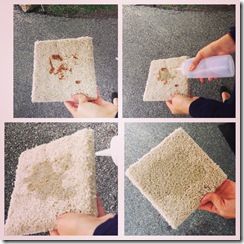 We tried chocolate sauce, soy sauce, red wine – none of those stood a chance!
My girls had so much fun getting their "license to spill" by making a huge mess on the carpet squares, then cleaning it right out!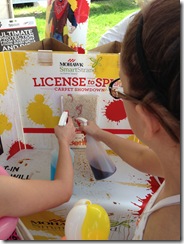 Someday – I will have clean carpets again. Someday I will have my Mohawk Flooring in every room of my house. Yes even the kitchen and bathrooms. Don't judge. Till that day comes for you and me, head on over to the License to Spill official page
for your chance to win a Mohawk Smart Strand rug for your home!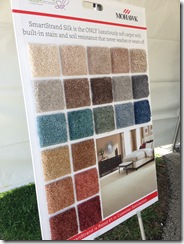 Go check out Mohawk. And next year, you've gotta try the chocolate festival! It was a ton of fun!
Terra.