So I signed up to do this crazy "write a blog post every day in November" thing – and now i'm like – uhhhh what am I going to write about?
I don't know. (yes it's called #nablopomo – national blog post month.)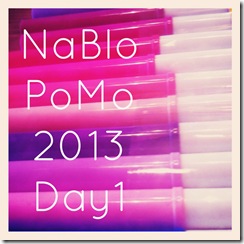 I know that when we are in the hospital words pour out of me – they are my therapy, you are my therapists. But sometimes I think it is in the quiet times, the "normal" moments that I need most to get things out. So maybe it will just be that I get out what rolls around in my head most days. Maybe I will bore you all with childhood stories. Maybe I will make random lists of my favorite pairs of socks.
Since I have also concurrently joined a "Planking Challenge" and an "It Works" product/healthy eating challenge, i'm sure you'll be hearing a lot about that. For the record – I cannot plan very well. I have no idea how the planking one is going to turn out. Based on the large pile of awesome Halloween candy I'm currently staring at, I'm not so sure the healthy eating one is going to turn out real good either.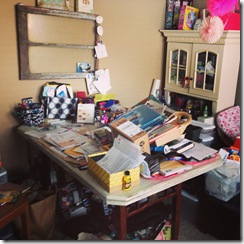 But its time for some changes. This weekend we are having some declutter and clean up/clean out time. NOW it finally feels like it can be fall. NOW I'm more ready to start preparing for "the holidays", a time of year i absolutely love. (for the record – I hope to have this desk area whipped into shape also by December 1.)
It's been hard to not feel like I was living in a little bit of a time warp the past few months. We had no idea how life was going to go, bringing Kendall home from the hospital in August. We were told basically to enjoy every minute with her. It felt like the other shoe was in constant danger of dropping. And that's not to imply that it doesn't still feel like that sometimes – just that I think I am finally in a place where I can breathe a little bit. I did not realize this until the other day – but when we were given a "3 month countdown" – basically that she needed to make it 12 weeks out/3 months from her last infection in order to have any kind of chance of surviving another infection – I did not realize that that 3 month mark would hit right around her birthday. It will be emotional for me – hitting that 3 month mark. Seeing her turn 5 on her actual birthday.
But all of that just means one thing – it's time to get busy livin', or get busy dyin. I'm ready to just start LIVING again – making an effort to eat better, move more, DO more. I'm ready to make changes and see results and keep pushing myself to do more, be more. On November 19th I will be speaking in front of a group of women at a Bible study type program, talking with my friend Kelly about Special Spaces, and about Kendall's story as is related to their mission. This is big. Not because it's talking in front of people, and not even because it's talking about Kendall. But because it is the first time I'll be talking about kendall's story for the sole purpose of spreading awareness for all she goes through, for the purpose of inspiring faith or hope in others. For the handful of you who have heard me tell the whole story of the night Kendall crashed so hard in July, you will know that this is, to me, a first step in fulfilling what I am compelled to do, telling Kendall's story.
I have to flesh that out more – and am too caffeine-deficient at the moment to do that. But it will be one of the blog posts soon.
Anyways – It's a new month. It brings with it new possibilities, a new start, a new season. What are you doing to challenge yourself this month? If you aren't doing anything – feel free to join in with me on one of my challenges – planking everyday, using ItWorks! products (if you haven't heard about these or want more info – let me know! I'd love to share more about them with you!), blogging every day….what else can I cram in here???
But mostly – I hope it is a great month for all of you. The month of Thanksgiving, thankfulness, gratitude.
One last little bit of random stuffs for today – if you are not already a "fan" of the Hope for Kendall page – we are trying to get her page up to 10,000 members on the "Kendall Krew". You can even like it from right here – it's up on the right hand side – just click like! Then when you are in facebook, share it with your friends, invite your friends from on the page, spread the word! Last year on this day I posted the challenge that we wanted to hit 1000 Kendall Krew by her birthday – and look how we've grown in one year! So amazing! her story, her hope, her joy is touching so many people, and I am so excited to see how God continues to use her, and our family, and all of you – to weave together an amazing story out of what seem to be some dark circumstances sometimes.
Ok I think that is all the boringness I can come up with for today. So glad to have you all along for this crazy ride!
Have a beautiful Friday and an awesome weekend!
T-crest out.