Snow rocks. The cold, not so much. But it just seems more christmas-y-ish with lots of snow. My apologies to those who have to drive in it. unlike myself who has not left the batcave since sunday morning. I feel like a pioneer, holed up in my little wooden hut. Except with a TV and a microwave. Oh and the computer. but other than that….totally pioneer livin' going on over here.
Anyhoo.
I have not so many words to share today- just some pictures. They sum it up better than I could anyways. Just livin' life, one day at a time. We survived yesterday where I had one child (K1) puking her guts out upstairs, in tandem with her sister (K2) pukin' it up downstairs. K3 was just overall hungry all day and her usual destructerado self, and K4 just decided she didn't want to be put down. So I ran up and down the stairs all morning into the early afternoon when the bug just seemed to have worked it's way out of everyone's systems. It was fun times. At one point I had two kids puking WHILE the other two were pooping. Simultaneously. I LIVE for mothering moments like those let me tell ya.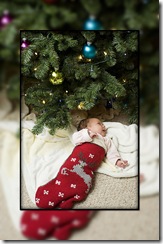 But then in the wee hours of the morning, as I was nursing Kendall, it struck me, that 32 years from now (I don't know, i guess just the age i am now doubled), these sleepless nights, long stretches of endless feeding, cleaning up the puke and the stinky diapers – they will all be but a memory, ones I am sure will be fondly cherished for their fleetingness. so I tried to squeeze my eyes shut and burn this memory into my head, holding my tiny baby in my arms when it's just me and her, feeling the softness of her hair, her little head, her long spindly fingers that never stop moving and are rarely curled up like baby fists. and i tried to remember that moment with kealey, in our little house in Washington when I thought i would never get the hang of the whole nursing thing; and with karissa in our huge new strange house here in Illinois, knowing something was wrong with my baby and not having a clue how to fix it; and with kaylen, not so very long ago at all, and yet it seems like ages. it really does go so quick. i need to take more pictures. to burn into some semblance of physical remembrance via pixels and hard drive space these memories of how little they are, and how very MANY of them there are.
That's why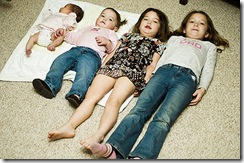 i was so struck by this picture. Ben lined them up like this last week and it wasn't until i was developing them today that it struck me – there's a LOT of kids here now. Like a lot a lot. i am way outnumbered. And look at how far they range! Of course Kendall had to be completely uncooperative and turn the other way… I think that is just one of what is sure to be many little troublemaker moments from that one! i still can't believe i have FOUR little girls…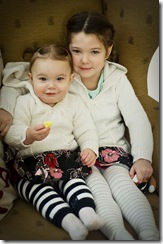 I also cannot believe it is Christmas Eve Eve. We have church tonite, and then tomorrow is a flurry of preparations to begin preparing for Christmas. As in I have no wrapping paper. It all got destroyed in the great basement flood of '08 and i have not had a chance to replace it! So I will hopefully have a few hours to go fight the crowds standing in line with their fun stuff while I get wrapping paper and batteries. It still doesn't quite feel like Christmas can actually be here. I don't know if that's the dead tiredness talking, or if it's some combination of that plus the fact that it's going to be a very small Christmas this year (not my usual going nuts with too many gifts for the girls)…and yet, I feel like i have more of a grasp on the SPIRIT of Christmas this year than in years past. Like our brush with death a few weeks ago woke me up to what is real, what matters, and what doesn't. I feel like this whole year has been one of, not so much actual growth, but like, how a bulb grows underground in the winter, and when you see the first little green shoots in the spring, that's just the tip of the iceberg – kinda like that. Like I haven't seen those first little shoots quite come up from the muddy earth yet, but there's a lot of stuff going on underneath, behind the scenes, and soon it will all start coming together. For this reason i am looking forward to the new year. i know I could start "resolving" or reaching for goals now, but there is something about the clean slate of a whole blank calendar stretching before you that motivates and inspires you towards those changes. And besides, who wants to try to start losing weight during the week of the best meals and desserts ever??? That's just stupid!
so yeah, we'll wait till Jan. 1 – then work out all our feelings in a journal, then resolve to put all the pieces together and apply all this living and growing and learning to great things in 2009.
Kaylen's Resolution will be to give up the bubba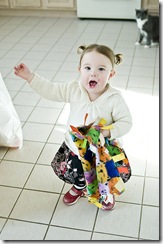 (bottle). I get a lecture a mile long from the pediatrician every visit about how she needs to be off of it. Ok I get it. Kealey had hers till her 4th birthday ( I know, its my deep dark secret of mothering). So by comparison, 17 months is NOTHIN'. But here she is with "bobby" (the beloved blanket without which sleep CANNOT occur, and i'll be danged if that isn't a one of a kind handmade frickin' blanket so i CAN't get two to have a replacement…although I hear a rumor that my darling sister has one that she is holding hostage!!!), and her mouth is open because she is yelling for "BUBBA!!!! BUBBA!!!!" So yes, she is hereby resolving to be free from her addiction to silicone n*pples by the end of 2009.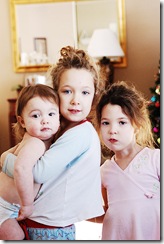 Or sooner. AND potty trained. My diaper budget can't handle 2 in diapers for much longer!
The other two older sisters will resolve to stop fighting over every stupid little piece of fuzz that crosses their paths (and everything of any value upwards of the fuzz). And to comb their hair every day. And to stop wearing summer clothing on the coldest day of the year (a la miss karissa in this summer's favorite dress on a day where the wind chill was 15 below zero.) which i guess i can't complain about too much because look at kaylen, she isn't even wearing a summer dress! in my defense, yesterday was just a bad bad bad day for anything beyond the very basics.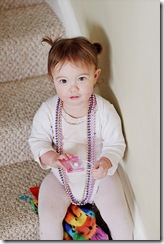 She eventually did have nice warm clothing on. But seriously – have you ever seen kaylen eat a meal? Everyone else at the table ends up wearing some of it…clothing just gets in the way and adds an extra 5 steps to the after meal clean up…
i digress.
See – there she is again with the bobby!!! she carries it around all day and then its an all out search party when it comes to naptime or bedtime to see where was the last place she left it! It started out as a much cuter concept than it is becoming in execution here in real life…
And to sign off, just one more precious shot of the girls. kealey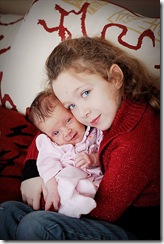 is such a good big sister and such a huge help to me. she loves holding her baby sister and kendall, well, she is learning to love being held by her sisters. However since some object always seems to find its way to hitting her randomly when anyone under the age of 7 is holding her, she has taken lately to wanting only the relative comfort and safety of mommy's arms. Can't say that I blame her in this zoo. Soon she'll be part of the chaos, and can get her youngest sister back for all the bodily harm she has been inflicting since she was in the womb and getting poked, prodded and kicked from the outside.
Ok off to the cookie baking I go. I hope you are all having wonderful enjoyable family times of Christmas preparations! If you are all done wrapping and have any scraps of leftover wrap, any and all donations are being accepted!!! LOL! I just know all they're going to have left at Target is the fugly crap with like spongebob dressed like Santa Claus or the uber expensive gold plated crap that I wouldn't even wrap a gift in because its too expensive to waste…WHY do i save these things till the last minute?!?!?!?!?!?!?!?!?!?
Wait do'nt answer that – it was rhetorical.
Anyways.
See you all on the flip side.
Terra