And yes my spellchecker is freaking out that trepidacious is not a word. Thank you grammar police.
Manic tuesday just didn't fit though.
We had actually a quiet Monday, Kealey was off of school so we just sort of hung out, played with friends in the backyard, you know. boring stuff. Kaylen had her 15 month check up, looks pretty healthy, get her off the bottle blah blah blah. i am sorry darling doctor who has never actually birthed a child of her own and is fresh out of med school….you may start giving ME bottle advice when YOUR perfect child sleeps through the night on their own without one, drifts off to sleep gently by you just placing them in their crib and slipping out of the room, and is comforted merely by your presence vs a comfort object. THEN i will start taking your advice about how to get my child to sleep. Until then, the bottle works so the bottle stays. And you're gonna tell me that with a new baby getting those bottles in a month that she's not going to FLIP OUT for a bottle of her own??? Right.
I'm sorry, you'll have to go sell crazy somewhere else. We're totally stocked up here!
Then the girls had a fun time painting pumpkins for our front porch.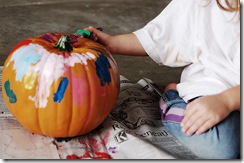 i was not willing to undertake the ginormously messy task of gutting real pumpkins to carve, so we just got craft pumpkins, some paint, and went at it. They had fun mixing paints to make new colors and trying to come up with new and creative ideas.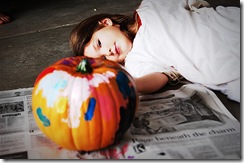 For instance, Karissa, laying on the ground to paint the bottom of the pumpkin….???
It was such gorgeous weather for this weekend – I wish we would have had more time to do one last steak grill-out. its going to be a LONG wait till next May for that! But I think we still managed to cram a lot of fun stuff into one
weekend…Dentist Appointments, Rock Band tournaments with friends, Gymnastics, a beautiful day for a Riverwalk Photo Shoot, pizza with friends, yardwork, Chuck E Cheese to celebrate a month of good behavior…Yeah we had a good weekend!
of course today is back to being colder – but I guess what can you expect for the middle of October? if we could just manage to hold out till after halloween so we have enjoyable trick or treating weather, that would be awesome!
Oh i never did do a review of the indi-flamers concert did I?
Well, it was truly an awesome concert. It was the fourth one I have been to, and of all of them it was BY FAR the best one yet. Now, they have a relatively static formula for their shows. Its them, a random switching of guitars every song, occasionally a drumset, and in the middle of the show their opening act comes on stage to sing "Closer to Fine" with the whole crowd. There are certain songs that they do EVERY show, and in EVERY show they have the audience sing the SAME parts. Its fun. Its ritualistic. Its cathartic to yell swear words at the top of your lungs in unison with 850 of your closest lez-be-friends. But in every show they let just a little too much of their bitter political agendas creep in. (to my liking anyways, to each their own).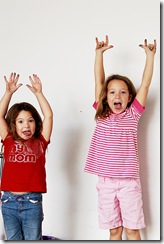 This show, however, was different. it was really just them and their music and their haunting melodious voices. Their set list almost IDENTICALLY matched my itunes playlist of favorite indigo girls songs. They did newer stuff and they did some of their best old stuff. They did Ghost, live. I was in heaven. They have a new album coming out soon! The three songs they played off of it were awesome and i will be highly anticipating the release of the new one. I am so glad that Brenna could go with me – although I am sure we made quite the pair…two very pregnant women at a mostly lesbian attended concert….Hey at least we got pulled out of the mile long bathroom line to go to the VIP bathrooms in the front office of the venue. Whatever it takes right?
It was seriously a fun time – nice to have a little break to recharge my own batteries during these long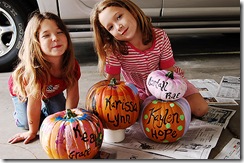 weeks of ben traveling. We are nearing the finish line though. Then we'll have a few weeks being a family together – a NEW family together! So surreal to think about…
Anyways – I do have a meeting today I actually have to get dressed for so…i'll wrap up this scintillating post.
Oh – one more tidbit which will just leave Ben all warm and fuzzy…
Driving downtown to a wedding a few weekends ago…i HAD to get over into the straight lane, but it would mean beating cars off the line (at the stoplight) in order to get over and protect my space. (I took the defensive driving course through Sears…) so, in my mantra of life "ANTICIPATE THE GREEN", i gunned it off the line. However, the cabbie next to me ALSO took the same driving course. But my/ben's car has WAY more horses behind it than his POS crown vic, so we beat him. We pull up at the next stoplight and he signals me to roll down my window and in his thick Arabian accent tosses me the highest of compliments:
"I like de way you drive. Very nice."
Does it get any better than getting the nod from a real chicago cabbie???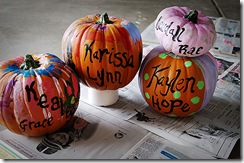 And then I got a parking ticket at the reception venue for having "tinted license plate covers". (Apparently this is illegal in the state of IL just FYI.)
Can't win 'em all I guess.
did I mention we MAY have actually narrowed down the name for baby Kuatro??? It's hard to read…
Kendall Rae.
discuss.
terra