Most of you who know me know that I am a Chick-Fil-A fanatic.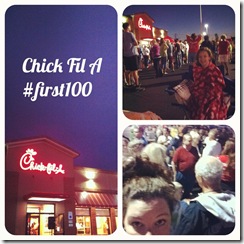 Or at least, you thought I was.  Because on Wednesday morning as I stood outside in a dark parking lot waiting for our local Chick-Fil-A to open for the #First100 event, I realized, I am small potatoes compared to SOME of the raving fans CFA has. (As evidenced by the fact that some of them even had their own OFFICIAL CFA name tags, that had their name, and under that "raving fan" as their title.) (And yes i am jealous and want one.) (but the point is, I don't have one. yet. And this is only my first event. Not my 87th. So there.)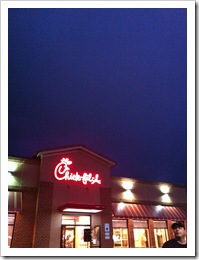 Anyways – for the uninitiated, the First 100 Event is how Chick Fil A opens EVERY new store. The entire 24 hours before that store's Grand Opening, which is almost always on a Thursday morning by the way, the first 100 people to enter the store get to camp out in the parking lot, and help build the hoopla up surrounding the Grand Opening. There is actually an entire section of their website dedicated to understanding the rules of this event, and they have it all clearly outlined. It does not vary much from store to store, and they have it set up to be as fair as possible. Being a Black Friday Freak (i also camp outside of stores waiting to get in for random special on the Friday after Thanksgiving) – I have seen some nasty fights break out among humanity desperate for a $200 laptop or a $350 TV. I was almost kind of expecting some similar nastiness at an event like this.
If you are a fan of the facebook page for Terra Talking, you got to see the video blogs I was able to put up throughout the day. (and if you aren't yet, just go click that little like button and you too can view them all!) But because i was somewhat self-conscious of talking into my phone camera around random people (plus I was melting of the heat) – it wasn't quite an in-depth look at how it all went. So go grab some nuggets, a coffee, whatever you imbibe/ingest while reading the epic novels I type here on Terra Talking, and settle in.
Here's what it's like to attend a First 100 Event at Chick-Fil-A.
Ok for starters, the logistics required to remove myself from my household for just over 24 hours was not unlike that of trying to get the President from Point A to Point B in AirForceOne I'm sure. I had to ensure that Kendall's care was continuous, that she would be able to get on her god-awful-early-in-the-morning-bus all medicalled up, that the girls would get to their respective places on time, and that everyone had enough food/snacks to keep them occupied and fed. Ben was in Nashville this past week for work, so that only left Memaw and Poppa. Poppa was a rolling stone had to work so Memaw drew the short straw. I had asked her the week before if she could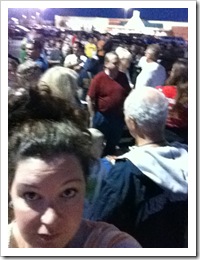 come after bus time, thinking I had everything under control until then, but then had a moment of panic on Monday that I HAD TO BE THERE at 4:30 am on Wednesday morning (as if that would ensure me a better chance of making it) so I had to beg for another night of coverage from her. But – at the end of the day, she was able to come, I got everything else set up and mostly ready, had friends bringing tents/cots/camping crap, putting blankets and pillows and reading material in the car, and we were all ready to crash by about 10pm. At 11 pm, a straight-line windstorm hit our neighborhood so I was outside chasing recycling bins, porch chairs and chair cushions down the street. By 1am it was quiet enough to go to sleep again. And at 4:15 am, my alarm went off.
I made my way over to the Meijer parking lot (the CFA lot was obviously blocked off for all the campers!),  and I was pleasantly surprised to see that right around 5 am, there were only about 10 of us there. We all hung out in our cars, until the cops came over to see if we knew all the rules, hand us papers of the rules, etc. At 5:30, a group of elderly folks who clearly looked like they knew what they were doing and meant business started lining up at the edge of the parking lot. A mass exodus out of cars ensued at this point, and it was QUITE obvious that there were a great deal many more people than 100 there. At 5:45 am, a CFA employee came out to count us, confirm that since there were more than 100 a raffle would be done, and instruct us where to line up. Ugh. My heart sank and the butterflies hit.
Going to a raffle means that anyone is eligible, whether you were there at 2 am or 6 am, whether you were a raving fanatic or a die-hard hater. I HAD to get a winning raffle ticket. I just HAD TO. So the nerves hit. We lined up in groups of 25, and they started going down the lines, checking our ID's (you have to be over 18 to be eligible), and handing us our raffle tickets. At exactly 6 am, they started drawing tickets. For the most part, people were pretty into this. They told us we had to scream like Price is Right contestants, and hearing the whoops and hollers of people as their numbers were called was fun. There were 130 eligible tickets, and they draw 100, plus 10 alternates. My odds tend to typically be in that "last 20" range with most things, so I was definitely feeling anxious. At the same time they were calling tickets, the sun was starting to peek up, and we could see that there were some nasty storm clouds building up very nearby. Storms would build and then roll over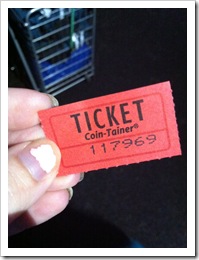 us, but nothing ever came of the dark clouds other than a few thunder rumbles. I was standing next to another "single", an older man who just thought it would be fun to come see if he could get a spot in the First 100. His name was Dave. We started talking together , and decided that while the free food was icing on the cake, the REAL challenge was getting INTO the First 100. His number was called 41st. Numbers all around mine were being called. People in front of, and to the sides, and from far behind me were being called up, and sent into the restaurant to go register. I was starting to feel super desperate. They announced that they were on number 50 and I felt nauseated.
And then, through the self-chatter in my head – I heard my number. 
"YYYYEEEEESSSSSSSSSS!!!!!!!!" I shouted and ran to my spot in THE LINE.
I was Number 53.
They checked my ID again, matched up the ticket stubs to ensure i wasn't dyslexic or tryin to pull a fast one, and sent me in for the official registration paperwork. We then got our  "Line Check Wristbands" , our official "cups", and were told to go unload our camping gear. Being that by this time the clouds were looking SUPER ominous, plus I didn't feel like schlepping everything in one trip only to have it be sitting out in the rain, I grabbed only the bare essentials. Big mistake. I headed over to find a spot, and realized that all the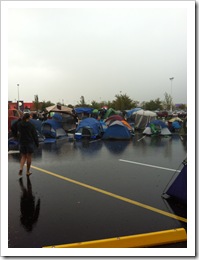 good spots (blocked by the front of the restaurant, near more space to stretch out in, near the outlets) were taken. So Dave found me, and directed me to one last little vestige of open area and we started setting up my tent. Thank God he knew what he was doing. I mean, I would have eventually figured it out, but I'm glad he was there to help! I had heard people talking about "weighing the tent down", and had grabbed the trailer hitch out of the back of the denali, and I had two pillows and two blankets, and my lawn chair and umbrella. As we were finishing up the tent, it started to sprinkle rain, and I was about to go grab the rest of my stuff from the car, when all of a sudden a DOWNPOUR hit. I was vlogging the events up to this point when the storm hit, and as soon as I stopped recording that, it started pouring even harder, the thunder was deafening, and lightning struck really really close to the parking lot. So they came over the loudspeaker and said we all needed to come inside the building. So in we sloshed, literally. I was wringing out my clothes in the corner, everyone was dripping, a few people stayed out trying to struggle with their tents but eventually gave up and came inside.
It was a monsoon. It was miserable. But inside, they made it fun. We met other people we were stuck in close quarters with, we laughed, we played games, we shared life together. A lady at my table had left her phone in her tent. Her iphone. It ended up in a puddle when the rain hit bad. She used my phone to call her work/her home/anyone to try to get some help. I made friends with a cute little boy from Indiana who was there with his whole family.
We got an awesome breakfast and had our first "Line Check".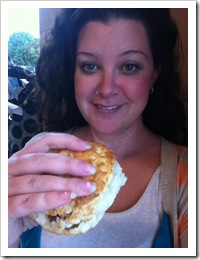 Line Check is a super important part of the First 100 events. Every couple hours, they call out our numbers in groups and we have to line up to be checked off on the official list. This is our "ticket" for the food they are handing out at that time, as well as a way that they are able to ensure that everyone is adhering to the strict rule requiring that everyone stay on the premises for the entire 24 hour duration of the First 100 event. They check our wristbands and send us to the food line. So we did this to get breakfast – YES!!! My first Chick-Fil-A in a couple weeks. It was a Chicken Biscuit. I typically order the SAME THING every time I am there. Chick'n Mini's at breakfast, and 8 piece nuggets at lunch. This chicken biscuit was AMAZING. I'll have to add it in to my repertoire. We also, with our official cups, could get unlimited sweet tea, coffee and water all day long. With the crunchy ball/hospital ice. Score!
Around 8:30 am the rain had stopped (kind of), so they booted us all outside to finish setting up our tents, but told us that since the event had officially begun, we couldn't leave the parking lot. Meaning I couldn't go back to my car and get the rest of my stuff. Meaning my bag of "stuff to entertain myself/my laptop to catch up on work" was in the car. Along with my phone charger. AAAAHHHHHHH!!!! I started to panic. What if my phone died? I didn't have anything to read! What would I do?!?!?
And it was then that the best part of this whole experience hit me. I would talk with people.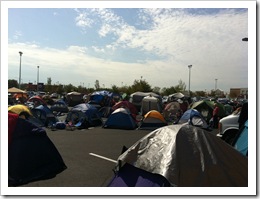 I would play cards with a couple moms who (crazily enough) brought their whole family out to the event. We would laugh and commiserate over mutual mothering problems. I would scare them a little bit that even with the tattoos and nose ring, I was a mom and Christian just like them, grew up in small private Christian schools just like them. And could whip the pants off them in Phase10. I would sit and listen to the stories of Alice & Tim, a beautiful couple in their 70's who load up the RV when the urge strikes them and travel to different parts of the country, hitting CFA Grand Openings on their route.
I would have the time to sit and talk with friends of mine who were awesome enough to stop by and drop off a camping cot, an extra chair, some donuts, coffee – and to leave with parting words of "you know you're crazy for doing this, right?"
And I just sat. Soaked up some sun. Listened to kids play.
Listened to people build new friendships, or laugh with old ones.
 It was amazing.
I realized I needed more of that built into my every day life.
Just sitting, just being.
 Breathing. 
Thinking.
Not thinking.
Throughout the morning and early afternoon, this was how it was. They would play "official" CFA games like scavenger hunts, musical chairs, cookie stacking, human bingo. It was fun – I played in a few, just watched a few. It was part of the experience!  When we had to line up for Lunch time Line Check, there were a few names that got called multiple times with no response. Two alternates got bumped up into "official" status. We got to walk through the drive-through and collect our lunch. More friends stopped by, I was dead tired, but it was too hot to sleep. I am SO grateful to Dave for coming to find me with some sunblock. I would have been brighter red than Bob the Tomato had he not.
Later in the afternoon, my mom stopped by and just sat and talked with me. She brought Kaylen to hang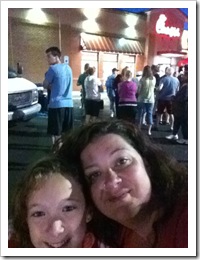 out for a few hours, in which Kaylen managed to wrap about 8 employees around her finger and get them to start what turned into one of the most epic games of Duck Duck Goose I've ever seen! Anytime a kid gets winded running around the circle of 50 people in a large parking lot, it's a good game! Thanks to my mom, my phone got a little charge when she took it with her to go get the other girls from dance and bring them back for some more festivity. The evening got things really kicked up when the DJ came to play more games/contests/get 150 doing the macarena. (yes that really happened. it was awesome!!!) We lined up for Dinner Line Check, got to go in and help the new employees "practice" on the registers by ordering our dinner (and we got soda! finally!!!), and we got to sit inside to eat. I know this sounds like a small thing, but after having been outside in that heat/humidity all day long, those 20 minutes of air conditioning and being waited on by the employees were HEAVEN!
Kealey was going to spend the night with me, so after everyone else had gone home with my mom, kealey and i had a good time dancing, doing the YMCA, playing some more games, doing another scavenger hunt – really just living up the whole experience! I also sat and talked with Alice and Tim some more. I don't know why they left such a huge impression on me, but they did. They just had this gentle, genuine, loving spirit about them. I know they were Christians, so that was part of it. But it seemed like they both just genuinely loved people. We talked about all the openings they had gone to, the different tips and tricks they had learned, what makes a Grand Opening go well and what makes one bomb. The bolingbrook opening was their 14th total. They are still on the coupons from their 2nd or 3rd opening. I wondered what they possibly could do with that many coupons, and they explained that they gave a lot to their church, or to people they met who just needed a few good meals. They didn't have much money, but they could give what they had. And what they had/have is a whole lot of food coupons. I just thought that was really awesome. They challenged me to live my life more unselfishly, not with what they SAID, but just with what they did. How they were. It was probably the awesomest part of the whole 24 hours to me.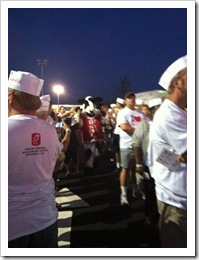 By 10:30, I was fading fast. We had to line up one more time to get counted/checked in, and we got warm cookies and milk for our snack. Kealey and I climbed into the tent, did our best not to breathe too much (because that made it even more hot and humid inside that tent), and pretty much passed out. At least I did. I didn't wake up again til 3 am when all that sweet tea and water hit my bladder and i had to get up, unzip the tent, crawl out, and try to do this without making a ton of noise. I feel like I had no sooner put my head on the pillow than they were playing some trumpet song over the loudspeaker and telling us to wake up for our final line check – it was Opening Time! So at 5:30, we all trudged out to line, and were handed our official shirts and hats. They had a very ceremonious flag raising to signal the official open for business, then the owner Mark cut the ribbon on the entrance to the restaurant, and we got to file inside to collect our Grand Prizes – a box of 52 coupons for combo meals. one a week for a year. All the employees were lined up like a tunnel to welcome us onto the field – banging pots and pans and ringing cowbells – it was a rather hard way to "wake up" but it was fun to feel like a celebrity for 38 seconds!
Fun random fact – when I first woke up and unzipped our tent, I saw a gentleman sitting there on the curb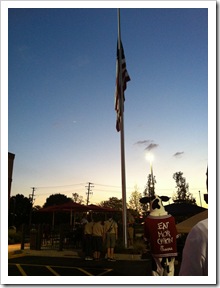 who i recognized from the day before as being one of the lucky ticket winners, but who i had NOT seen all day during line checks. The whispers started flying as he went and took his place in line with the rest of us, as if he had been there all along. We all KNEW he hadn't been there as the rules dictated. Sure enough, he was not given one of the magical "review cards" we had to turn in in exchange for the box of coupons. They pulled him aside and had him talk to a few of the head honchos, and we could hear bits and pieces of his story. He had low blood sugar. His tent was soundproof. He had passed out and not heard the calls. He wasn't hungry all day so never came out. His wife was sick. Something else. It was a well rehearsed bunch of excuses. And no one was buying what he was selling. I think at the end of the day, they fed him breakfast, gave him a couple combo meal coupons, and sent him on his way.
Anyways – after all this hoo-rah, we had to take down the tents, pack up the car, grab some breakfast, and vacate the premises so the cars could start entering the lot. I am not sure how Kealey and I were functional enough to make this all happen, but we did. And made it home JUST in time to help get Kendall on her bus to school. I was a zombie for that day. Still am a little bit. It was not an easy thing physically to sit outside on a hot day, sleep in a tent (although i am VERY grateful to everyone who helped me with the tent/cot borrowing!), be on my feet most of the day. But I am so glad I did it.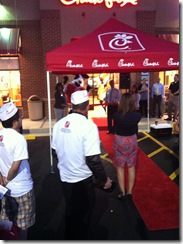 Call it living a dream, crossing an item of the bucket list, or just being my usual crazy self and doing stuff on a whim – I'm grateful for the opportunity. I'm grateful for all the help of everyone who made it happen. I'm so so so glad my number was called.
Eat Mor Chikn.
Terra. #53.