Donations in honor of Beth Wheeler can be made to the Hope For Kendall Kendall Quinn Medical Fund at any BMO Harris Bank by requesting to make a donation/deposit into the
kendall quinn medical fund account c/o Terra Atkinson
(ph. 630.226.5330)
Checks can be mailed to:
Hope For Kendall/KQMF
1587 Manhattan St
Bolingbrook IL 60490
Or online using a debit/credit card at
Or at
YouCaring
Hope For Kendall is the facebook page where I update about Kendall Quinn, my beautiful amazing warrior princess of a daughter, who bravely battles mitochondrial disease every day of her life.
We would love to have you join our "Kendall Krew" by giving her page a like, and letting us know you're there!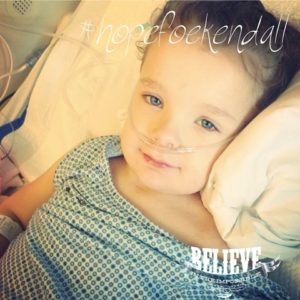 Kendall's medical care costs literally thousands of dollars a month. Her bedroom functions as a hospital room, and I play nurse/mom 24 hours a day. Kendall's medical team is located at Children's Hospital of Wisconsin, roughly a three hour drive from our house. We go up at least once a month for her to receive her infusion of IVIG (a man-made immune system comprised of the blood cells of a thousand donors) and to see any doctors she needs to for that month.
Kendall requires a dedicated full-time RN in order to attend school, and while at school she requires oxygen and medications throughout the day in addition to the TPN (IV nutrition) that runs continuously 24/7 through a central line (permanent IV) in her chest. She pulls her little backpack on every morning and wears it without complaint all day long. She endures nausea and pain that would cripple most adults with a smile on her face no matter what.
She is amazing. She is my hero.
Donations in honor of Beth Wheeler can be made to the Kendall Quinn Medical Fund at any BMO Harris Bank by requesting to make a donation/deposit into the
kendall quinn medical fund account c/o Terra Atkinson
(ph. 630.226.5330)
Checks can be mailed to:
Hope For Kendall/KQMF
1587 Manhattan St
Bolingbrook IL 60490
Or online using a debit/credit card at
Or at
YouCaring
Above all, we are so grateful for the love and prayers we receive as we walk this journey with Kendall.
As we say on the Kendall Krew,
Keep on Keepin' On~