Every once in a while, you are blessed to meet someone who has the biggest, most generous, most amazing heart and spirit. And when you meet that person, you feel kind of in awe of them, especially if you are lucky enough to be claimed as one of their friends. Because somehow, they make YOU end up feeling like the amazing one, even though you know its really the other way around.
Last year during Kendall's hospitalization after Christmas, our angel walked into our hospital room, and instantly started lighting things up in our corner of the world. She put together plans for a fundraiser night, corralled a group of people into helping put on one of the most beautiful benefit dinners I have ever had the honor of attending, and in no uncertain terms, helped change our lives. Everyone who was a part of that nite, was a part of changing our lives. And that is not to in any way negate the also life-changing gifts that our neighbors pooled together – that was also very huge and very helpful. Or the awesome efforts of a local baseball team and the women who keep those boys in line this summer! Our family has been so amazingly blessed. Beyond words blessed.
So when I was again approached about picking a night for this years benefit dinner – I was blown away. I was amazed – because this year it wasn't just Mary helping organize it – it was a group of kids from the youth group at Alpine Chapel (where my dad is a pastor – about an hour away from our home). Kids. (I know they think they are not kids, but they are. They are amazing awesome kids and people!) And those group of kids came to our house, and sat and talked with our family. They read the blog, read Kendall's story, read about mitochondrial disease and its effects on the whole family – and decided they wanted to do something to help. So they started planning the 2nd Annual Hope for Kendall benefit. They made the video, created the website, sent invitations and in short have worked their hearts out to make this upcoming night a success. Every time I get an update from one of them, or see them promoting the benefit on their own facebook pages, my heart swells with gratitude, pride in what awesome people they are, so many emotions. It is not always easy to admit that we need help, or ask for help, or even sometimes to accept help. It has been a hard part of this journey, having to admit my own weaknesses. Cause remember? I'm wonder woman, with my bullet deflecting wristlets of power. Except I'm not.
So it's hard to know where is that fine line between wanting to be too pushy about the benefit here on the blog, because I don't want anyone to think that it is ME asking for money for US. But I want you all to know about the awesomeness of these kids, and our angel friend Mary. And how we want this year to be the year that our dream for a foundation in Kendall's name to help other families like ours can come to fruition. The Hope For Kendall benefit dinner isn't just about Kendall. Or even about our family. It's about families all over who struggle with the same things we struggle with every day – running a hospital out of their child's room, trying to act like its perfectly normal to haul a wheelchair out of the back of the car and attach pumps and tubes and cans of oxygen to it, like everyone knows the hospital cafeteria schedule off the top of their head. And while that CAN become normal – everyone needs a little of the REAL normal in their lives. A fun night out to eat as a family, difficult as it may be to get out the door. A chance to go see Disney Princesses on Ice, or the dinosaur exhibit at the museum. Help being able to keep their "healthy" kids in outside activities because so much of their financial efforts are focused on keeping their medical kiddo alive with meds and interventions and therapies that insurance companies refuse to pay for. These are some of the things we dream about for the Kendall's Hope Foundation.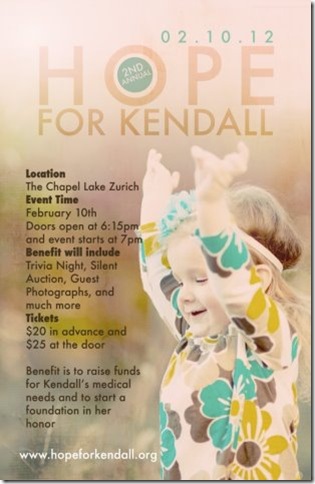 And the benefit dinner/trivia night/concert is a kickstart to all of that. So I know that this friday nite might be coming up quick. And maybe you already have plans, or it seems like a long drive (if you live down here by us and have never even heard of Lake Zurich – but i do promise that it is a real town and its not as far away as it sounds!), or any other reason you may have for not attending. I'd love for you to come not JUST to show us your support, but to show these kids your support. To show them that you appreciate that in a world of self-centered, bratty, "humanity is doomed if this is the next generation" kinds of personalities among teens today – that these kids are so selfless, so generous, so amazing. They have some pretty big goals for this nite that they've put so much time and effort into. And again – it's NOT ALL ABOUT US! I just need you to know that. I want to help them reach these goals to show them that their hard work is ALWAYS worth it.
So – if you are local, and would like to come in person to the event – you can email Mary at hopeforkendall@gmail.com  and tell her how many tickets you would like. They are $20 each. i think one of the goals they were trying to hit was to sell 25 more tickets. The main portion of the event is a trivia night – kind of like the hugest game of trivial pursuit you have ever played. It is a LOT of fun if you have a whole table of friends you can make as your team – we play against other teams and there are actual prizes handed out. It got pretty crazy and competitive last year and I am looking forward to this years competition! It is being held at a church in Lake Zurich (if you've never had reason to drive up there, its about 15 minutes north of Woodfield Mall in Schaumburg. My parents live there and it takes me about an hour-ish to drive there in normal traffic.) It would mean so much to me to see you there! If you live locally but can't attend – we are still taking donations of services and products for the silent auction portion – so if you can donate something – you can also email mary at the above address, or email me with details! or maybe you don't have something to donate for the auction but you can whip up a mean cheeseball or some wicked beanie weanies for an appetizer or a dessert type thingy (can you tell i don't cook much???). I can take any food donations up with me – so just let me know if you want to help with something like that.
Lastly – if you can't attend in person, and live too far away to share your awesome appetizer skills – I am going to be having a "Terra Talkers" table. (Or maybe even TWO!) It won't be quite the same for the kids as having real live bodies in the chairs – but i'm hoping to help them at least hit some of their "numbers" with this! SO – here's how it will work! You can go to the Hope For Kendall website, and on the front page above the video is a PayPal "donate" button. (for the record, all of the donations made through that link go to the Kendall Quinn Fund – not to me personally! We want it to be as "up and up" as possible!) If you click on that button you can "purchase" a $10 virtual ticket (by making a $10 donation – just put "ticket" or "terra talkers" in the comments or something like that!). A full table is 8-10 people – so let's see if we can make this happen! On Friday afternoon – I'll post a link of some kind to the "virtual trivia game" that you virtual attendees can play! The person with the most right answers by Friday at midnite will win a prize (and i promise it will be better than a hand-drawn kitty bath illustrated book!)  But speaking of that – the ORIGINAL drawings of the kitty bath post will be being auctioned off at the benefit event – I think the starting bid will be like a quarter ($.25!)  If you want to virtually bid on these awesome, inspiring pieces of artwork to grace YOUR home – leave me a comment and I'll be sure to update either here or the Terra Talking facebook page what the bid is up to and I can enter your bid in person! 😉
So – Live and In Person, or via virtual attendance – I hope to "see" you all there! we cannot thank all of you enough for your support of our family in all the various ways over the past few years. YOU are the reason that we keep going even when it seems like the hits just keep on coming! we couldn't do it without you – every single one of you!
Thank you so much~
terra.
(and the whole crew, who are going to try  their best to stay OUT of the hospital until at least after Friday. amen.)